PIBM Blog
Education

Does Not Only
Happen in the Classroom
PIBM's Global Joint Degree Program: Your Path to a Global Career
Read the entire blog to know about PIBM's Global MBA program (Joint Degree Program).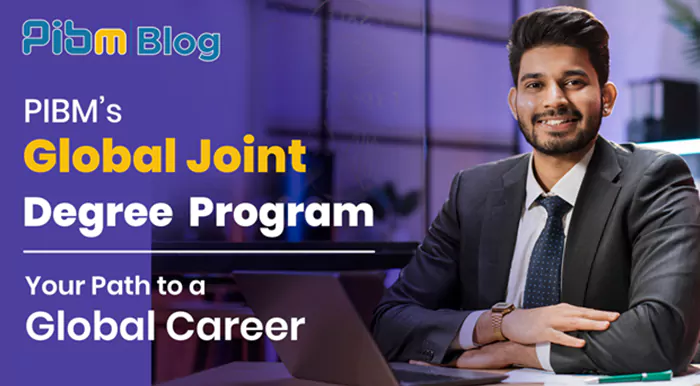 Education
---
Over the years, we have witnessed a large number of Indian students moving abroad to pursue their Master's degree in Business Management. Studying abroad increases the opportunities to settle and get placed across the world, which has been the sole intention of the students studying MBA in the USA or European countries. In spite of the high fees and incurred costs, why do you think students still do their MBA outside India?
Why the Global Management Program?
The answer to this may include many reasons, but here are a few important ones:
Diverse industry-aligned exposure and global experience
Global job opportunities at lucrative salaries
Better and diverse learning with networking opportunities
Better standard of living
What if we told you that now, you can get a degree, i.e., both PGDM and MBA, in 2 years, and get internships and placements in the USA at an affordable fee? Sounds interesting, right? With PIBM's Global Joint Degree Program in collaboration with one of the best MBA Universities in the world, Lawrence Technological University (LTU) - Michigan (US), you can fulfill your dream of shaping a global career.
When we think about pursuing an MBA, we think about becoming a corporate manager, a business leader, or an entrepreneur who knows how businesses are run. To elevate your skills and to thrive in a local environment within your country, a regular MBA degree might do, but to get global exposure, launch a global career, and get a degree that is valued worldwide, you need a Global management degree like an MBA or a PGDM.

A Global MBA program has a curriculum tailored to give a global outlook to international business and solve complex problems faced worldwide. During your Global MBA program, you get to interact with not only students but also faculty of different ethnic origins and learn about their culture, perspective, and outlook. This will expose you to diverse knowledge, ways of thinking, and experiences that will be absent during your regular MBA program.
What is PIBM's Global Joint Degree Program (JDP)?
PIBM's Global Joint Degree Program (JDP) is a unique management course where you get a joint PGDM and an MBA degree in 2 years. This is a full-time residential program where you will be a part of PIBM's flagship PGDM course for the first year at our Pune campus. For the second year, you will be relocating for your MBA in the USA, to the campus of one of the best business schools in the world, Lawrence Technological University (LTU), from where you will get your internship and placement opportunities.
Why PIBM's Global Joint Degree Program (JDP)?
PIBM's Global Joint Degree Program, one of the best MBA courses in the market, provides an opportunity for an MBA in the USA for Indian students. You can complete your MBA in the USA and get the following benefits.
Exposure to International Business practices: The program offers you a comprehensive understanding of international business practices, enabling you to navigate the complexities of the global market. Through case studies, projects, and interactive sessions, you gain insights into cross-cultural management, global trade, and international business strategies.
Internationally-renowned Faculty & Instructors: The faculty members and instructors are industry experts and thought leaders with extensive global experience. You benefit from their wealth of knowledge, practical insights, and guidance, ensuring a world-class learning experience.
Global Internship & Placement Opportunities in Best MNCs: The program provides you with access to global internship and placement opportunities in renowned multinational corporations. The internship experiences allow you to apply your skills in real-world scenarios, gain international exposure, and kick-start your career on a global scale.
Experiential Learning as per Global Industry Standards: PIBM's Global JDP follows experiential learning methodologies aligned with global industry standards. You engage in hands-on projects, simulations, and real-world case studies, enhancing your problem-solving, critical thinking, and decision-making abilities.
Global Skills Development as part of Curriculum: Our curriculum is designed to develop your global skills, including communication, cultural intelligence, adaptability, and cross-cultural collaboration. These skills are vital for thriving in diverse international work environments.
21+ Internationally-recognized Industry Certifications: You have the opportunity to earn more than 21 internationally-recognized industry certifications, adding significant value to your resume and enhancing your credibility in the global job market.
Applied industry experience with Curricular Practical Training (CPT) of 4-6 months: You can gain practical industry experience through Curricular Practical Training (CPT) for 4-6 months, allowing you to apply your classroom knowledge in real-world settings and build valuable professional connections.
Hands-on work exposure Optional Practical Training (OPT) of 1 year in the US: You also have the option to engage in Optional Practical Training (OPT) for 1 year in the United States. This opportunity provides you with hands-on work exposure in your chosen field, further strengthening your skills and opening doors to global job opportunities.

Strong professional network with Global Leaders: Our program facilitates networking opportunities with global leaders through industry events, guest lectures, and alumni connections. You can build a strong professional network that extends across borders, offering valuable mentorship and career support.
Global Job Opportunities with Work Visa: Our program prepares you for global job opportunities, including the potential to secure work visas. This enables you to pursue rewarding careers on an international scale, expanding your horizons and embracing diverse cultures and work environments.
Specializations Offered in PIBM's Global JDP
The specializations offered in PIBM's global program are:
Finance
Marketing
Human Resource
Business Analytics
Operations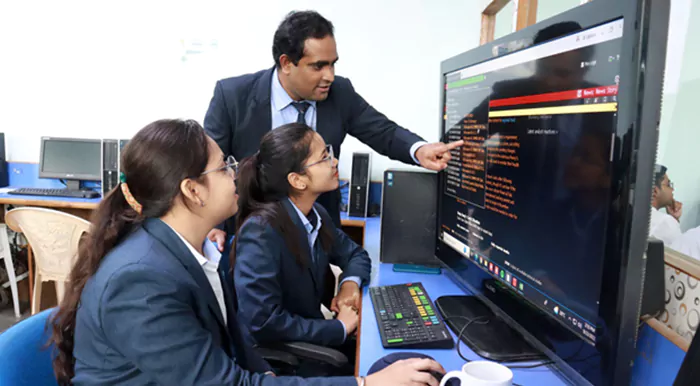 Certifications offered in PIBM's Global JDP
At the conclusion of PIBM's Global Joint Degree Program, you will get a certificate showing a PGDM degree from the Pune Institute of Business Management (PIBM) and an MBA degree from Lawrence Technological University (LTU), one of the best MBA colleges in the world.
Along with this, you will also get internationally recognized, industry-aligned training and certifications according to your domain of specialization.
Finance

Bloomberg Terminal: You will learn how to effectively utilize Bloomberg Terminal, a powerful financial information platform, to access real-time market data, conduct research, and make informed investment decisions.
This certification is crucial as Bloomberg Terminal is widely used in the finance industry, and proficiency in its usage enhances employability.
NISM Certification: NISM certifications provide you with in-depth knowledge and understanding of various areas in the financial services industry, such as securities operations, mutual funds, derivatives, and more.
These certifications are recognized by regulatory bodies and financial institutions, making you highly valued in the financial sector.
CFA Training: CFA (Chartered Financial Analyst) training equips you with a comprehensive understanding of investment management and financial analysis. It covers topics like ethics, economics, portfolio management, and more.
The CFA designation is globally recognized and highly respected, opening doors to rewarding career opportunities in finance.
Financial Modeling Training: You will learn how to build dynamic financial models that aid in forecasting, valuation, and decision-making processes.
This training enhances skills in financial analysis, scenario planning, and risk assessment, which are crucial for finance professionals and consultants.
CISI Certification: CISI (Chartered Institute for Securities & Investment) certification provides you with expertise in areas such as securities, risk management, wealth management, and compliance.
This globally recognized certification enhances career prospects in the financial services industry.
SAP - FICO & FSCM Certification: You will gain proficiency in SAP (Systems, Applications, and Products) modules like FICO (Finance and Controlling) and FSCM (Financial Supply Chain Management).
This certification is essential for those aspiring to work in finance and accounting roles in organizations that use SAP ERP systems.
CPA Certification: CPA (Certified Public Accountant) certification prepares you for a career in accounting, auditing, taxation, and financial management.
It enhances your knowledge of accounting principles and regulations, providing a competitive edge in the field.
Financial Statement Analysis Training: Learn how to interpret and analyze financial statements to evaluate the financial health and performance of companies.
This training is crucial for roles in finance, investment analysis, and corporate decision-making.

SAP - S&D Certification: This certification focuses on SAP modules related to sales and distribution, enabling you to develop skills in sales order management, pricing, inventory management, and customer relationship management.
Proficiency in SAP S&D is valuable for careers in sales, supply chain, and customer service.
Marketing Analytics Training: You will acquire skills in analyzing marketing data, interpreting consumer behavior, and making data-driven marketing decisions.
This training enables you to optimize marketing strategies, target the right audience, and measure campaign effectiveness.
Digital Marketing Tools Training: This program equips you with knowledge of various digital marketing tools, including search engine optimization (SEO), social media marketing, content management, and analytics.
Proficiency in these tools is essential to run digital marketing campaigns and manage online brand presence.

Human Resource

HR Analytics Training: You will learn how to leverage data analytics to make informed decisions in human resources management.
This training enhances skills in talent acquisition, performance management, employee engagement, and workforce planning.
SAP - HRM Certification: This certification focuses on SAP modules related to human resource management, covering areas such as personnel administration, organizational management, and training and development.
Proficiency in SAP HRM is valuable for HR professionals working with SAP ERP systems.

Python Training: Python is a versatile programming language widely used in data analysis, machine learning, and automation.
Python programming skills will enable you to manipulate data, build models, and automate tasks, which are highly valued in various industries.
Tableau Training: Tableau is a popular data visualization tool used for creating interactive dashboards and reports.
You will learn how to transform data into visual insights, aiding in effective decision-making and communication.
R Training: R is a programming language for statistical computing and graphics. You will learn data manipulation, statistical analysis, and visualization using R, which is widely used in data science, research, and academia.
QlikView Training: QlikView is a leading business intelligence and data visualization tool.
You will learn how to create interactive dashboards, perform data analysis, and derive valuable insights for effective decision-making.

Operations

Six Sigma - Green Belt Certification: Six Sigma methodologies aim to improve process efficiency and quality by minimizing defects and variations.
Green Belt certification equips you with problem-solving and process improvement skills, enhancing your employability in quality management roles.
MS Project Certification: MS Project is a project management software widely used for planning, scheduling, and tracking project activities.
Certification in MS Project demonstrates proficiency in project management tools, which is valuable for managing complex projects in various industries.

General

SPSS Training: SPSS (Statistical Package for the Social Sciences) is a software used for statistical analysis.
You will learn data manipulation, descriptive statistics, hypothesis testing, and advanced analytics using SPSS, which is essential for research and data-driven decision-making.
Advanced Excel Certification: Advanced Excel skills are vital for professionals in finance, analytics, and data management.
You will learn advanced functions, data analysis techniques, automation, and data visualization using Excel, enhancing their efficiency and productivity.
These certification programs provide you with specialized knowledge, technical skills, and industry-recognized credentials, giving you a competitive edge in the job market and opening doors to a wide range of career opportunities in your respective fields worldwide.
With PIBM's Global MBA program, you get:
Curricular Practical Training (CPT) - 6-12 Months: Gain practical work experience with MNCs through mandatory CPT (equivalent to an Internship). Get the opportunity to enhance domain understanding, develop industry-relevant experience, and professional networking for improved career readiness.
Optional Practical Training (OPT) - 12 Months: With OPT, get the chance to gain practical experience, explore career paths, and apply management skills in a professional environment. Experience the bridge between academic studies and full-time employment with valuable exposure, hands-on learning experience, and an opportunity to establish a foothold in your chosen sector.
Global Work Opportunities: With placement assistance along with training on Interviews and Discussions, get a chance to work in top international MNCs from diverse sectors. Embrace global employment experience and a deeper understanding of global markets for your professional success and thrive in an interconnected business management world.
Our Top Recruiters: Deloitte, KPMG, Capgemini, Accenture, EY, Tech Mahindra, IBM, Wipro, TCS, Aditya Birla Group, Citi Group, HP, Cognizant, Deutsche Bank, Lenovo, Tiaa, Barclays, Nestle, Loreal, Coca-Cola, Abbott, Blue Star, DHFL, L&T, Genpact, FIS, HCL, Beiersdorf, J.P. Morgan, Sodexo, S&P Global, Carlsberg, Glenmark, Mondelez, Syntel, Thoughtworks, Federal Bank, BOSCH, HSBC, and many more MNCs.
Eligibility Criteria to Apply for the Program
The eligibility criteria for PIBM's Global MBA program are mentioned below:
Graduation in any stream from a Government-approved University with a 60% aggregate
GMAT/CAT/MAT/CMAT/XAT Score
Resume
Statement of Purpose (SOP) in 250 – 500 words
Two letters of recommendation (from employers, professors, or professional associates)
You must meet minimum English Proficiency in either of the following:

TOEFL Internet-based - 80
TOEFL Computer-based - 213
IELTS - 6.5
PTE - 58
Duolingo - 95
Important FAQs
How Can I Apply for PIBM's Global Joint Degree Program (JDP)?
To apply for PIBM's Global Joint Degree Program, which provides an MBA abroad for Indian students, simply click on the link or search PIBM Global on Google and click on 'Apply Now'.
What is the difference between OPT and CPT?
OPT (Optional Practical Training) and CPT (Curricular Practical Training) are both programs that allow international students in the US to gain work experience related to their field of study. The key differences are:

OPT is for temporary employment after or during the program, while CPT is for training that is part of the academic curriculum.
OPT can be done before or after completing the program, while CPT is done during the program.
OPT offers more flexibility in employment, while CPT must directly relate to the academic program.

Why is it called the Joint Degree Program?
Within 2 years, you will be completing two programs both PGDM & MBA, and get a certificate of completion containing both degrees once the course concludes. That is why it is called a Joint Degree Program.
What is the course fee of the JDP?
The course fee of PIBM's Global MBA program is ₹30 Lakh which includes the cost of the entire program from staying to studying for a year in Pune and the next year in the US. For more details, you can share your information and the admission department will provide you with the details.
Is the program only for Indian students?
This program is best suited for Indian students, but people all over the world can apply for it, especially students from neighboring countries like Bangladesh, Bhutan, Nepal, & Sri Lanka who are looking to launch their careers globally.
Can I apply for jobs in both the USA and India with this degree?
Since it is an MBA abroad program, this degree is recognized worldwide, and you can apply to organizations all across the globe.
Shall I get a working VISA?
Yes, PIBM's abroad MBA program provides a working VISA in the USA.