PIBM Blog
Education

Does Not Only
Happen in the Classroom
10 Essential Things a Business School should teach every Student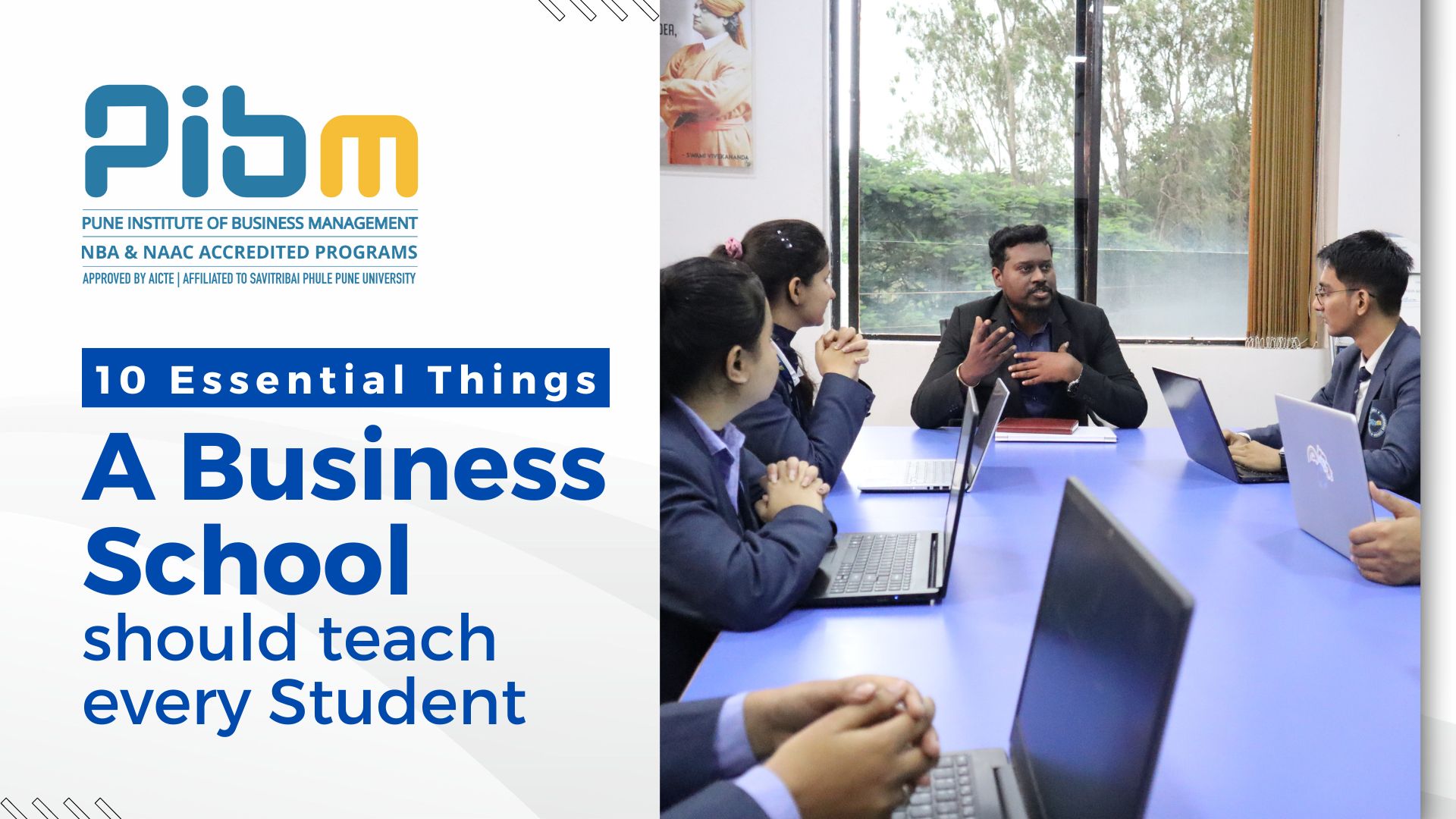 Education
---
Business Schools around the globe need to play a crucial role in shaping the future of business leaders by providing them with industry-required education and training. As the global marketplace becomes increasingly competitive and complex, it is important that business schools keep up with the ever-changing landscape and prepare their students for the challenges they will face in the real world.

There are several essential skills and knowledge areas that management colleges should focus on to ensure that the graduates are well-equipped to succeed in their careers. Apart from understanding the fundamentals of business, the students need to master communication skills, develop leadership and management abilities, and acquire a holistic perspective of essential managerial perspectives. By providing a well-rounded education that covers these essential soft skills, business schools can prepare management students to become successful and responsible business leaders who can make a positive impact on society and the economy.

In this blog, we will discuss 10 essential things that a business school should imbibe in every student.



Leadership and Management
Leadership and management are essential skills for students as they are going to lead the business world in the future. Imbibing these skills includes managing teams, delegating tasks, and developing leadership styles. Good leadership and management skills are critical to the success of any organization and hence it becomes important for PGDM and MBA colleges to conduct activities that focus on developing leadership.




Business Communication Skills
Effective communication is a cornerstone of success in every business irrespective of the industry. Business schools must coach their students on how to communicate effectively in a business environment. This includes preparing students how to deliver presentations, have one-on-one conversations, conduct business negotiations, write reports and emails, and participate in meetings. Good business communication skills are critical to building relationships with clients, stakeholders, and team members.




Critical Thinking and Problem-Solving
Critical thinking and problem-solving are crucial, not just in the corporate sector but also in real life. Hence, management colleges should teach students how to analyze problems, develop solutions, and evaluate alternatives. Good critical thinking and problem-solving skills are critical to making informed business decisions in the corporate world.




Decision-making skills
Management students are required to possess the ability to make critical business decisions that benefit their teams and organizations. The development of effective decision-making skills takes time and can be honed through regular interactions with experts from various fields. This hands-on approach to decision-making enables MBA students to develop their decision-making abilities in different scenarios, allowing them to become more confident and effective decision-makers.




Time Management
Possessing competencies in time and project management are highly valued by companies around the globe. Effective time management is essential for the success of any business, while strong project management skills are necessary to ensure the smooth operation of all corporate processes. MBA graduates who demonstrate proficiency in both areas can unlock their full potential and attract numerous job opportunities.




Innovation and Entrepreneurship
An entrepreneurial mindset is becoming increasingly important in today's business world, where innovation and agility are key drivers of success. Identifying business opportunities, developing business plans, and pitching ideas are some of the most influential factors in the field of management. A confident professional is hailed by many employees in the industry, and they also have the potential to lead the masses in the long run. Hence, management colleges should help students to be proactive, resourceful, and adaptable, which are valuable skills for starting and growing successful businesses and business solutions.




Ethics and Social Responsibility
Ethics and social responsibility are important values that management students need to inculcate. This includes making ethical decisions, conducting business that is socially responsible, and complying with regulations and laws. Good ethical and socially responsible business practices are critical to building trust with customers, stakeholders, and society. Thus, it is the responsibility of the B-Schools to inculcate these skills in future business leaders.




Technology and Data Analysis
In the fast-paced world of data, hands-on knowledge of the latest technological tools is important for management students to have. Technology and data analysis include imbibing skills on how to use technology to improve business processes, analyze data, and make informed business decisions. Good technology and data analysis skills are critical to staying competitive in today's business world.




Global Awareness and Cultural Competence
This factor is highly crucial since teaching management students about navigating across different cultures and business environments, understanding global markets and trends, and communicating effectively with diverse stakeholders. Thus, it is important for business schools to create good global awareness and cultural competence among students as these are critical to succeeding in today's globalized business world.




Emotional Intelligence (EI)
It is a critical skill for management students to possess as it allows them to navigate complex work environments with increased success. By improving their EI, MBA students can become better leaders, collaborators, and problem solvers, all of which are essential qualities in the modern workplace. It can also help MBA students understand and regulate their emotions, leading to better decision-making and a more positive work environment.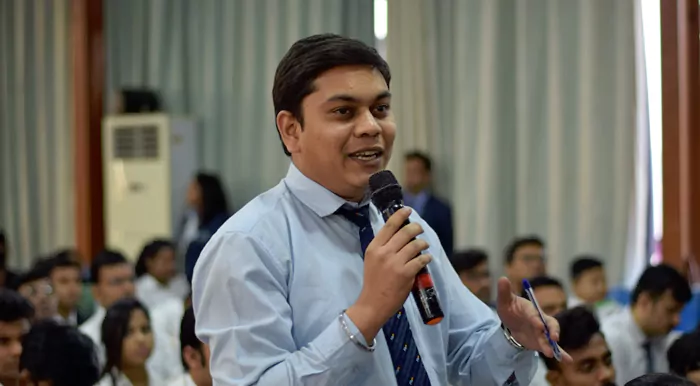 The future of management education in India depends on the ability of colleges to train students on essential skills apart from academics. As the business world becomes more complex and global, B-schools in India must keep pace with these changes. They must continuously update their curriculum to ensure that their students are equipped with the skills and knowledge needed to succeed in today's business world.

One B-school in India that is committed to providing its students with these essential skills is the Pune Institute of Business Management (PIBM). PIBM offers a unique approach to management education that emphasizes practical and hands-on learning along with the holistic development of students. The curriculum is designed to prepare students for the challenges of the business world by training them in essential skills such as business communication, critical thinking, entrepreneurship, IT skills, and much more.

PIBM's faculty members are industry experts who bring real-world experience to the classroom. They work closely with students to ensure that they have a deep understanding of business concepts and are able to apply them in real-world situations. PIBM's strong industry partnership with 750+ companies and 700+ business leaders also provides students with opportunities to gain practical experience through internships, projects, and case studies.

In conclusion, B-schools in India play a crucial role in preparing students for the challenges and opportunities of the business world. To be successful, students should have skills such as business communication, leadership, time management, critical thinking, innovation, ethics, technology, global awareness, cultural competence, emotional intelligence, and an entrepreneurial mindset.

B-schools must keep up with the changing business landscape. B-schools like the Pune Institute of Business Management are leading the way by providing their students with practical, hands-on learning experiences that prepare them for success in the real world.