PIBM Blog
Education

Does Not Only
Happen in the Classroom
Which MBA or PGDM Specialization Is It Better and Why?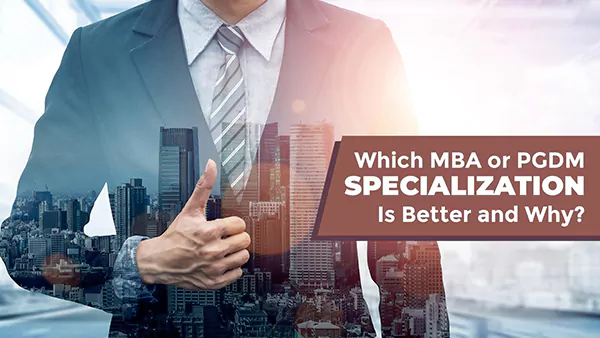 Education
---
The pandemic put large parts of national and global life, especially academics, into disorder. Even today, MBA courses in Pune must weigh the health dangers of in-person learning against students' educational needs. Education must not be put on hold in the face of such uncertainty. It is now time to begin the MBA or PGDM courses in Pune.

Are you a future business student willing to apply for specialization MBA and PGDM programs? If that's the scenario, you've come to the correct place. This article will help you to understand all about the excellent MBA and PGDM specializations that will receive the most attention. You'll learn about the most popular subject specializations and how to choose the one that's appropriate for you.

Let's gets start then.
Why do students choose to do an MBA?
An MBA degree can provide you with several advantages in your life. In addition, such advantages apply not only to your professional and business ambitions but also to your personal life. Consider these reasons why you should obtain an MBA if you're on the fence about pursuing an MBA or weighing the benefits of earning an MBA. You might be surprised by some of them.

So, why should you pursue an MBA in India?
Gain Appreciation
The MBA will equip you with the necessary knowledge to run a business, regardless of your background in technical, business, or liberal arts.
Higher Management
To be recognized for open management positions, you must have an MBA. This demonstrates to a potential employer that the applicant is knowledgeable about advanced business ideas.
An Entrepreneur
An MBA is a wonderful idea if you want to become an entrepreneur and be capable of writing a solid business plan with a complete understanding of the important components.
Skill Sets
Many of the hard and soft skills you develop as part of an MBA are transferable to a variety of businesses. Because of abilities like leadership, critical and analytical thinking, creativity, and communication, you become flexible regardless of your employment function or industry.
Wider Worldview
You may address significant business concerns and real-world business challenges by earning an MBA. Your exposure to global, social, and corporate concerns will also broaden as a result of these insights.
Most popular MBA specializations
Finance
Among all the majors available, finance is the most popular specialization. Management personnel with this specialization are in high demand. An MBA in Finance is a business management degree that equips students with financial knowledge, insights, tools, and wisdom. An MBA in Finance gives management professionals a thorough understanding of company administration as well as financial products, processes, and technicalities.

When we talk about finance, we don't just mean accounting or taxation, which are two completely separate parts of the sector. Finance includes money markets, stock trading and investments, banking, merchant banking, insurance, credit, and a variety of other industries involving money and capital, with job titles such as Financial Analyst, Investment Banker, Insurance Broker, and Financial Advisor. A PGDM or MBA in finance covers all of these topics and equips students with the knowledge and skills they need to make sound financial decisions in the workplace.
Marketing
Marketing positions will always be in demand because they are so important in most firms. As a result, getting an MBA in this subject might help you obtain skills and knowledge for a profession that makes up a significant section of the labor market. Applicants seeking an MBA in Marketing must have a bachelor's degree from a recognized university with a minimum of 50% in any stream. Students will learn about B2B, B2C, Marketing Analytics, Channel Management, Retail Management, Market Research, Media Sales & Pre Sales, Digital Marketing, and many other concepts as part of this specialization, which includes career options like Marketing Manager, Public Relations Specialist, Research Analyst, and many others.
Human Resource
HRM is a continuous process that includes the acquisition, development, and maintenance of human resources. Management functions include planning, organizing, leading, and controlling. HRM's main purpose is to maximize employee productivity, reduce risk, and maximize return on investment. HR specialist students are taught how to build the right attitude and personality, as well as competencies, aptitude, and communication skills, to become tomorrow's leaders. Human Resources students are taught concepts such as HR Analytics, Talent Acquisition, HR Business Partner, Compensation & Reward Management, Labour Law & Industrial Relations, and others to correctly administer the organization's policies. Human Resource Officers, Training & Development Officers, HR Consultants, Executive Recruiters, and other opportunities are available to HR professionals.
Why do students choose to do a PGDM?
While an MBA offers numerous opportunities in terms of career and business ventures, a Post Graduate Diploma in Management (PGDM) course is also considered equivalent to an MBA. When it comes to career advancement, PGDM courses are deemed equal.

So, why do students choose to pursue a PGDM degree in India?

Let's have a look.
Advanced Curriculum
The PGDM program was designed by industry experts and prepares students to solve real-world challenges. Students obtain a thorough understanding of the fundamental concepts as well as the complexities of business.
Leadership Quality
A dynamic learning environment is established in a PGDM course, which increases academic accomplishment while also developing students' social and relational skills. The capacity of value-based leadership quality is successfully inculcated through the course.
Understand The Complex Aspects Of A Business
The ability to understand, analyze, and articulate global, economic, legal, and ethical elements of business will be imbued by the PGDM curriculum.
Experienced Faculty
In India, skilled professors with multi-disciplinary experience in both academia and industry are required for PGDM programs. This mix of mentor-mentee connections means that each student is taught to think like a leader from the beginning.
Most popular PGDM specializations
While Finance, Marketing, HRM are the most common PGDM specializations in India, there are various concentrations to select from. Let's get to know other PGDM specializations.
Digital Marketing
The era of Digital India is here. Over time, traditional methods have given way to online or digital venues. Everyone is using digital platforms in some way, from small convenience stores to large corporations. The importance of having an online presence has grown for all businesses, large and small. Digital marketing gurus are in high demand and will continue to be so in the future. Students interested in Digital Channels, Content Creation, Content Marketing, Search Engine Optimization, Social Media Optimization, Social Media Marketing, Digital Marketing Analytics, and other disciplines would benefit from this specialization. Analytics Managers, Content Managers, Digital Account Managers, and Digital Directors are just a few of the opportunities available.
Business Analytics
Business analytics entails the application of relevant skills and technologies to historical data to provide useful insight and intelligence for planning and decision-making. Data mining, statistical analysis, and predictive analytics are some of the most prevalent components of business analytics. Data analytics, which includes business analytics, is a broad term for gathering and organizing data for analysis and research. The terms "data analytics" and "business analytics" refer to a wide range of specialized procedures. Among them are data analysts and data engineers. Data analytics, statistical approaches, machine learning & data visualization models, AI & Natural Language Processing, Big Data & Database Tools, and a variety of new evolving concepts, as well as a variety of analytical tools, are all covered in this concentration. Other job titles include Business Analyst, Data Analysis Scientist, Business Analyst Manager, Data Business Analyst, and others.
How to choose an MBA or a PGDM specialization?
Now that you know there are a plethora of specializations available alongside MBA and PGDM programs in India, you'll need to do some research to figure out which MBA or PGDM program is right for you.

Which MBA or PGDM is best for you that is determined by several factors, including your interests, objectives, circumstances, and the amount of experience you have at the time of application. So, let's look at how to select the right MBA or PGDM specialization for you.
Accreditation
When looking for MBA or PGDM programs, you'll notice that the programs and business institutions are frequently accredited by major granting bodies. The PGDM program is accredited by the AICTE, while the MBA program is accredited by the AICTE and is affiliated with Savitribai Phule Pune University (SPPU).
Career Goals
After you've looked at the MBA and PGDM specializations available at B-schools, request a meeting with an Institute program adviser who will explain the specialization that interests you. This may assist you in deciding on a specific field or university.
Ranking
Make sure that the B-School is well ranked for that specialization. Different specializations will have different rankings, so do your homework since your future employers will.
Top 5 skills to have as a Management student
Continuous Learning
The days of working at a desk are gone. If you want to advance, you must continue to study. Keeping up with continual learning, whether it's soft skills or hard skills, increases your chances of enhancing your professional trajectory.
Growth Mindset
A growth mindset approach is the second most important talent that recruiters will continue to look for. A hiring manager is more inclined to hire someone who is eager to learn and try new things.
Adaptability
Isn't it true that things are changing at a breakneck pace? We discover new ways to use technology as it advances. To flourish, you must be adaptive to new technology, new ideologies, and new collaborations.
An Ambiguous Environment
Having a talent who can thrive in a virtual world will be crucial. It can include things like leveraging a skill set, collaborating across teams, enhancing tech tools, being responsive, and aligning with corporate priorities, among other things.
---
Summary
A PGDM or MBA student has many options when it comes to choosing a career path. A candidate with a PG Program stands out right away, and recruiters take that into consideration when evaluating him or her as a potential employee for top companies. If you want to grow quickly in the field of management, you should enroll in a PGDM or MBA program.
| | |
| --- | --- |
| | By PIBM |