PIBM Blog
Education

Does Not Only
Happen in the Classroom
MBA in Finance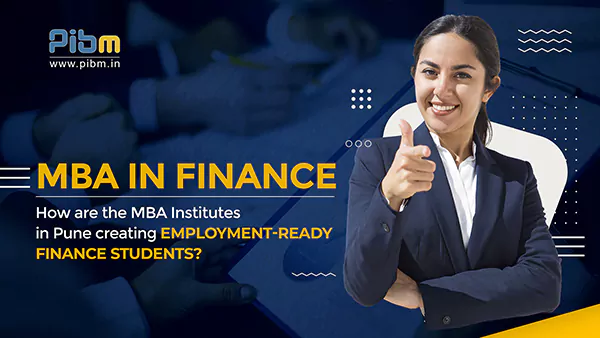 Education
---
How are the MBA Institutes in Pune creating employment-ready Finance students?
The capital required to start a new firm is referred to as finance. It could be for a start-up, a new venture, the acquisition of another company, or an investment on behalf of the company. An MBA in finance in Pune gives you all you need to know about financial management. Finance is the company's wealth. Because all businesses have plans to grow and expand on a regular basis, it is one of the most important aspects of running a firm.

Immediately after graduating, many students pursue an MBA in Finance since it provides many prospects for a high-paying, long-term job. Although the MBA degree is also popular, companies prefer the MBA in Finance since it is more industry-focused. An MBA in Finance is one of the most sought-after degrees for a variety of reasons.

The blog has a plethora of useful information regarding MBA Courses in Pune with a Finance specialization. You'll learn everything there is to know about the postgraduate degree, from the prerequisites to the organizations that hire MBA in Finance graduates. You will be free to determine whether or not you wish to continue with this course after graduation.
Why choose MBA in Finance
We immediately think of numbers when we think of finance. While figure crunching is at the heart of finance, it isn't the only aspect. An MBA in Finance is frequently the most popular choice among aspirants throughout the world nowadays.

The reality is that it offers good earning potential and fulfilling career opportunities in a range of industries is one of the main reasons why so many people choose this field. Despite the economic slump, the domain has seen tremendous growth, therefore it's fair to think it's a little more secure than others.

Here are the reasons why you should go for finance specialization.
Stand out in a Crowd
For many people, finance is a stressful concept. So, if you're looking for a strategy to set your CV out from the crowd, a finance management degree is an excellent place to start.
If you're a newcomer to the workforce, demonstrating that you have substantial business knowledge before you even start can make you a more appealing prospect. This is especially true in non-finance industries, where financial education is less popular but nevertheless necessary for running a successful business.
Work in an ever-evolving Industry
For a long time, this field was known to use traditional procedures and practices. However, due to technological advancements, the world of finance has expanded beyond conventional financial institutions.
Holistic Growth
A business degree is now so popular that practically every second candidate has one. However, you'll need more than a degree to pursue a career in finance. You must be skilled at communicating with a diverse group of people, explaining difficult data, persuading others to accept your business suggestions, and more.

With all of these considerations in mind, an MBA in finance is meant to help you develop a variety of abilities that aren't just connected to accounting or statistics. This will eventually assist you in becoming a better professional in general, not just a finance specialist.
Financial Sectors
Without a doubt, this industry is booming. This implies that students considering this career have a variety of options to consider. Due to the vastness of this domain, you can choose to work in topics such as Brokerage Firms, Insurance Companies, Commercial and Investment Banks, Corporate Management, Investment Services, Financial Planning Services.
Job Opportunities
An MBA in Finance gives you the knowledge and abilities to help students prepare for advanced leadership and management jobs. A graduate with an MBA in Finance may have the following job titles: Financial Advisor, Financial Manager, Financial Analyst, Cash Managers, Investment Banking Associates, Credit Managers & Specialists.
MBA in Finance Requirements
If you've decided to pursue an MBA in Finance. You should evaluate to see if you have the following skills.
Leadership and communication skills
Mathematical and analytical skills
Thorough research and careful attention to detail
Scope after MBA in Finance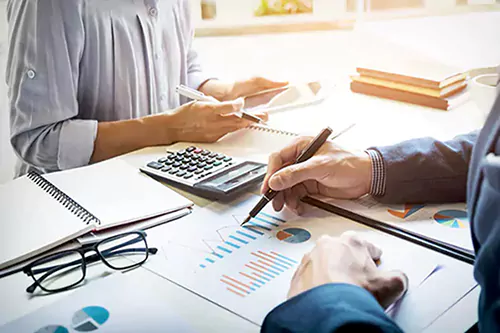 A financial manager is required in almost every industry, regardless of size or organization. Finance is a multibillion-dollar sector with a thousand-year existence. Finance management careers include asset management, retail banking, financial consulting and planning, taxation, corporate finance, investment banking, risk management, equities analyst, business analyst, sales and trading, personal finance, and insurance.

The need for an MBA in Finance is increasing at the same rate as other industries. Every industry in India, especially in metropolitan regions, is at its peak in terms of growth rate.
Interpersonal Skills
If you thought of a financial professional ten years ago, you probably imagined someone who was confined to their desk. But, thankfully, that age is no longer present. These professionals are expected to work with clients in addition to crunching figures on a regular basis.

When it comes to working with clients, you must be able to comprehend their needs, develop trust, and establish a professional connection that benefits your company. And, in order to build this kind of relationship, you should practice your interpersonal skills on a daily basis.
Financial Reporting
Simply put, this relates to the presentation of financial results to the board of directors as well as other stakeholders such as investors, consumers, regulators, and others. Financial reporting aids in the comprehension of a company's performance over a period of time.

Even though it may appear to be a simple task, finding people with great financial reporting skills might be difficult. Financial firms need candidates who can demonstrate a strong aptitude for financial reporting.
Logical Reasoning
When presenting important data, such as financial reports, you must consider all of the facts. This is when reasoning comes into play. It's not enough to simply read from the slides when presenting data. You must understand both what you're doing and why you're doing it.

You should be able to weigh the benefits and drawbacks of your actions at all times. This ability will aid you in making crucial decisions, coming up with innovative ideas, and developing strategies to achieve your objectives, all of which are necessary for career advancement.
Technology
The finance department keeping massive file records and cramming their offices with them are long gone. The bulk of information you need to operate in finance has gotten considerably easier and faster to find, process, and store thanks to today's smart technology.

However, in order to realize these benefits, you must first comprehend the technology. This is due to the fact that the accessible tools are always changing. As a result, you must also keep up with new information technology. Staying updated with best practices will put you in a better position to succeed.
Understanding Of Business
In comparison to the previous skills, this one is a little distinct and new. As the name implies, you'll require a basic understanding of commerce and banking activities in a specific region.

For example, financial restrictions that apply in India may not apply in the International Market. So, if you wish to work in a different country or city, you need to familiarize yourself with their business processes.
Career Opportunities After MBA in Finance
One of the key reasons why students pursue an MBA in finance is the job opportunities it provides. Here are a few options to think about. Each of these professions is distinct from the others, and they all pay well.
Here are the top 5 finance careers and job options after an MBA.
Accounting
Accounting is a broad area of study and practice that encompasses a wide range of financial services. In general, it is concerned with the recording and maintenance of a public entity's or private company's cash flow. Public accountants also provide recommendations and provide reports to help clients reduce costs, increase revenue, and enhance their financial health. As an accountant, you can work in-house to assist businesses in getting their finances in order, determining the soundness of their investments, and forecasting long-term objectives. Jobs in the commercial or private sector, as well as in certain accounting companies, may become available.
Corporate Finance
Corporate finance is a sub-discipline of finance that deals with the provision of funds for business purposes. It deals with capital restructuring, investment decisions, and funding sources. The following are some of the most important job functions in this field:
● Risk and profit must be balanced.
● Economic developments are being studied and forecasted.
● Reviewing company information and making recommendations for improvement.
● Manages finances and selects investment portfolios to maximize stock value.
● Performing financial risk management-related duties.
Junior and senior corporate finance experts are employed based on their educational qualifications, acquired abilities, and interests. You should have a sense of mathematics and be able to apply it to handling finances, maximizing return on investment, and implementing smart budgeting solutions, among other things.
Investment Banking
Investment banking is regarded as one of the most prestigious professional paths in the financial industry. It's also a lucrative career option in terms of professional advancement and pays. Investment bankers are in charge of financial remodeling projects. Their job entails dealing with numbers and data, as well as making judgments that improve business operations. These professionals must be interested in financial markets and economic trends and have an in-depth understanding of them.

Trading and stockbroking, as well as asset management and equity research, are examples of other job profiles. Professional traders or licensed representatives who purchase and sell shares on behalf of their clients are known as stockbrokers. Asset managers choose which investments to make in order to develop their clients' portfolios over time while minimizing risk. Equity research jobs entail determining the value of certain investments in order to assist individual and institutional investors in making investment decisions.
Portfolio Management
Portfolio management is a mix of business and technology since it necessitates a thorough understanding of business, mathematics, and analytics. As a portfolio manager, you don't pore over individual investments, instead, you consider your clients' total investment mix, which may include institutions or individuals.

It would also be your responsibility to advise the organization on investment policy and asset allocation decisions. Employed experts must attempt to optimize profits at a negotiated risk in portfolio management. This would necessitate a SWOT (Strength, Weakness, Opportunity, Threat) analysis in both domestic and international markets, looking at issues like growth vs. safety, debt vs. security, and so on.
Risk Management
Professionals in risk management are skilled in identifying market risks and recognizing sound investment outcomes. Their major goal is to systematically maximize earnings while minimizing risks. They use their mathematical prowess and analytical reasoning skills to help their clients with a variety of commercial issues. The following are the different types of job roles: Financial Risk Manager, Enterprise Risk Manager, Supply Chain Risk Manager, Operational Risk Manager, and Digital Risk Manager.
---
Summary
Specialization in finance is a great way to save time and effort. You'll make more money than you pay in fees, and you'll have a terrific career working for one of the excellent companies. As a result, if you choose to pursue an MBA in finance, you are making a good decision that will enhance both your career and your finances.
| | |
| --- | --- |
| | By PIBM |