PIBM Blog
Education

Does Not Only
Happen in the Classroom
7 Job Profiles after an MBA in Marketing to jumpstart your Management Career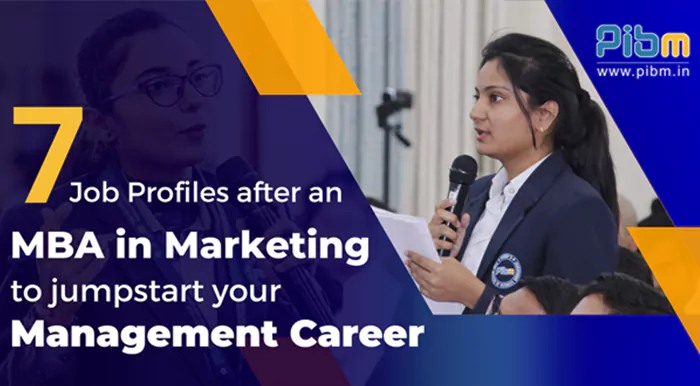 Education
---
A Master's in Business Administration with a specialization in marketing is an increasingly sought-after degree, as this field offers some of the most exciting and lucrative job opportunities. Tired of brainstorming about what career option to pick? Here in this article, we'll explore seven great job opportunities you can pursue after completing your MBA in marketing, so if you're looking to jumpstart your career, read on!
Introduction
MBA in marketing is one of the most in-demand business degrees. The degree is beneficial in launching a successful marketing career or advancing an existing one. A PGDM or an MBA in marketing typically covers marketing analytics, digital marketing, advertising & promotions, market research, consumer behavior, sales & distribution, brand management, and much more. Management students learn to identify and target consumer markets and implement marketing strategies to generate revenues for their respective companies.

Many PGDM or MBA in Marketing programs include internships and live business projects, allowing students to gain real-world experience. Job opportunities for MBA Marketing are plenty thus, there are diverse options from which students can choose based on their preferences and skill sets. In addition, internships can provide students with the opportunity to work with experienced professionals, learn about different aspects of the job, and make valuable industry contacts.
Career options after MBA in Marketing or PGDM
Several great career and job options are available to those who have completed a PGDM or MBA in Marketing. Here are a few of the best ones: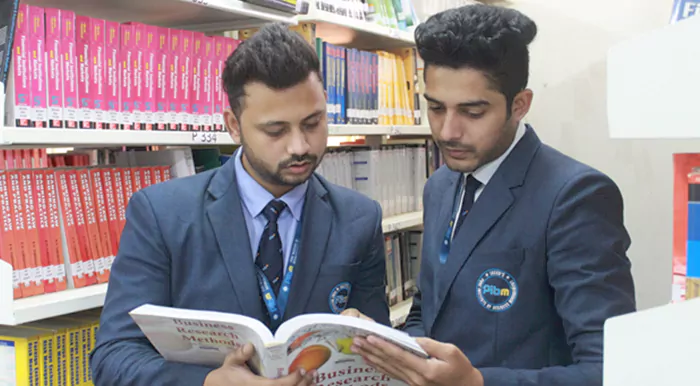 Digital Marketing Manager
There is no doubt about digital marketing being one of the most exciting and in-demand career paths for PGDM or MBA graduates. The industry constantly evolves and offers opportunities for those with a suitable skill set. A Digital Marketer is responsible for planning and executing marketing campaigns that promote a company's products or services online. This can involve anything from creating and managing a website to developing and managing digital advertising campaigns.

To master this role, you will require strong analytical skills, knowledge of the latest digital marketing tools, and the ability to think strategically about how to achieve marketing objectives. You will also need to be creative and have experience using different digital marketing tools and techniques. A digital marketing role could be perfect if you are looking for an exciting and challenging marketing career.
Product Marketing Manager
Product marketing managers are mainly responsible for the planning, development, and execution of marketing campaigns for launching and managing a product or service offering. Additionally, they work with other departments within the company to ensure that the product or service is positioned correctly in the marketplace. In addition, the product marketing manager works with external vendors to develop and implement campaigns. They also track campaign results and analyze market data to determine whether the product has been successful or is doing good in the market.
Marketing Analyst
A marketing analyst is responsible for researching and analyzing consumer behavior, preferences, and market trends. They use big data analytics and analytical tools to help companies make decisions about product development, marketing strategies, brand strategies, and sales strategies. Marketing analysts typically have a master's degree in marketing, business, statistics, or a related field.
Advertising & Promotions Manager
Among the popular career options after MBA in Marketing, Advertising & Promotion Manager role stands out. They are responsible for planning, directing, and coordinating the promotional activities of an organization. They work with marketing, sales, and product development staff to ensure that the organization's products and services are properly promoted.

Excellent ability to communicate and interact with others, as well as strategic thinking, are required for this position. The successful will be able to create and execute promotional plans that achieve desired results. They will also have a strong understanding of the target market and be able to develop creative campaigns that resonate with this audience.
Brand Manager
A brand manager manages and promotes a company's products or services. They work closely with marketing, advertising, and sales teams to ensure that the products or services meet customer needs and are appropriately promoted to the target market. You must have strong analytical and strategic planning skills as a brand manager. You will be responsible for developing marketing plans, setting objectives, and managing budgets. You should be able to communicate effectively with other members of the marketing team as well as with customers and clients.
Content Strategist
As a content strategist or content marketing strategist, you will be responsible for developing and managing the digital and offline content across your company's communication channels. This includes developing a content strategy that aligns with business objectives, creating and curating engaging content, measuring the performance of content, and continuously improving the effectiveness of your content strategy. In order to ace this role, you must have excellent writing and editing skills, as well as experience in managing complex projects. If you are interested in weaving a career in content strategy, then an MBA in marketing may be the perfect fit.
Sales Manager
The sales manager deals with leading and coordinating the sales team. In addition, they work closely with other departments within the company to meet sales goals. To be successful in this role, sales managers must have excellent analytical, organizational, communication, negotiation, and interpersonal skills. They must also be able to motivate and manage their team while providing needed support.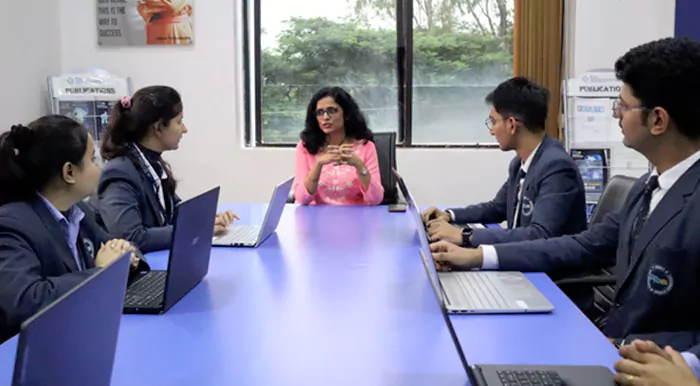 Strategies to build a successful career in Marketing
There are many strategies that PGDM or MBA marketing students can use to land their desired job. One approach is to search for companies that align with their career goals and research those companies thoroughly. Another strategy is to attend job fairs and industry events, which can be excellent networking opportunities. Additionally, students can reach out to their personal and professional networks for job leads and advice. Finally, it is important to put together a strong resume and cover letter that perfectly highlights your marketing skills and experience. By keeping in mind these steps, PGDM or MBA marketing students can increase their chances of landing their dream job.
Conclusion
With the right curriculum offered in PGDM or MBA in Marketing, you can jumpstart your career and open up job opportunities that may have otherwise been inaccessible to you. However, with so many different options, it's important to do your research before making any decisions or commitments. The kind of institute you choose for your degree also matters and plays an important role. Institutions like PIBM ranks highly among the MBA Marketing colleges in Pune. With a plethora of specializations to offer in management, it caters to academic excellence. Best of luck in your search for the perfect marketing job!
---