PIBM Blog
Education

Does Not Only
Happen in the Classroom
How MBA/PGDM after B.Com opens multiple job opportunities?
Education
---
As a student, clearing the HSC examination opens multiple avenues to progress one's education. You can opt for diverse streams like science, engineering, arts, business administration, pharmacy, and many more. But, in the past couple of years, the focus on streams like commerce and economics to gain entry into the corporate world has intensified. Through the years it has been seen that a student's focus shifts between Science and Commerce. The probable explanation is that the Indian economy has been primarily influenced by the rise and fall of commerce and trade.

Furthermore, a PGDM or an MBA from the best MBA colleges in India is considered to be one of the most sought-after postgraduate degree programs to opt for in the country after completing a B.Com as a graduation course. A Post Graduate Diploma in Management (PGDM) or a Master of Business Administration (MBA) degree is a two-year post-graduate program. It is a degree course where students comprehend how to effectively build and manage organizations through analytical thinking, problem-solving, decision-making, and sharp thinking.

If you are a commerce graduate and want to pursue a PGDM or an MBA, we are listing the important reasons it will help you in building a successful career after completing your B.Com.
The similarity in Curriculum
One of the prime reasons why a B.Com graduate must pursue an MBA program is because of an identical curriculum. In the B.Com curriculum, you will learn concepts such as accountancy, taxation, financial ratios, micro & macroeconomics, business planning, marketing, and much more. Such distinct knowledge along with a PGDM or an MBA in Finance will enable you to get attractive job opportunities in financial services, global taxation, investment banking, corporate finance, equity research & advisory, commercial & retail banking, accounting, and many other domains. Once you have acquired all the basic financial knowledge under your B.Com program, it will be simpler for you to move ahead with the PGDM or MBA curriculum.

Choice of Specialization
The most incredible part about pursuing an MBA or a PGDM program is that a student gets the liberty to choose from a wide range of specializations. He can choose from finance, marketing, operations, analytics, and human resources among others. The additional advantage is that the candidate has already learned the basics about different specializations in his or her undergraduate B.Com course. The topics that students will learn in their MBA or PGDM degree will provide them with enhanced insights into what they have already learned. This is precisely why a B.Com degree perfectly aligns with the choice of the candidate's PG degree program in management.
Leadership and Managerial Qualities
A talented individual who is capable of leading teams for optimum results is all an organization needs in today's competitive world. An MBA or a PGDM graduate is preferred by every organization and this is precisely what boosts the demand for a PG in management degree after a Bachelor's in Commerce domain. This demand has been significantly going higher with each passing year. Another crucial factor for employing MBA and PGDM graduates is their administrative and managerial acumen. A B.Com along with an MBA or PGDM will give you the double edge of leadership along with managerial and administrative knowledge.

Attractive Salary Packages
One of the major motives for pursuing an MBA or a PGDM degree is to earn a profound starting or hike in salary. Several research facts reveal that an MBA or a PGDM degree after B.Com will enable you to reap a minimum of 30 to 50 percent hike in your current pay package. Even if someone is starting his or her career in Finance or Commerce domain with a combination of MBA/PGDM with B.Com, the starting salaries can be as high as 5-6 LPA. Thus, getting a PGDM or an MBA from the top MBA colleges in India with the highest placements is and always will be advised. Especially, when the corporate world economy is performing well and Finance Professionals are in huge demand across the industries.
Experiential & Hands-on Learning
The three years long bachelor's degree in commerce i.e., B.Com helps you get an effective head start in the choice of a career which is related to Management or Finance & Accounting. It enables the students to grasp the fundamentals of finance, commerce, accounting, taxation, and much more. Later, when the candidate decides to opt for an MBA after B.Com, their already acquired skills will be polished enough within two years of their MBA degree to enter the corporate world. Top MBA colleges in India provide advanced training on Finance & Accounting principles like financial modeling, financial statement analysis, use of research tools like Bloomberg, and much more
Such a finesse of proficiency that an MBA or a PGDM degree provides the candidate will not only boost their career but will give them an edge over the others. A management program is always more about experiential learning than theory-based training. The student is exposed to the ins and outs of real business management through projects, internships, case studies, and much more, during the course of their MBA or PGDM degrees.
The Career Scope after MBA/PGDM
An MBA degree proves to be a gateway to an abundance of career alternatives to choose from. Once they complete their bachelor's degree in commerce, they are exposed to the basic perspectives of business and finance in various fields. MBA or PGDM after B.Com will open up alternatives in sectors such as banking, financial services, fintech, insurance, and so on. Completing an MBA will benefit the candidates to secure a job in an array of job profiles in finance, accounting, operations, sales, analytics, marketing, and even HR among others. Thus, students will not only be able to scrutinize more aspects of the diverse fields but will also be able to enforce their proficiency better. That apart, the return on investment for an MBA or a PGDM degree is considerably elevated in the corporate world.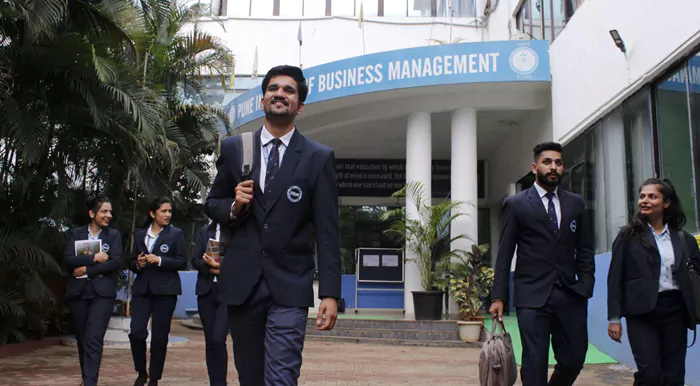 What kinds of jobs can an aspirant land with a B.Com and an MBA or a PGDM?
The kind of job an aspirant will get completely relies on the specialization of the specific candidate. If he or she has a bachelor's in commerce and a postgrad MBA or PGDM in Finance, he or she could get entry-level roles in the financial management fields such as
Global Taxation
Equity Research and Advisory
Credit Risk Management
Corporate Finance
Finance Analytics
Investment Banking
Wealth Management
Insurance Advisory
Finance Quality Management
And so on
Apart from the key job profiles, you can also get attractive job opportunities in diverse industries such as Financial Services, Banking, Insurance, FinTech, Retail, FMCG, Consumer Durables, Manufacturing, Telecom, and many more. Though the job candidates can get immediately after completing their MBA or PGDM will depend on distinct factors like the academic scores, the quality of the education, the brand of their MBA or PGDM program, the number of years of work experience they hold, and the type of MBA specialization program they have chosen.
The Key Takeaways
From preparing you with a decent awareness of the business landscape to supporting your professional and personal growth, an MBA or a PGDM has got it all covered for you along with many advantages. But it also comes with numerous non-financial and financial costs that the aspirant should not exclude or neglect. Postgraduate programs in business and management expect a substantial investment of money, hard work, and time.

Pursuing an MBA from the best B Schools in India is a once-in-a-lifetime opportunity. Students give it all for the MBA or a PGDM degree and the degree rewards them equally throughout their life. The journey of pursuing a management program is an augmenting one where the aspirant will attain a wholly fresh perspective on the corporate life of the contemporary. Thus, gaining an MBA or a PGDM degree after a B.Com is a win-win for any student. The ambitious aspirant can build a brilliant career out of the two degrees that complement the best in India - B.Com and MBA/PGDM.

We at PIBM are keen that the student is able to move ahead, now that we have explained why an MBA after B.Com is a worthwhile investment. One of the best MBA colleges in Pune, PIBM encompasses the latest industry-co-designed curriculum and advanced industry-aligned training methods to ensure a strong management career for students. It includes:
Training on financial management concepts with a special focus on diverse industries, companies, and products/ services
Experiential & Hands-on Learning with case studies, live business projects, and dual internships
Profile-oriented and JD-based training on most in-demand job profiles in Finance
Robust Industry interface - tie-up with 650+ companies and 600+ corporate heads
Industry certifications in SAP FICO & FSCM, CFA, CPA, CISI, SPSS, Advanced Excel
Training on Bloomberg Terminal and ACE Analyzer
Accredited by NAAC, PIBM is ranked amongst the Top 100 B-schools in India by NIRF in 2022. Also, PIBM is the only PGDM college in entire Pune to be ranked among the Top 100 colleges in India. If you are planning to pursue an MBA or a PGDM after B.Com and don't know where to start or you need professional assistance with your career graph, contact PIBM today.
---