PIBM Blog
Education

Does Not Only
Happen in the Classroom
Industry certifications to build a career in the Financial Services & FinTech industries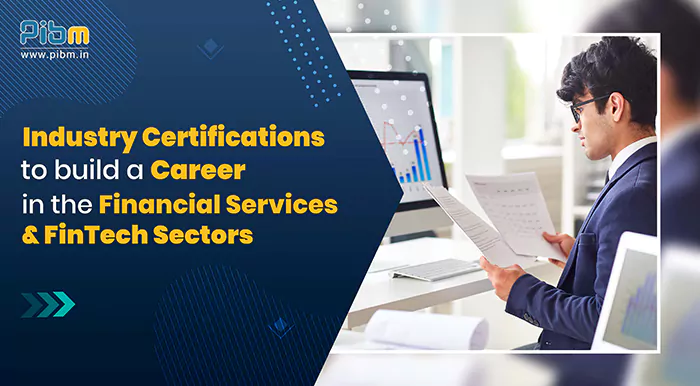 Education
---
In the last couple of years, the corporate world has witnessed the transformation of various sectors with the integration of technology. One of the fastest growing sectors in the present scenario has been FinTech. Financial Technology or commonly called as FinTech industry integrates the delivery and practice of financial services with the help of technology to promote processes and operations in business entities and companies in the financial domain. It is benchmarked to remain as one of the fastest growing industries due to the inception and advent of technology. Along with FinTech industry, the Financial Services industry has also seen a tremendous growth in demand for skilled and competent management graduates with hands-on knowledge in Finance domain.

MBA or PGDM in Finance with specialized training in FinTech and Financial Services from the best business management institutes in India paves the way for candidates to move across numerous job profiles in the world of financial technology. You can specialize in the FinTech field by pursuing various courses in the financial technology space at the post-graduate level. A PGDM or an MBA in Finance from the best MBA colleges in India along with specialized training on technology tools and industry certifications is the best option for anyone looking to create a career in this new fledgling field.
Why FinTech?
FinTech encompasses a wide spectrum when it comes to financial operations. It provides a plethora of options, including financial management, as it has simplified and shaped financial operations. FinTech provides an insight into how financial services must be transacted and carried out. It is an interesting field of study with tons of opportunities for exploration, research, and development.

Expertise and hands-on knowledge in FinTech comprise diverse concepts involved with the digitization of the financial ecosystem with the help of technology. Studying a master's program like a PGDM or an MBA in Finance with specialized training in FinTech will open up a world of career options. For building a successful career in the FinTech industry, the best PGDM and MBA colleges in India will provide advanced training on various important concepts including:
Blockchain Technology Development
Digital Lending
Digital Payments
Cyber Security
Artificial Intelligence (AI)
Open Banking
Digital Wealth Management
Cryptocurrency
Data Science
InsurTech
Capital Markets
Crowdfunding
Big Data Analytics
Digital Wallets
Digital Wallets
Robo Advisory
Wearable Tech for Payments
Biometric Payments
And many others
Why Financial Services?
If you are wondering why to build a career in financial services, then let us decode the options available for finance professionals. Finance is a diversified and dynamic field. Having the right knowledge and industry certification allows you to fortify your employability in the diverse global financial domain. A B-school should offer you industry-related training and certification so that you can prepare yourself for endless career opportunities.

During your MBA or PGDM course in finance, you will be required to strengthen your problem-solving skills by using the right technological tools and data from different sources. It is also important to get a deeper understanding of diverse job profiles in finance through profile-oriented training so that you learn all the aspects of the financial services domain and can use the same to make important financial business decisions.
Industry Certifications & Training in Finance by PIBM
For developing the skills and competencies, it is also necessary to get yourself certified in the industries' most in-demand certifications and hands-on knowledge on important technological tools.

World-class institutes like PIBM, which is one of the best MBA colleges in Pune, concentrate on training students beyond the classic classroom curriculum. We assist our students to gain industry certifications such as CPA, CISI, SAP FSCM, SAP FICO, Advanced Excel, and more for developing the industry-required skills and competencies in the finance domain. During the certification programs, students undergo rigorous training to develop skills so that they can put in their best when they bag corporate jobs and start contributing from day one of their jobs.
SAP Certification - FICO & FSCM


ERP systems facilitate businesses to strengthen several key functions and business processes into a single computer system to manage and organize the particular needs of every department. PIBM has partnered with SAP to be an authorized education and tuition provider for the ERP certification in diverse modules. Irrespective of the identity, nature, or size of an organization, SAP ERP Suite encourages industries worldwide to integrate business procedures and refinements to increase productivity and reduce costs. At PIBM, students are provided certification and training on the following finance modules in keeping with their domain of interest:

CFA Training
PIBM offers CFA (Chartered Financial Analyst) training to help students clear the Level 1 of the exam and build a solid career in the finance industry. If you are inclined toward a career in Finance with an additional CFA certification, then our CFA training will help you establish yourself as a professional in the industry. Our specialized CFA training program will help you learn the intricacies of the subject, along with offering you profile-oriented training. All the students are provided with training for the CFA Level 1 exam by providing an understanding of Equity Investments, Portfolio Management, Wealth Planning, Derivatives, Fixed Income, Risk Management, Financial Statement Analysis, and much more.
CPA Certification
PIBM, being one of the best MBA colleges in India, prepares students to face the corporate world with a special focus on employability. Our CPA (Certified Public Accountant) certification that is integrated with the curriculum itself allows you to gain competency and proficiency in the field of Accountancy. Our specialized program will prepare you to work as a Certified Public Accountant while maintaining a very high professional standard in the field of accounting. You will also be dealing with financial analysis, management accounting, financial accounting & reporting, along with treasury and cash management. You will be able to help business enterprises, organizations, and individuals to achieve their financial goals by making the right financial planning, investment, and savings.
CISI Certification
If you want to make a career in the international market for financial services, our CISI (Chartered Institute for Securities & Investment) certification will come in handy. It will strengthen your knowledge base along with imparting additional understanding in the domain of financial markets. With the integrated CISI certification for PGDM and MBA students from Finance specialization, which is internationally approved, you will stand a good chance of making a career in the international securities and derivatives market.

NISM Certification
NISM certification has been made a mandatory requirement by the SEBI to allow anyone to work in capital market institutions. So, we at PIBM offer NISM certification to help students to help them prepare themselves for the industry and increase their chances of employability. Whether you want to work as a Mutual Fund Distributor in any asset management company or you want to work as a Research Analyst, our NISM certification will help you create a strong foothold in the industry.
Bloomberg Terminal
Our on-campus dedicated Bloomberg Terminal allows our students to research the financial database from across the world in real-time and understand how to make critical decisions on investments and risk management in the financial markets. Bloomberg Terminal is used all over the world to access data on aspects like fixed income to equities, FX, commodities, Indices, and more. With the dedicated Bloomberg Terminal at the PIBM campus, you will learn to use a suite of powerful analytical tools and access world-class data, and make informed decisions. The expert finance faculty members helps our students with the basics of using the terminal for research and analytics purposes.

ACE Analyser
Along with the Bloomberg Terminal, we also train our MBA and PGDM students to use ACE Analyzer at campus and get access to the financial database of all the listed companies. You will learn to use this data for financial news, fundamental analysis, investment research, credit analysis, and various corporate actions. Our specialized training on ACE Analyzer will give you a competitive edge and allow you to establish yourself in the industry as a confident professional.
Advanced Excel with applications in Finance domain
We at PIBM offer rigorous hands-on training on the applications of advanced excel features to students enrolled in MBA or PGDM courses in finance. Apart from the general and basic functions, students are provided with specialized training on how to use various formulae to evaluate financial data for risk analysis, capital budgeting analysis, discount cash flows, etc. Students are trained in creating and using macros in excel. You can increase your chances of employability as a financial analyst with our training in advanced excel with specific finance applications.
---
Summary
Doing an MBA or a PGDM course in finance from PIBM will allow you to learn beyond the traditional classroom setup. We are one step ahead in imparting industry-centric knowledge and preparing students to have a competitive edge while bagging a corporate job in Financial Services and FinTech industries. The world is moving at a fast pace with the integration of technology and thus requires management graduates to be skilled and competent in having expertise in using the latest tools and also being certified with the industry's most in-demand finance domain certifications.
| | |
| --- | --- |
| | By PIBM |