PIBM Blog
Education

Does Not Only
Happen in the Classroom
CEO Charisma (Season 5) brings to PIBM leading industry stalwarts of the country
Education
---
The CEO Charisma - Seasons 5 conducted at the PIBM campus on the 6th of August 2022 was a grand success. The theme of Season 5 was 'Navigating Uncertainty & building Innovation Ecosystem'. It was an event that can be touted as a PIBMs show-stopper. The CEOs and the topmost leadership from across various platforms converged at the college's campus to discuss everything from sports and fitness to innovation and how marketing trends are changing today.

This was the fifth season of CEO Charisma, an event that brings together CEOs from different sectors to help students understand challenges being faced today and give them an insight into the competitive business environment from the perspective of the captains of industry. This year saw a total of 10 panelists who took the floor across two discussions - the first being a pre-lunch session that saw five panelists and the second - being the post-lunch discussion that again had five panelists on the podium. The moderator of both sessions was the dynamic, Mr. Zulfi Ali Bhutto, Associate Director at Steelcase, who besides being a leader par excellence is also a rank holder in the grueling Iron Man Triathlon, widely considered one of the most arduous one-day sporting events in the world.

The topic on the floor for the first session was 'Navigating the uncertainty' while for the second session it was 'Building eco-systems for innovation and growth'. The environment was charged with students raring to listen to the first panel that consisted of Mr. Angelo George (CEO of Bisleri International Pvt. Ltd.), Mr. Bipul Chandra (Managing Director at Ducati India), Mr. Gaurav Sabharwal (CEO - India and South Asia at Kantar Public), Mr. Mathew Job (Executive Director and CEO at Crompton Greaves Consumer Electricals Limited), and Mr. Parag Kulkarni (Managing Director at A.O. Smith India).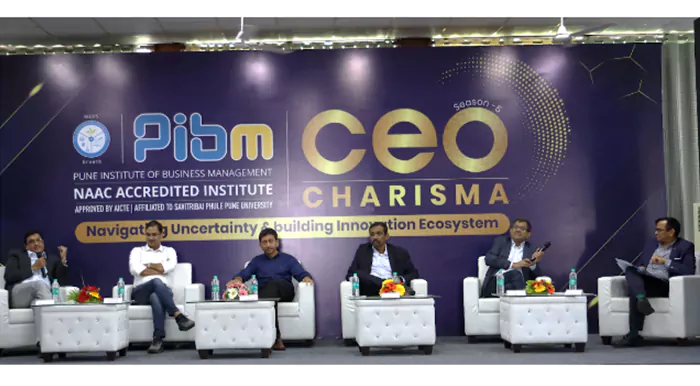 Mr. Angelo George of Bisleri spoke about how the brand had to adapt to post-Covid changes in consumers like social distancing, health, and hygiene besides of course adapting to technology. Engaging with customers was what the brand focused on and he went on to add, "It was a collective input from the market that we took while moving forward with our strategy post the pandemic."

Mr. Bipul Chandra of Ducati India said, "Post Covid people have started living life to the fullest. They have realized that they have limited time in the world and want to learn to live it positively; this has certainly been the change in mindset, post-Covid. Make the customer feel that you are the only customer for him." He also spoke about superbikes and kept the students listening in rapt attention.

Mr. Gaurav Sabharwal of Kantar Public addressed the issue of supply chain saying, "A disruption in the food supply chain impacts supply. A CEO's work is round the clock and he needs to look at solving problems that keep coming up. Digitization and integrated systems are slowly coming to the fore to ease supply chain issues." He told students to be aware of the environment and to keep on learning.

Mr. Mathew Job of Crompton Greaves Consumer Electricals Limited said, "Conflicts between nations as well as those between man and nature are creating significant impact. Earlier companies would look up to cheaper suppliers which have changed post the pandemic." He noted, "Change is going to be the buzzword across the globe. The abilities of a company to respond to consumer requirements and service their needs is the key to withstand such disruptions."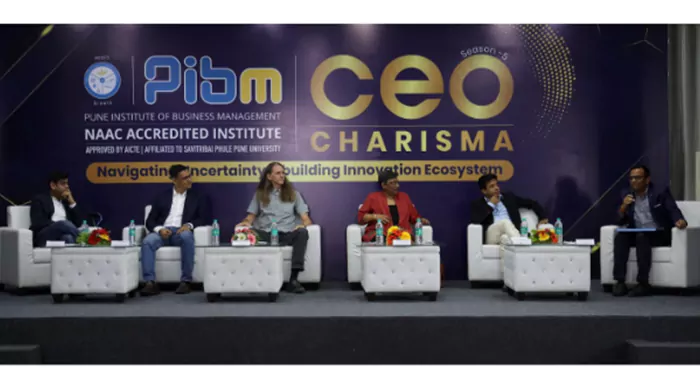 Mr. Parag Kulkarni of A.O. Smith India added that trends among consumers are changing and a CEO's job is to grapple with this change accordingly by reading their minds and behavior patterns. Consumer expectations have also grown with buyers voicing their grievances on social media and public platforms today. "Consumer demographics are changing with youngsters showing more buying patterns. Consumer expectations have become more prominent with buyers voicing their grievances on social media and public forums."

The second session, post-lunch, brought another important and relevant topic 'Building eco-system for innovation and growth'. CEOs on the dais included Mr. Arijeet Talapatra (CEO of Transsion Holdings), Ms. Preeti Reddy (Chairwoman - South Asia, Kantar), Mr. Steven Hardgrave (Co-founder and CEO at Varthana), Mr. V Krishnan (Co-founder and President at Justdial), and Mr. Vijay Chordiya (Managing Partner at Esbee Electrotech LLP).

Mr. Arijeet Talapatra of Transsion Holdings said "one needs to be extremely adaptable in order to innovate. Innovation is all about the BOSS terminology: Brainstorming, Openness, Supportive, and Success". "Language is certainly not a barrier for someone to be innovative", he added. "Have a customer-centric approach and the patience to grow gradually," he noted.

Ms. Preeti Reddy of Kantar on her part said, "The consumer is way ahead of the manufacturers and market researchers. So keeping up with them as well as the opportunities that come are signs of a company growing. We look for people who have the ability to learn and unlearn. "Be a teacher all your life. Teach the people who will work with you and develop empathy. Leadership is today more democratic."

Mr. Steven Hardgrave of Varthana added, that the idea of innovation is very much linked to growth. "Covid has brought with it a number of challenges. One challenge is to equip low-cost schools to face the future. Committing mistakes is part of learning. You need to appreciate innovators for their mistakes and imperfections so as to create a conducive and thriving space for them to flourish. Integrity and ethics are important. Enjoy your work and serve with passion."

Mr. V Krishnan of Justdial said, "Innovation is a way of life and both on personal and professional fronts one needs to do things differently. India has about 350 million people between the ages of 18 to 25. The youth need to be mentored and guided for the country to achieve remarkable growth. Innovation cannot be a single man's theme. It has to be a collective effort. This is India's golden decade. Working styles should be innovative to be more productive today."

Mr. Vijay Chordiya of Esbee Electrotech LLP said, "Innovation is more than just bringing about change in a product or technology. It is a change for the betterment of the customer and the company. Identify the market and the gap in that market. Our actions today will decide our future. When we look at a candidate for a job role, we do not look at male or female, we look at attitude."

Overall, the 5th Season of CEO Charisma was a success and provided PIBM students with an opportunity to learn the important aspects of Innovation Ecosystem & Uncertainty from the industry stalwarts.
---