PIBM Blog
Education

Does Not Only
Happen in the Classroom
Why MBA or PGDM is the right choice for B.Sc. graduates for building a career?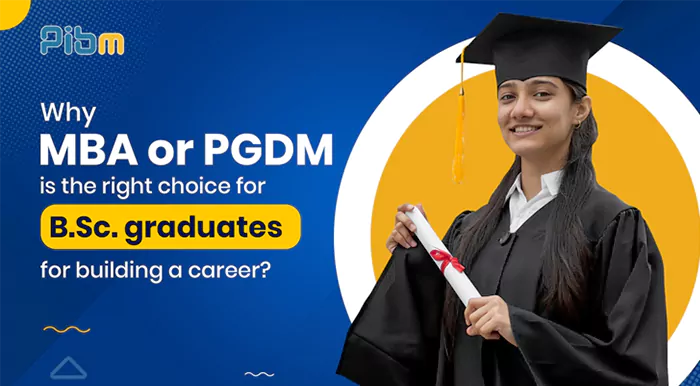 Education
---
Nearly every graduate from any field is keen on pursuing an MBA from the best MBA colleges in India as it is undoubtedly one of the most popular and in-demand degrees to begin a career in the corporate world. When students pursue science, commerce, or business undergraduate programs, they can choose from a variety of specialized MBA courses to obtain competence in their chosen field of study.

After completing a B.Sc degree, graduates can choose from a mixture of programs, with several opting for an MBA from top MBA colleges in India with the highest placements to build professional abilities, understand management intricacies and learn more about the corporate world. To all those students considering courses after completing a B.Sc, here is your guide to attempting an MBA after a B.Sc.

Getting an MBA from the MBA colleges in India with top placements after a B.Sc can assist an aspirant move up the corporate ladder. Students will be able to improve their knowledge of the business world and enhance their professional abilities. They get an opportunity to obtain an edge over their peers, progressing up the corporate ladder, by increasing the chances of getting promoted. Pursuing an MBA from one of the top MBA colleges in India with the highest placements, like PIBM after B.Sc, brings along numerous benefits. Aspirants are provided with a competitive edge over other graduates or postgraduates after they complete an MBA post-completion of a B.Sc program.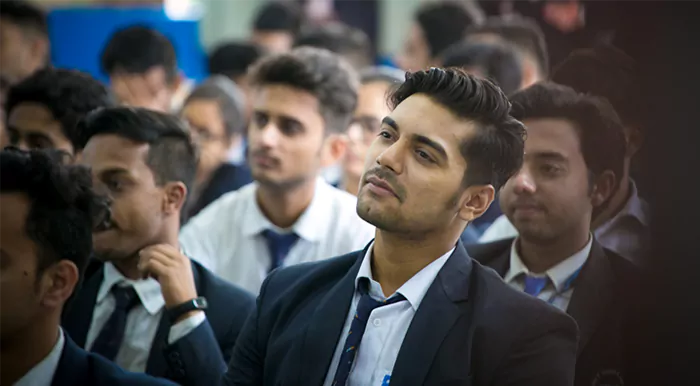 It will broaden students' career prospects by encouraging them to scrutinize high packages across various sectors and choose better career opportunities. A classic MBA syllabus stresses knowledge through a blend of practical learning and theoretical methods, resulting in grooming students to take up potential managerial roles in the future. Moving away from a purely theoretical B.Sc degree, an MBA incorporates industrial visits, presentations, group discussions, internships, projects et al to facilitate personality development and prepare students with adequate industrial exposure.
Reasons to pursue PGDM or MBA after B.Sc:
Being ahead of the competition: Pursuing an MBA after B.Sc could help students climb up the rungs of the corporate ladder in today's competitive world. They will be in a position to upgrade their professional skills by enhancing their business acumen. They will gain an added advantage over their peers and secure a better chance at promotions.
Diversify your options: The workplace of the present demands a blend of skills. Pursuing an MBA or a PGDM after B.Sc. offers the aspirants both managerial as well as technical competence. Presume the candidate holds a B.Sc in Microbiology and then decides to pursue a PG program from the top MBA colleges in India. Once they are done with their MBA degree, they will notice that their employability has gone up. They can learn about opportunities that employ both the technical as well management skills they possess.
Advancement in career: A B.Sc graduate can profit from an MBA degree to enhance the quality of his work. Take the case of a devoted employee who is facing difficulty in moving ahead in his career. He can easily enroll in one of the best MBA colleges in India and complete an MBA degree with a specialization of choice, allowing him to enrich his career. All around, combining an MBA with a B.Sc can broaden the job alternatives for candidates.
Job flexibility: Another crucial benefit of an MBA program is that it doesn't necessitate relocating or leaving a job. It is also available part-time as a distance-learning program. Pursuing an MBA after B.Sc can aid in the fast-tracking of the aspirants' corporate career by receiving promotions effortlessly along with better pay. This unique combination will be of tremendous importance to students for their career growth in the corporate world. However, pursuing a full-time MBA can open up more doors for numerous job profiles.
Upskilling along with flexibility: The contemporary workplace is dynamic today; if aspirants are not updating themselves according to this environment, they are reducing the number of opportunities at their end and even missing out on job options. Running back to full-time college is unaffordable for working professionals these days. Quality MBA courses can of course be pursued whilst students are actively employed. Pursuing an MBA after B.Sc is rewarding and can be pursued without putting your work on hold. But, it is still suggested to pursue a full-time PGDM or MBA program.
Diverse skills: With the evolution of technology in all businesses around the world, the desire for a diverse profile in candidates has never been more crucial. In such an environment, coming on board with two specializations is a good strategy. When a student completes an MBA after B.Sc, it becomes simple to formulate technical knowledge into management skills, giving rise to a superb combination for any employee.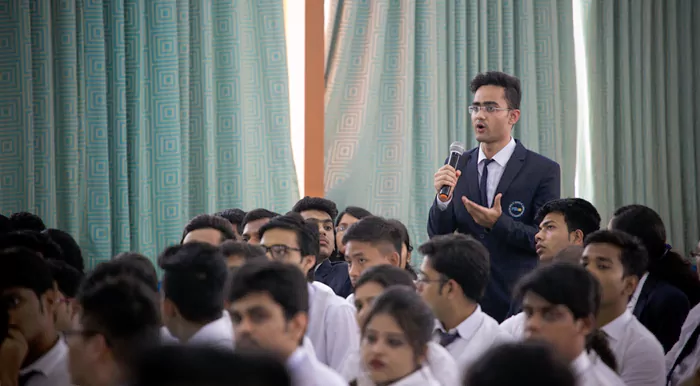 Scope of an MBA after B.Sc
Aspirants have a large spectrum of career options to choose from after completing a B.Sc program. For aspirants who prefer to pursue the non-technical side of the science field and move into a career in business management instead, an MBA is undoubtedly the best option.

A candidate who has a B.Sc degree under his or her belt along with an MBA has the perfect combination of management and science, giving him an added advantage in the corporate world, especially in the pharmaceutical and healthcare sectors. Aspirants might feel compelled to follow a new academic discipline after completing a Bachelor of Science in one subject for three years and earning specialized expertise.

An MBA or a PGDM after a B.Sc degree can provide the aspirants with a leg up on the competitive ladder. It will furthermore enhance employment possibilities by enabling the student to explore better career alternatives and look at high-paying packages in a wide array of businesses.

A PGDM or an MBA from a top B-School in India following a bachelor's degree in science makes candidates extensively more employable, with a distinct skill set that can support them to attain newer elevations in their careers. This category of education, along with on-the-job experience, is not only reasonable but also highly rated in organizations around the world. Because such a candidate is considered well-acquired with both management and technical skills, major recruiters provide the best job roles to them. Some of the job profiles offered are:
Financial Analyst
Equity Advisor
Investment Consultant
Portfolio Manager
Marketing Analyst
Digital Marketing Specialist
Channel Manager
Marketing Research Analyst
HR Generalist
Recruitment Manager
Talent Manager
And many more
MBA Specializations after B.Sc
The promising part about an MBA program is that it gives a broad mixture of specialization options that allow aspirants to explore. A candidate can comprehend cross-functional knowledge through a peer-to-peer learning curriculum under the recommendation of lecturers and faculty. Some of the popular specializations for a PGDM or an MBA after a B.Sc are:
MBA in Marketing: MBA Marketing is a post-graduate two-year degree program that focuses on enriching students' comprehension of channel management, digital marketing, customer relationship management, consumer behavior, managerial communication, market behavior, market research, brand management, advertising, and many others. MBA Marketing graduates can find jobs in a number of industries like FMCG, Retail, Consumer Durables, Automobile, Manufacturing, Telecom, Banking, and many more.
MBA in Finance: An MBA in Finance is a postgraduate degree program that covers diverse finance sub-domains such as financial management, equity research, investment banking, global taxation, finance analytics, corporate finance, and more. The course provides an in-depth insight into financial management along with financial operational & management skills. Graduates with this degree can get employed in a variety of businesses, including educational institutions, banks, and corporations.
MBA in HR: HR management fundamentals, recruitment & selection, talent management, training & development, industrial relations rules, and labor legislation laws, are among some of the subjects in PGDM or MBA in HR. This course concentrates on teaching employees how to work with payment processing and clients while recruiting and conserving a strong and healthy employer-employee relationship. It never goes out of demand and has a broad range of job opportunities as labor is constantly in demand.
Other Specializations: Along with the above core specializations, you can also opt for Operations, Business Analytics, International Business, and likewise.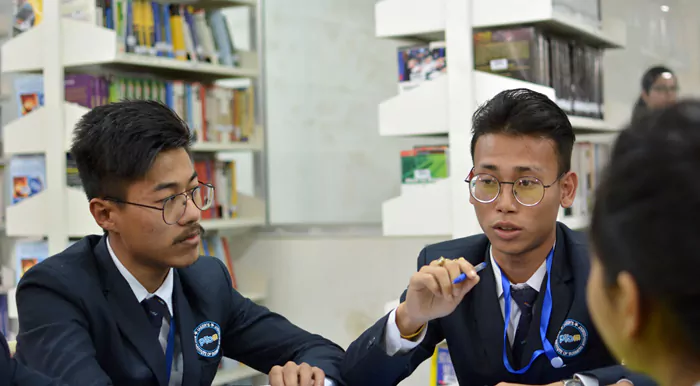 The Takeaway:
A student must calmly and independently evaluate all components while examining the advantages that an MBA degree might have for him or her and whether it is substantially beneficial for career growth in the long run. You should also meticulously analyze which specialization in a PGDM or an MBA program would empower you the most. In a nutshell, when all such issues are taken into perspective, an MBA from PIBM, one of the top placement colleges for an MBA in Pune, after a B.Sc degree, seems like the most advantageous career choice indeed!

To pursue an MBA from one of the top MBA colleges in Maharashtra, here's the best business management institute in Pune - PIBM. One of the best MBA colleges in Pune, PIBM encompasses industry-aligned training modules to ensure a strong management career for students.
This include:
Corporate-aligned training
Industry co-designed curriculum
Practical and hands-on learning approach
Dual internships with 50+ live business projects
Experiential Learning
Comparative Analysis Methodology & SCPS
JD Based Training
Industry certifications
Corporate mentorship
Personality development program
Accredited by NAAC, PIBM is ranked amongst the Top 100 B-schools in India by NIRF. Also, PIBM is the only PGDM college in entire Pune to be ranked among the Top 100 in India. The PGDM and MBA programs from PIBM are suited for professionals who want to learn and pursue an MBA. Students who choose this program from PIBM relish various privileges including 1:1 mentorship from industry supervisors and experts, advanced training curriculum and pedagogies, besides a chance to network with peers at offline base camps and learn with industry experts and work with them alongside on project and research while building their successful business management careers.
---