PIBM Blog
Education

Does Not Only
Happen in the Classroom
Build a career as a Financial Analyst after an MBA/PGDM in Finance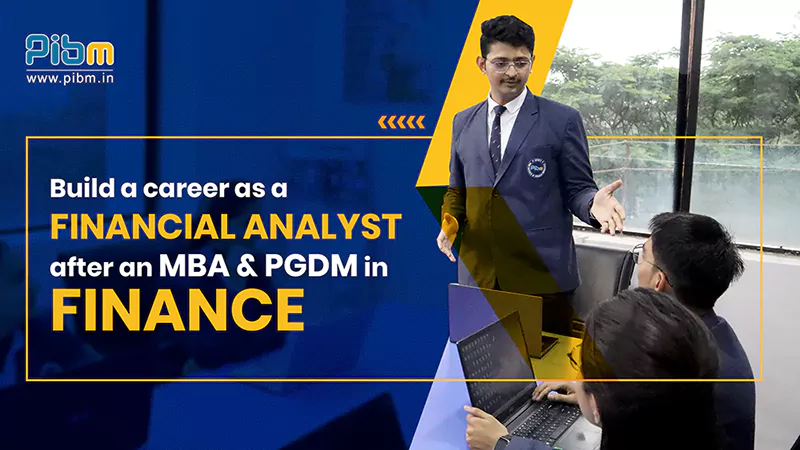 Education
---
In the corporate world of Finance domain, the role of financial analyst is gradually becoming a very promising career with a great future. Beginning a career in the field of financial analytics can open up a wide array of job opportunities. The goal of the financial analytics domain is to work on the organization's business strategy through trusted and fact-based insights based on the analysis of large chunks of financial data. By providing a detailed view of a company's financial data, financial analytics gives companies the tools to gain a detailed knowledge of key trends and take action to improve their performance.

In this article, we will throw light on how an MBA or a PGDM in finance enhances your career as a financial analyst and how PIBM will assist you to reach your goal. Let us first understand what the program is all about and what are the important skills required to become a financial analyst.
The role of a Financial Analyst & skills required
A financial analyst is a professional who has been given the task of analyzing the expenditure, revenue, and other financial data of the company and making important business decisions based on the same. As a financial analyst, you will usually work for a company or a client and take up their financial data to ensure thorough analysis for generating key insights. Once the analysis has been done, you will be responsible to create the company's financial plan, which is a critical part of your profile.

To become a successful and efficient financial analyst, there are specific skillsets that you need to develop:
Accounting Knowledge
You need to have basic accounting skills that can include in-depth knowledge of accounting principles, how to calculate budgets, techniques for analyzing and reducing costs, how to manage cash flow, conducting financial statement analysis, and more.
Analytical Skills
You need to have an analytical bent of mind which allows you to carefully sift through numbers. Having excellent analytical skills will ensure that you are able to assess and solve financial & business problems using strategic planning and analysis of financial data and statements.

Comfortability with Finance
You need to have comfort with the finance domain in its entirety so that you are able to relate to the company's financial portfolio and draw up a business plan for its future growth. Along with that, having knowledge of current investment markets, interest rates, and other current financial events also helps financial analysts do an efficient job.
Technical Skills
Along with having knowledge of financial analytics, to become a good financial analyst you need to have hands-on experience with various financial analysis tools and certifications like SAP, CFA, Bloomberg, ACE Analyzer, NCFM, CISI, CPA, and many more. This gives an added advantage to your profile while applying for the role of financial analyst in top companies.
Critical Thinking & Problem-Solving Skills
You need to be very good at effectively solving critical financial equations and complex business problems related to the company's financial data. The solutions also need to be fool-proof and creative. Similarly, having excellent critical thinking skills helps in finding the best financial investments for a business and deciding whether to sell or buy new financial assets. You should be able to think and come up with solutions for complex financial questions for making informed financial decisions.
PIBM's MBA & PGDM in Finance for building a career as a Financial Analyst
Having an MBA or PGDM in Finance is an excellent opportunity for students who want to look at a career as a Financial Analyst. The industry-co-designed PGDM and MBA programs in Finance offered by PIBM are very detailed and industry requirements-aligned courses. It ensures that students have the best understanding of the financial domain.

The MBA and PGDM courses at PIBM have been put together with the specific aim of helping students chalk out a career in the financial world. The extensive training in finance at PIBM ensures that students gain both insight and knowledge in a comprehensive manner.

To ensure the best training, students undergo multiple live business projects in companies from diverse sectors which helps in developing their hands-on practical knowledge. Similarly, students are provided with dual internships in the finance domain to ensure that they develop their financial acumen with the best companies.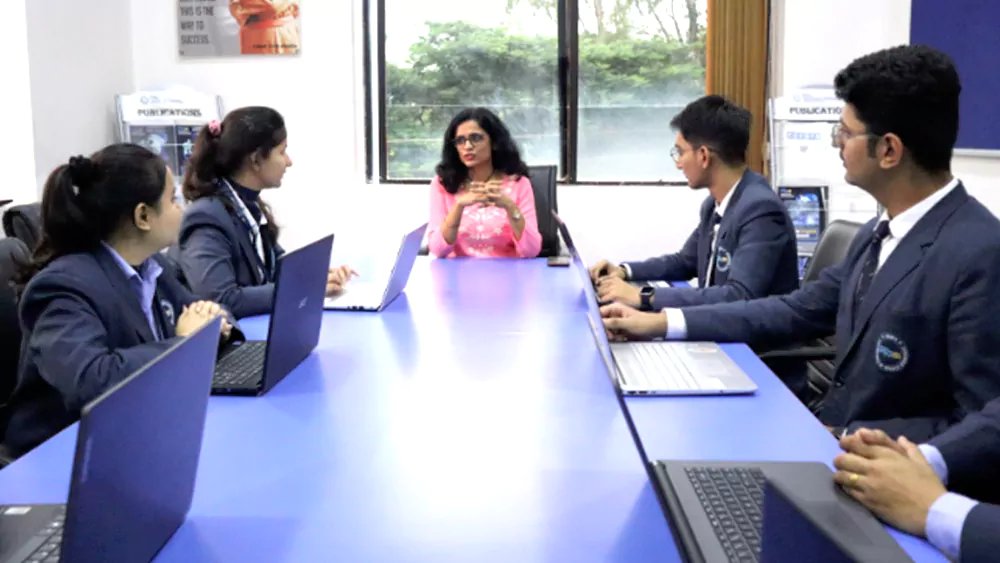 To boost the profiles of our students, we provide them with the industry's most in-demand tools and certifications. Some of them are:
So, if you want to build a career as a financial analyst, you need to look no further than PIBM. The idea is to ensure you can learn and gradually widen your experience in a challenging job scenario. The salary range is also quite promising, and hence with time and expertise, it will get much better and certainly flourish. The starting salaries for every company are different and for freshers, it can range from 8-11 LPA. As you move ahead in your career, it keeps rising.
Placements at PIBM
PIBM has tie-ups with some of the best companies from financial services, banking, and other many sectors, which have ensured that our students get a great head start in their careers. Hence, if you go by our placement records, we can say that it is indeed very promising and consistent with some of the top multinational companies in the field.

The most promising alliances with respect to placements, internships, and projects have been seen with names like Wipro, Deloitte, KPMG, Accenture, Grant Thornton, BNY Mellon, Thoughtworks, Karvy, TIAA, CIANS, and many others. At PIBM, regular placement drives are held, ensuring students get the best of the options to begin their careers.
---
Summary
The finance industry is the most evergreen sector to build a career in and finance analytics has gradually become one of the most in-demand domains. The career choice of becoming a financial analyst is very lucrative and hence you need to have the right skills and training to make you efficient in your job. If you decide to move forward with the MBA or PGDM programs in finance offered at PIBM, you can guarantee the best training in the industry and a successful career in the area of Financial Analytics.
| | |
| --- | --- |
| | By PIBM |