PIBM Blog
Education

Does Not Only
Happen in the Classroom
Career Path in Equity Research & Advisory Domain After an MBA or PGDM in Finance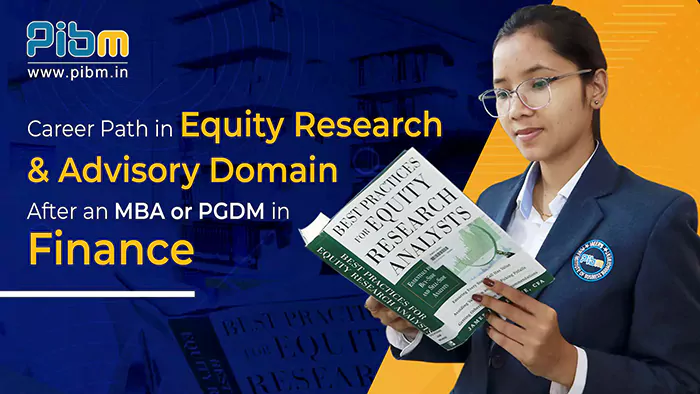 Education
---
Over the years, the financial market has grown by leaps and bounds. Aside from being one of the country's largest markets, financial markets have also provided numerous job opportunities. Perhaps this is one of the reasons why, year after year, an increasing number of people want to make a career in the stock market.
Equity Research & Advisory is one of the most comprehensive career choices after an MBA or PGDM in Finance. Pursuing a PG program in business management from an elite institute will ensure that you get the best training in Finance that can help in boosting your career. But before you sign up for the program, it is essential to have a preliminary idea of what is Equity Research & Advisory and how it will help you in your career growth in the long run.
At PIBM, we provide an all-around emphasis and specialized training in the Equity Research domain for our finance specialization students. Let us try to understand the field a little better with the help of this article.
What is Equity Research & Advisory?
Before looking at a career in Equity Research & Advisory, it is essential to make sure that you have a good understanding of what the field is all about. It will give you a much clearer idea, which will be comprehensive to make better choices and flourish in your career.
Equity research is all about assisting investors in making the best investments to grow their wealth. Companies, banks, and even high-net-worth individuals can be among these investors. Anyone who knows a little about finance would relate to the fact that equity is a crucial factor that must be paid attention to. When it comes to equity research, the basic idea is to ensure that you can conduct thorough research in the field and then provide comprehensive information that will aid the growth of the business and help in making better decisions.
As an equity research analyst or advisor, your main responsibilities will include:
Performing fundamental analysis to check economic and financial factors
Tracking the progress of companies and sectors through technical analysis
Valuating companies through various financial models
Equity Advisory where the responsibility will be the regular professional interactions with clients with research calls and advising them with the key insights
When you start your career in Equity Research & Advisory, the idea is to make sure that you gain a lot of domain knowledge and then use it practically. Hence if you have an MBA or PGDM in finance along with important certifications like NISM and CFA, it will automatically facilitate your career growth in the Equity Research domain
Skills & Qualifications required for a Career in Equity Research
To build a strong career in Equity Research & Advisory, there is a most plausible set of skills that you need to have to take your career forward.
Analytical Mindset

Analytical skills are valuable because it helps to find solutions to existing problems and determine what actions to take right away. Identifying problems and dealing with situations to find viable solutions is a key skill at all stages of conducting research and analysis.

Critical Thinking

It is the ability to evaluate any situation using logic and reasoning to determine its strengths and faults. Because it ensures that you receive the best answer to these difficulties, critical thinking is important. Employers favor candidates who can demonstrate a history of applying critical thinking skills. They require analysts who can solve problems effectively and rapidly.

Attention to Detail

A small mistake an analyst makes in their analysis can result in huge losses for the clients who rely on their opinion. Attention to detail is critical to avoiding problems and enabling success in research and analysis.

Finance Certifications

Along with the domain knowledge, having industry-relevant certifications in finance helps in not only enhance the in-depth theoretical and practical knowledge but also boosts the candidate's profile visibility in front of recruiters. Having certifications like CFA, NISM, Capital Markets, Derivatives, and more helps in making the CV more lucrative in front of recruiters.

Financial Knowledge & Background

Having a background in the field of finance, probably a PGDM or MBA in finance is quite rewarding, and you will be able to have a better understanding than most other competitors who do not have the same. A candidate who understands the fundamentals of financial analysis will undoubtedly have an advantage over others.

Communication

Equity analysts must communicate well, at least in writing as they must produce well-written reports with reasonable forecasts. Networking skills will also be important. Candidates should have excellent reading comprehension skills, writing, and speaking skills, as they will need to read detailed working documents, prepare research reports, and verbally convey information to others without fail.

Interest in Finance

You should have a keen interest in finance and be comfortable with numbers. Equity Research is a very technical and analytics-oriented sub-domain under finance. Without the interest, it might be difficult to grasp the depth of the topic.
Career Path
Several career options in equity research are available to aspiring candidates who have completed their education in Finance domain. Depending on the equity research course followed including an MBA or a PGDM, an individual can build a career as an equity research analyst or equity research advisor.
The most plausible career option you would be offered is that of an equity research analyst whose job is to study equity trends and provide knowledge to clients based on the same. Some of the most in-demand job profiles in Equity Research are:
Equity Research Analyst
Fund Manager
Equity Advisor
Trading Analyst
Risk Management Analyst
And more
MBA or PGDM in Finance for a career in Equity Research
As you would know that both MBA, as well as PGDM, are detailed professional courses that are designed so that you can have the best understanding of the field, that too in the most comprehensive manner to facilitate your career growth.
At PIBM, the MBA & PGDM programs are aligned with specialized profile-based training to develop practical in-depth knowledge of the Equity Research domain. The curriculum for both the MBA and PGDM courses is co-designed with industry experts that give you detailed and exhaustive training to start your career in the Equity Research & Advisory domain.
Along with the profile-oriented training approach, PIBM students are also provided with extensive training for preparing for CFA certifications. As part of the program, PIBM students are also provided with NISM, CPA, and CISI certifications. Also, PIBM students have 24x7 access to Bloomberg Terminal inside the campus to help them with the real-time financial data of stock exchanges from around the world.
Top Recruiters @ PIBM
PIBM has tie-ups with top companies from diverse industries including Financial Services, that provide students with placement opportunities and kick-start their careers in the Equity Research domain. Our top recruiters include JP Morgan, KR Choksey, Cians Analytics, eClerx, Motilal Oswal, Karvy Stock Broking Ltd., Ocwen Financial Solutions, JM Financial, S & P Global, XL Dynamics, ICICI Securities, Kotak Securities, LKP Securities, Reval Analytics, and many more.
The starting salary in the equity research domain is 8 LPA on average and easily goes up to 20+ LPA at the beginning of the career. As the experience grows, the salaries and other perks become attractive.
---
Summary
If you are looking to build a career in Equity Research & Advisory, the best way to take things forward is by completing an MBA or a PGDM. We at PIBM ensure that our students understand the analysis of the company's financials, ratio analysis, and forecasting of the financials with an objective of making Buy/Sell stock investment recommendations. Always remember that the professional insights you will get from these PG courses are what will take you forward in corporate life.
| | |
| --- | --- |
| | By PIBM |