PIBM Blog
Education

Does Not Only
Happen in the Classroom
What makes PIBM's MBA & PGDM in Finance the best in India?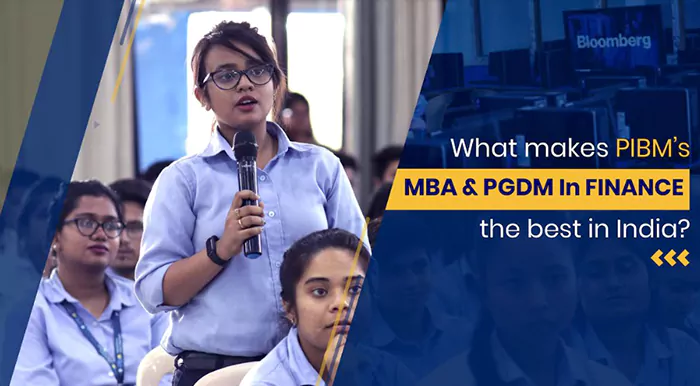 Education
---
PIBM is one of the few ivy-league colleges in the country offering specialized industry-aligned management programs in finance. It stands tall as the top MBA college in India that successfully trains students with the best industry practices on offer and solid domain subject knowledge.

Students joining our institute not only gain in terms of domain knowledge but also benefit from hands-on experience, preparing them to meet the real-time demands of corporate job roles.

It is important to understand why our finance management programme is a cut above what other schools offer:
Specialized Profile-based Training in Finance
PIBM offers specialized training in all aspects of finance domains. We train our students in understanding a company's financial profile which includes Financial Statements, Performance Ratio Analysis, and Financial Forecasting for buying and selling company stocks. We train our students on curating financial strategies, finding new investment opportunities, and managing the company's overall financial portfolio.

We also look into training our students in financial consulting: Cash Management, Tax Planning, Retirement Planning, Estate Planning, Asset Management, and Risk Management while developing strategic planning and industry best practices to improve a company's performance. The Global Taxation system has also been incorporated as a part of the profile training for our students in MBA and PGDM.

At PIBM, our Finance students are given specialized profile-oriented training on:
Global Taxation
Equity Research
Investment Banking
Finance Analytics
Commercial Credit
Corporate Finance
Wealth Management
Finance Quality Management
Financial Advisor Insurance
Expert Faculty Members with Rich Finance Backgrounds
PIBM proudly houses expert faculty members who have had years of experience in diverse portfolios of finance. Our faculty's corporate experience allows them to assist each student in understanding real-time situations of corporate finance and develop innovative solutions for effective results.

Our faculty members mentor students, preparing them with intricate knowledge and understanding of the subject as they take up corporate job profiles.
Corporate Interactions with Finance Experts
One important aspect that separates PIBM from other management colleges is the practical approach to training students in their chosen field and specialization. We conduct regular interaction sessions of our students with CFOs and other 100+ finance heads who visit the campus from time to time to share their knowledge and expertise.

These interaction and knowledge-sharing sessions are conducted every semester to help students gain an in-depth understanding of the finance domain.
Live Projects & Internships
We strive to stay on top of the list of best MBA colleges in India. Hence, we offer a curriculum that imparts not only theoretical knowledge but also offers a practical & hands-on experience to our students. PIBM follows a practical approach to training students during their MBA and PGDM courses in finance. Each student takes up multiple business projects and internships in different profiles like equity research & analysis, investment banking, commercial credit, financial analytics, financial advisory, and many more.

These live projects and internship programs help our students gain a real-time understanding of the financial operations of top businesses around the world and develop problem-solving capabilities.
Industry Certifications in Finance
PIBM focuses on grooming students beyond the classroom curriculum. We allow our students to gain industry certifications such as CISI, SAP FICO, SAP FSCM, CPA, and advanced Excel applications for the Finance domain.

During the certification process, students undergo rigorous training to adopt relevant tools and develop skills so that they can put in their best when they bag corporate jobs.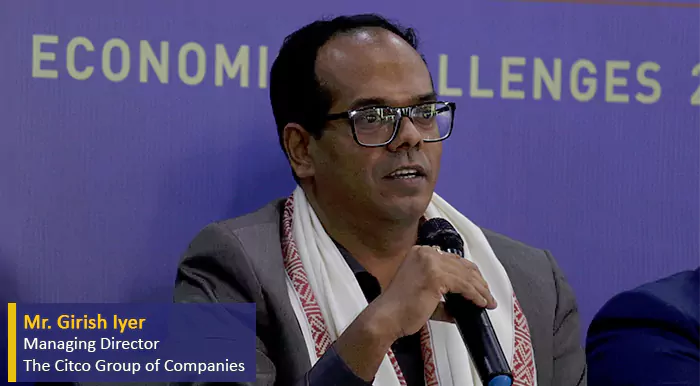 Training & Tools for Finance Competency Development
We at PIBM equip our students with all the in-demand tools so that they learn the intricate aspects of business finance. Our students get specialized CFA training so that they can get relevant certification and become Chartered Financial Analysts.

We also train our students on our on-campus Bloomberg terminal, Ace Analyzer, SAP FICO, Advance Excel, etc. Students learn to analyze and monitor real-time financial data and trade on the electronic platform.

They also get to analyze financial databases of different companies, design financial models, conduct balance sheet analysis, look toward investment research, and come up with relevant corporate actions.

Besides this, they learn core functional components in SAP ERP and manage all financial data in an organization. This specific training and tools help students build robust and flexible financial models during their job roles.
Placement Assistance for Better Job Prospects
PIBM offers inclusive assistance for campus placement interviews. We have tied up with over 650 business houses from different industries. We invite them every year for on-campus recruitment interviews for various finance profiles.

The industry partnerships enable us to invite a number of companies on campus and assist our students in finding suitable jobs. In the last few years, PIBM students have bagged amazing job offers in specialized finance profiles like global taxation, equity research, financial analytics, investment banking, wealth management, commercial credit analysis, financial advisory, and many more.
---
Conclusion
PIBM is one of the top MBA colleges in India and offers the industry co-designed curriculum in MBA and PGDM in finance. Our practical approach to training students has helped us equip them with sound subject knowledge and hands-on experience to meet the requirements of current in-demand job roles.

Do get in touch with us today if you want to know more about our management programs in finance.
| | |
| --- | --- |
| | By PIBM |