PIBM Blog
Education

Does Not Only
Happen in the Classroom
Top 12 Career Options after MBA & PGDM in Finance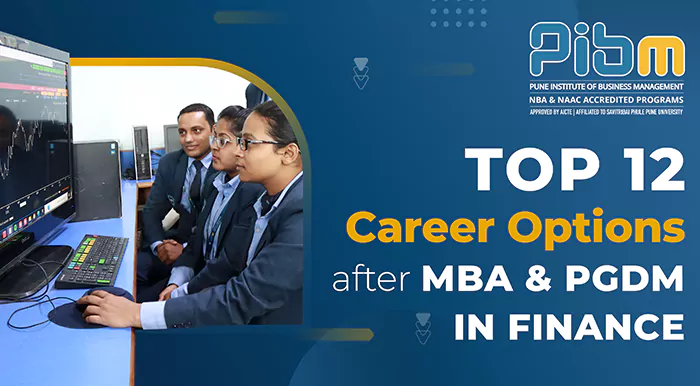 Education
---
An MBA or a PGDM in finance from a top B-School in India is a highly coveted qualification for students who want to build a career in the financial management domain. The program teaches students the industry-required skills and knowledge they need to manage a business's financial operations. As the finance industry is an integral part of every organization, there is a constant demand for skilled finance professionals, especially those having a postgraduate degree in business administration from tier-1 management colleges across India.

Furthermore, pursuing an MBA or PGDM in finance also offers the opportunity to build a strong network of industry connections. Most reputable institutes have tie-ups with top firms, and students can interact with industry professionals, attend guest lectures and workshops, and participate in networking events. This can help students gain insights into the industry and learn about potential career opportunities. Moreover, networking can also provide graduates with valuable references and recommendations, enhancing their job prospects.

In this blog, we will discuss some of the most in-demand career options available after completing an MBA or PGDM in finance. After completing a management degree in finance, students can explore many career opportunities, such as:
Investment Banking
It is a highly rewarding career path for finance professionals. Investment bankers help companies raise capital by underwriting and selling securities. They also provide strategic financial advice to companies regarding mergers and acquisitions and other financial transactions. Investment banking jobs are highly competitive, but they offer high salaries and bonuses.
Finance Analytics
Financial analysts help companies make investment decisions by analyzing financial data. They provide financial insights to the company's management, which helps them make informed decisions. Finance Analytics jobs are available in diverse industries, including financial services, banking, insurance, FMCG, consumer durables, retail, investment firms, and more.
Global Taxation
Global Taxation is one of the most in-demand and upcoming profiles in the financial services industry. Global tax consultants gain the advanced expertise to understand and operate effectively in the field of International Financial Reporting Standards, Accounting and Functional Analysis, Tax Structuring for Global Businesses, Foreign Tax Credit Rules, and much more. The top firms around the world are looking to hire management graduates having the skills and knowledge in this profile.
Equity Research & Advisory
Equity research analysts and advisors conduct research on different companies to analyse their strengths and weaknesses. Their research provides them with the necessary financial information to recommend the investors whether to buy, sell, or hold the stocks of the companies. There is a huge demand for equity research analysts and equity advisors in top brokerage firms around the globe.
Corporate Finance
It is the backbone of every business. Corporate finance professionals help companies manage their finances by creating budgets, analyzing financial statements, making investment decisions, providing financial advice to top management, and more. Corporate finance professionals also manage the company's cash flow and ensure that the company is financially stable. Corporate finance jobs are available in both the public and private sectors.
Commercial Credit & Risk Management
Commercial Credit and Risk management is an essential function in the finance domain. These professionals identify and manage risks associated with financial investments, such as market risks, credit risks, and operational risks. They also develop risk management strategies that help companies mitigate financial risks.
Commercial Banking
Commercial bankers work for large-sized banks and other financial institutions and help clients manage their finances. They provide financial services such as loans, credit, and investment advice to businesses and high-net-worth individuals.

Wealth Management
Wealth management is a specialized field in finance that deals with managing the finances of high-net-worth individuals. They need to have expertise and in-depth knowledge in cash management, taxation planning, retirement planning, asset management, risk management, and more. A wealth management professional provides financial advice to their clients regarding investment opportunities and wealth preservation strategies.
Investment Management
Investment management professionals manage investment portfolios for individuals and organizations. They conduct industry research, analyse the latest market trends, analyse investment opportunities, make investment decisions based on their analysis, and provide financial advisory to the key stakeholders.
Finance & Accounting
Finance and accounting professionals are responsible for preparing financial statements, analysing financial transactions, and ensuring that companies comply with relevant financial regulations. Additionally, they are required to handle the responsibility of financial reporting to ensure that financial statements are accurate, timely, and in compliance with relevant accounting standards. They also provide financial advice to companies and individuals and help them manage their finances.
Treasury Management
Treasury management professionals in a company manage the cash flow, investments, and liquidity. They are responsible for making financial decisions that help the company maintain adequate cash reserves and manage financial risks.
Finance Compliance
Finance compliance has become an important role in the Finance industry over the years. A finance compliance officer will ensure that the organizations comply with relevant financial laws and regulations. They develop and implement policies and procedures to ensure that the organization meets regulatory requirements.
These were the industry's most in-demand job profiles available to students after completing an MBA or PGDM in finance. Therefore, it's important to research each career option thoroughly and determine which path is the best fit for your skills and interests. Other career options after completing an MBA or PGDM in finance include financial consulting, private equity, and insurance. The career path chosen by an individual will depend on their skills, interests, and career aspirations.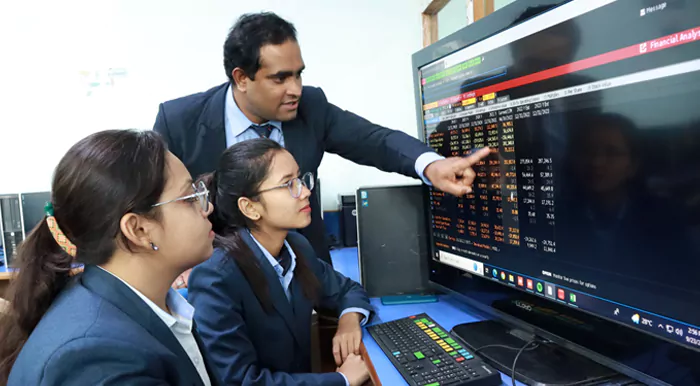 While Pune Institute of Business Management (PIBM) is among the leading tier-1 MBA and PGDM finance colleges in Pune as well as India, there are some other institutes that offer similar courses. As a leading MBA finance college in Pune, PIBM, accredited by NBA & NAAC, has a top-notch training infrastructure, a robust corporate interface, a dual-internship program, and offers incredible lucrative placement opportunities in 750+ top companies to students.

Before deciding on the institution, students should consider factors such as faculty, curriculum, industry connections, practical learning & training, and placement opportunities when choosing a b-school for their postgraduate program like an MBA or PGDM in finance.

In conclusion, an MBA or PGDM in finance is a highly versatile qualification that can lead to many exciting career opportunities. It equips students with the skills and knowledge they need to succeed in the finance industry. Students should research their options carefully and choose a course and institute that aligns with their career aspirations in the field of Financial Management.
---