PIBM Blog
Education

Does Not Only
Happen in the Classroom
Top 10 tips: How to crack CAT 2022 in just 2 months?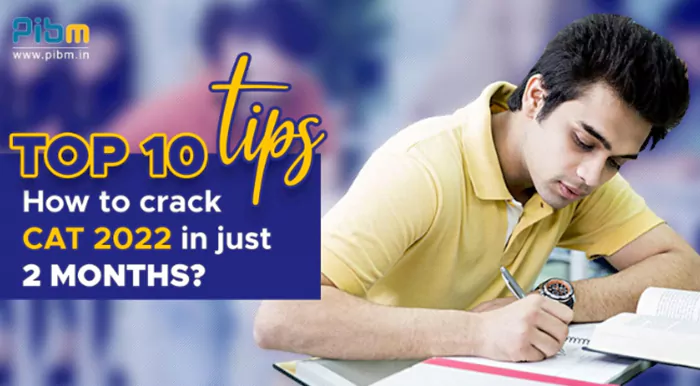 Education
---
Establishing oneself with a good career trajectory after pursuing an MBA from the top b-schools in India is becoming one of the most eminent choices that students aspire for. At the same time, it is essential to keep in mind that pursuing MBA from a good institution requires cracking several competitive examinations, and one of the most important ones is none other than CAT or the Common Admission Test. This is a nationwide examination, and lakhs of students appear in the exam every year.

However, the time is almost here, and with just two months in hand for getting ready with the final preparation for the examination, it is time to buckle up for the last phase. Today we will discuss the top 10 tips you should keep in mind when aspiring for the CAT 2022 examination and how you can ace your way through the betterment.

However, do remember that the best thing we still suggest is to start in advance so that you do not become hassled at the last moment. These ten tips will brush up on your previous moment preparation and ensure that you can have exposure in the field of MBA.
Top 10 Tips
There are a lot of things that you need to keep in mind when it comes to the last two months of preparation for CAT 2022. However, some of the most promising ones in this case are:
Understand the Exam Pattern
One of the most common mistakes that many students tend to make is that they do not understand the exam pattern well. Therefore, it is essential to understand the general structure, which will automatically give you an upper hand in understanding what the examination seems like. Based on this bifurcation, you can plan your strategy, devote more time to the essential subjects, and have more marks attributed to the same. You can always visit the IIM CAT official website to check the pattern for CAT 2022.
Go through the previous Question Papers
Just like any other competitive examination, even for the CAT 2022, make sure you go through the previous year's question papers which are equally important under all circumstances. Going through CAT's last year's question papers is very important because it will give you a better upper hand and consequently help you understand the focus areas. Not only that, in many cases, you will see that there is a reference factor as well, and hence we will suggest that you try to go for at least the ten years question papers scan. You can also attempt to solve the questions papers to check the preparation level and time management.
Do Not Waste Time on New Topics
A widespread mistake that many students tend to make during the last phase of preparation is that they keep on focusing on new topics at the last moment and hence invest extra time. You can check new topics and begin preparation for them only if you are comfortable with the other topics or concepts. Otherwise, it is wise to avoid and try to focus on those areas which are your strengths and from where you can surely get the marks.

Section-wise Preparation
One of the better things about preparations for CAT 2022 is that you can plan your preparation according to the different sections. We always suggest that, ideally, preparing the entire syllabus is very important. But if there are time constraints, you can also go for the section-wise preparation, which is equally essential under all circumstances. The best thing to do is then follow a study plan which has been made based on the section-wise bifurcation.
Focus on Grammar
There is a common notion among students that they will be able to achieve it all when it comes to grammar under the verbal ability section, and consequently, they tend to overlook the same. However, the essential thing that you have to keep in mind, in this case, is to make sure that you give enough focus on the domain of Grammar as well because this is a section where you can get the total marks very quickly. Always make sure that you have given the grammar section a good revision.
Stress on the Vocabulary
When it comes to the CAT, you will notice that the one area which has been focused on under all circumstances is the knowledge of vocabulary. It is almost given that the vocabulary that will be used in this particular examination is not the regular one that we come across, and hence you have to make a little extra effort. Try to go through the previous years' question papers of the model question papers to have a fair idea about what the vocabulary might look like. Using vocabulary cards with synonyms and antonyms is the best way to prepare at any time and at any place.
Practice Time Management
One of the most common problems that many students tend to have when preparing for this examination is that they do not know how to manage their time well. The most common complaint you will encounter is that there were many questions to do but significantly less time. You must practice time management, and the speed should undoubtedly increase in the last two months. Taking a mock test every day while strictly adhering to the time limit will surely help in understanding the importance of assigning the time to different sections and planning accordingly.
Take out time and breathe
The stress of the CAT examination is such that you will get very less time to think about yourself. But at the same time, keeping this factor in mind is essential. If you do not keep your mind in a sane condition, you will automatically be unable to crack your way through the examination. Hence make sure that even in these two months, you focus a little on yourself. Practicing meditation or exercise will help in optimizing the blood flow and maintain calm in adversities or tough challenges.

Appear for Mock Tests
The best thing you need to do is focus on appearing for mock tests and increase the frequency because it will help you have a better idea. Starting with 1 mock test on a daily basis and then gradually increasing the number of tests will accustom your mind to the test. The most important reason is that you need to keep in mind that mock tests allow you to understand where you are lagging and how much you need to buckle up more for the exam. Another important thing to be done while taking the mock tests is to align the clock with the actual test time. It will help in preparing your mind for the important hours of the day when you will sit for the real test.
Look for a Mentor
And finally, we would always suggest that you search for a mentor who will be able to guide you better and give you a better understanding about what are the factors that you need to focus on. The best thing about a mentor or a guide is that they can give you knowledge and guidance based on what you might need as a student and how it can help you in the last couple of months. Approaching the previous students who have successfully cracked the CAT will surely help. You can also visit various websites where the IIM alumni share their experiences of the test.
---
Summary
Preparing for the CAT 2022 examination is not that difficult only if you can follow specific parameters and keep in mind that it is a complete and continuous process that you have to give time to. Maintaining self-discipline for the last 2 months with respect to managing the daily preparation schedule as well as allocating time for mental & physical health holds the most important key. In the last two months, all you need to do is buckle up your preparation and make sure that you focus on the small factors that will help you have a better success rate.
| | |
| --- | --- |
| | By PIBM |