PIBM Blog
Education

Does Not Only
Happen in the Classroom
Why MBA or PGDM is the perfect choice for BA graduates?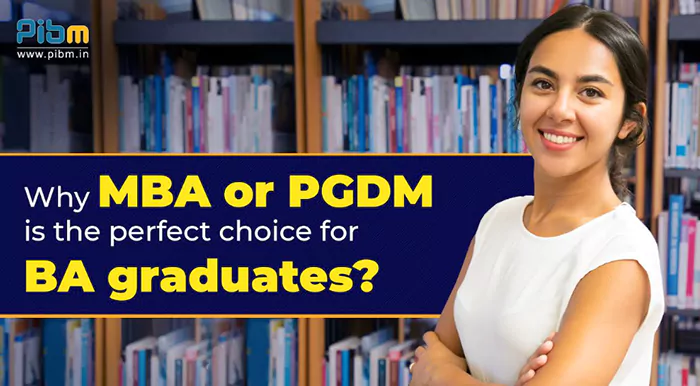 Education
---
Pursuing a postgraduate degree in management like an MBA or a PGDM after completing an undergraduate program sounds thrilling and is certainly an achievable option. But many students are still under the misconception that a master's degree in management like an MBA or a PGDM is a suitable and acceptable career path only for BBA or B.Com students. However, that is certainly not true in today's scenario.

Primarily, if students are pursuing an undergraduate program in arts or have completed their graduation in BA, then MBA is a beneficial and effective career option for them as much as it is for students graduating from the other streams. Those graduating from the Arts stream could get confused by thinking that business administration, commerce, or science students have an edge over them. Lunging into an MBA would be similar to getting into a very distinct world without any connection to their BA degree. That's absolutely not true as there are several diverse subjects in MBA or PGDM and both science and commerce students are exposed to modern and new challenges and subjects.

MBA or PGDM is an option open to students from all streams as it is all about organization, administration, and management that embraces diversity in terms of previous knowledge. MBA is a universal program having a broad variety of specializations within.

While closely looking at an MBA after BA, students can certainly go ahead and pursue the course, irrespective of what field their bachelor belongs to. From the eligibility viewpoint, you are 100 percent eligible to pursue an MBA or a PGDM from the best MBA colleges in India after your BA degree. MBA after BA is now considered to be an excellent choice for graduates from any field with a passion for entrepreneurship and business management.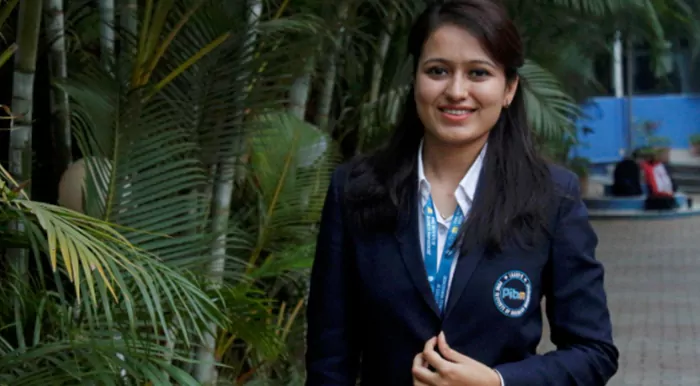 Why MBA After BA?
Deciding on a stream that suits the aspirants' particular career goals and then acting toward it with relevant and pertinent internships will assure that their career progresses on the correct path. Students who have studied BA and a desire to pursue an MBA or a PGDM program should be careful and ready to accept all the challenges because the subjects in both degrees are distinct from each other. The transition from arts to management will be gradual, but fruitful!

A BA program consists of a broad curriculum in which a student gains knowledge about many areas rather than staying focussed on one subject in particular. When we discuss an MBA or a PGDM from the top MBA colleges with excellent placements, we are talking about a wide range of specializations and career orientations for each candidate. All these facets result in an MBA after the BA program profiting greatly. There are several ways students can pursue an MBA by choosing their specialization, depending upon the choice of their bachelor's:
MBA after BA in Economics: MBA after BA in Economics is a relatively prominent career route. Primarily, aspirants can go for MBA with a focus on Economics, Insurance & Banking, Operations, Finance, International Business, E-Business, Foreign Trade, Strategy, etc. An MBA degree after an undergrad BA in Economics is well-suited for employment in finance and banking; for example, Equity Analyst, Economic Forecaster, Financial Analyst, Pricing Analyst, Investment Banker, Management Consultant, Risk and Insurance Manager, etc.
MBA after BA in Political Science: Candidates who choose to go for an MBA after BA in Political Science, pursue MBA or PGDM courses with a focus on Entrepreneurship, Strategy, Rural Management, Consulting, Media Management, Marketing, Advertising, and likes.
MBA after BA in English: Candidates who graduate with BA in English generally enroll in streams like Arts and Culture Management, Event Management, Media Management, Advertising, Human Resource Management, Communication, Marketing, Consulting, Digital Marketing, etc.
MBA after BA LLB: Pursuing an MBA degree after completion of a BA LLB is also not unusual. Many aspirants decide to opt for MBA or PGDM courses with a focus on streams like Legal Leadership, Strategy, Business Law, Intellectual Property Rights, Public Relations, etc.
MBA after BA in Psychology: Streams under an MBA or a PGDM after BA in Psychology which the candidate must consider include Human Resource Management, Communication, Consulting, Operations, Marketing, Advertising, Media Management, and Digital Marketing among others.
MBA after BA in History: Candidates who desire to pursue an MBA after BA in History will usually enroll in streams like Arts and Culture Management, Communication, Media Management, Consulting, Event Management, Marketing, Digital Marketing, Human Resource Management, International Business, and Advertising among others.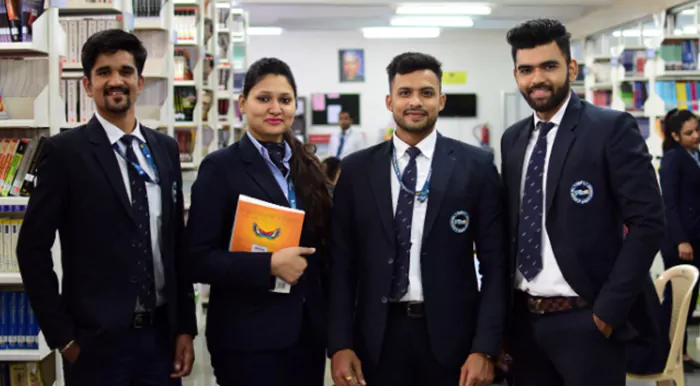 Advantages of MBA after BA
After pursuing a bachelor's degree in the arts stream, an MBA or a PGDM program opens up a whole new world of job opportunities. Management post-graduates with an Arts background can broaden their employment opportunities. It also enhances the student's managerial skills, enabling them to work in any corporation. An MBA or a PGDM is necessary for some industries and business professional pathways; MBA certifications can provide identical prospects in other fields as well. Graduates of an MBA or a PGDM program can explore numerous careers, including management in non-profit or private organizations.

In the present job market, an MBA or a PGDM degree has a decent reputation. Graduates of an MBA program are adequately capable of financial management, marketing management, HR management, operations management, project management, staff management, business development, and much more.

An MBA or a PGDM will also furnish you with business management training at the corporate level and an emphasis on administration and management proficiency such as corporate organization cognition. Many organizations and colleges like to hire non-business major graduates with expertise in diverse domains. Graduates who want to establish their businesses will profit from an MBA or a PGDM degree. Aspirants who don't wish to limit themselves to one alternative choose an arts degree and an MBA with an arts focus. This helps in broadening the aspirants' horizons even more.
Career Scope after MBA with BA
Graduates with a PGDM or an MBA from any top MBA college with the best placements following a BA degree have a broad spectrum of job opportunities in India and overseas. Graduates with a BA and an MBA can anticipate a very rewarding career. Due to their several specialized streams, BA graduates are eligible for a huge range of job opportunities valid for any MBA graduate.

Apart from commencing and building their own business, graduates work as Finance Managers, Marketing Managers, Human Resource Managers, Product Managers, and other potential management positions. The extent of an MBA after a BA is relatively profitable, and it is propelled to expand further in the future as multidisciplinary courses become more prominent. Corporations are considerably more accessible to PGDM and MBA graduates with arts, humanities, architecture, engineering, social sciences, and other backgrounds. They choose these candidates since they carry the potential to bring a raw viewpoint and creative solutions to today's businesses.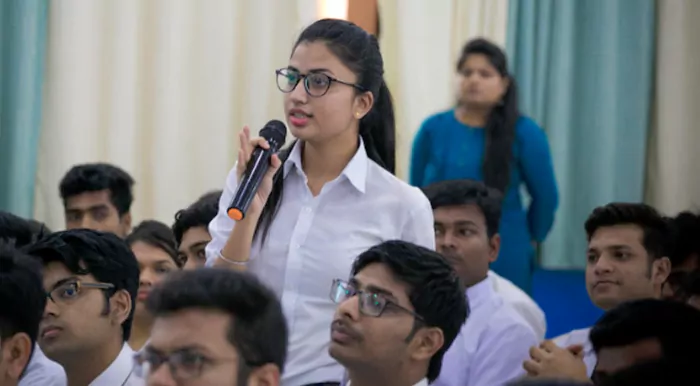 Research organizations, government departments of policymaking, and think tanks all have a great need for management graduates from diverse backgrounds. An MBA program is highly adaptable to stream requirements, giving students diverse options based on their objectives and interests. The MBA or PGDM degree provides a BA graduate enough leeway to establish his or her own business if they have the essential awareness and basic knowledge. The postgraduate program is aimed to cater to graduates with experience in both special and primary business administration areas.
The Takeaway
Multinational corporations hire multi-skilled employees to perform corporate operations and undertake complex challenges. They are keen on qualified MBA professionals to take their company forward. Therefore, there is no doubt that an MBA or a PGDM is a good degree to explore for a BA graduate.

For entrepreneurs, sound management skills are important for business growth. Pursuing an MBA after BA is a perfect choice provided it is acquired from one of the top MBA colleges in India with the best placements. Ultimately, of course, it is all about the graduate's eagerness and enthusiasm.

Pursuing an MBA program from an MBA college in India with top placements will enable students to go a long way in the corporate world. Once the students are determined to pursue an MBA program, they should get in touch with PIBM so that their expert faculty could guide the aspirant through the admission process.

To pursue an MBA from one of the top MBA colleges in Maharashtra, PIBM is undoubtedly the first choice as it stands out as one of the best MBA colleges in Pune. PIBM encompasses industry-aligned training modules to ensure a strong management career for students. This includes:
Robust corporate interface with 650+ business leaders
Corporate tie-up with 700+ companies for training, placements, and internships
Dual internship with multiple live projects
Industry co-designed curriculum
Practical and job-based training & learning approach
10+ industry certifications
Communication & Personality development program
Corporate mentorship
And much more
Accredited by NAAC, PIBM is ranked amongst the Top 100 B-schools in India by NIRF in the latest 2022 rankings. Also, PIBM was the only PGDM college from the entire Pune to be ranked among the top 100 in India. Irrespective of the UG degree, whether it is Arts, Science, Commerce, Engineering, any other, an MBA or a PGDM from PIBM is the perfect choice for students today who wish to begin their career with attractive salary packages or want to start their own venture with important business acumen & knowledge.
---