PIBM Blog
Education

Does Not Only
Happen in the Classroom
Importance of integrating Industry 5.0 revolution into the MBA & PGDM curriculum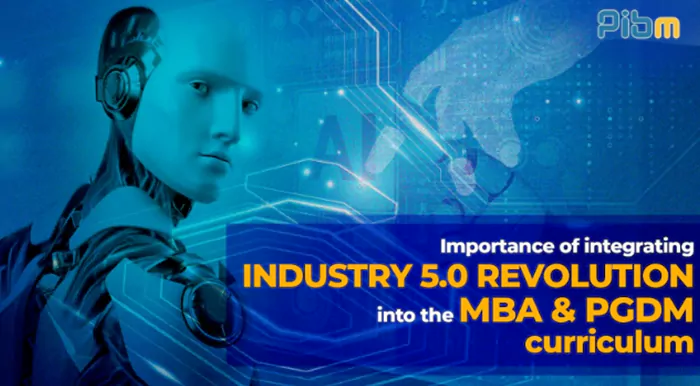 Education
---
What exactly is Industry 5.0 revolution?
The Fifth Industrial Revolution, known as Industry 5.0 revolution, is the latest level of industrialization, wherein humans work alongside AI-powered robots and progressive technologies to enhance procedures within the workplace. To put it in simple words, the Industry 5.0 revolution is about robotics and AI, which finds its application in diverse industries.

The past 2-3 years have seen many institutions and organizations enforce and successfully implement tech-driven modifications at an unexpectedly rapid pace, as assistance promising Industry 5.0 results in extra effective cost and performance. The same can be applied while learning how to build a business as well. This means top B-schools in India must adapt to the Industry 5.0 revolution by integrating it into the MBA & PGDM curriculum.

As society becomes more and more digital, embracing and encompassing technology is the key to the progress of nearly every business.
The powerful role of Technology in Industry 5.0
As anticipated, institutions use several innovative technologies that embrace the fifth industrial revolution, and this will likely stimulate as society becomes additionally familiar with the theory of digitization as a whole. This is because decent connectivity strengthens the cooperation between machines and humans or, more precisely, AI-based robots.

Industry 4.0, or the fourth industrial revolution, noticed the integration of connected smart and independent digital and physical technologies like robotics and IoT. Industry 5.0 integrates AI and exclusively crucial human strengths of deep understanding of customers and value-adding creativity to improve productivity and products and enable mass personalization.

The theme scrutinizes the transformative capability of Industry 5.0, generating business, behavioral, technical, and societal standpoints to communicate opportunities and challenges. The theme includes:
Bio-inspired manufacturing and design
Impact on sustainability and consumption
Technology to facilitate human-machine collaboration
Impact on skills, careers, and the organization of work
Ethics and principles of human-machine collaboration
Social and business significance of mass personalization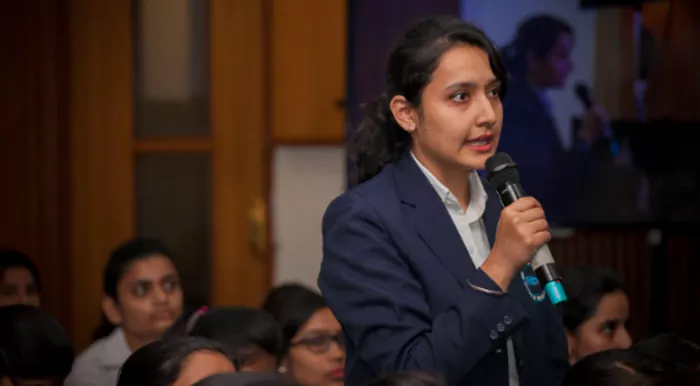 Industry 5.0 in Education - Classroom Learning, Absorption, Productivity
Technology in education, like all tremendous innovations, was something that our faculties were skeptical about, to begin with. Deliberately as the real potential of technology was understood, the top MBA colleges in India like Pune Institute of Business Management (PIBM) began enforcing these schemes in the curriculum and management methods.

This advent of technology commemorated the outset of a transition for our classic Indian educational system from a conventional one to a better and modern set up so much so that today it has practically become a requirement for every business management institute in India to adopt these methods of learning.

Comprehending this paradigm shift, at PIBM we introduced our own Smart Learning Management Software - CLASSROOM +, which ensures the all-round growth of an institute - Learning, Absorption, & Productivity. Now at PIBM students and faculty have a variety of AI-based learning tools right from Industry 5.0 revolution at their disposal.

Apart from introducing the AI-based smart learning management system on campus, PIBM has also introduced special elective courses as part of the PGDM curriculum. Now students can opt for a course in Artificial Intelligence in which they are trained on NLP which includes Sentiment Analysis, Query Response, Named Entity Recognition, Word Sense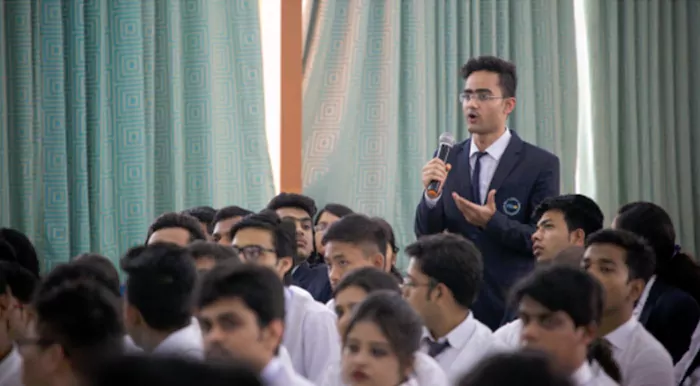 Disambiguation, Image Sensing, and Voice Recognition. Students are also given training on Machine Learning that includes Data Visualization, Regression, Classification, Clustering, Model Selection & Boosting, and Dimensionality Reduction. Apart from NLP and Machine Learning, students can also learn Computer Vision techniques.

To pursue an MBA or a PGDM from one of the top MBA colleges in Maharashtra, here's the best business management institute in Pune - PIBM. One of the best MBA colleges in Pune, PIBM encompasses industry-aligned training modules to ensure a strong management career for students. This includes:
Industry 5.0 curriculum
Robust corporate interface with 650+ industry leaders
Tie-up with 700+ companies for internships & placements
SCPS pedagogy to integrate industry-based learning
Experiential & hands-on learning approach
JD-based training for diverse job profiles
Dual internships and multiple live projects
Accredited by NAAC, PIBM is ranked amongst the Top 100 B-schools in India by NIRF. The MBA and PGDM programs from PIBM are suited for professionals who want to learn and pursue a postgraduate degree in Business Administration & Management. Students who choose this program from PIBM relish various privileges including 1:1 mentorship from industry supervisors or experts, advanced training curriculum and pedagogies, and a chance to network with peers at offline base camps and learn with industry experts and work alongside them on project and research while building their successful business management career.
---