PIBM Blog
Education

Does Not Only
Happen in the Classroom
A Rewarding Career in Investment Banking: Potential after MBA & PGDM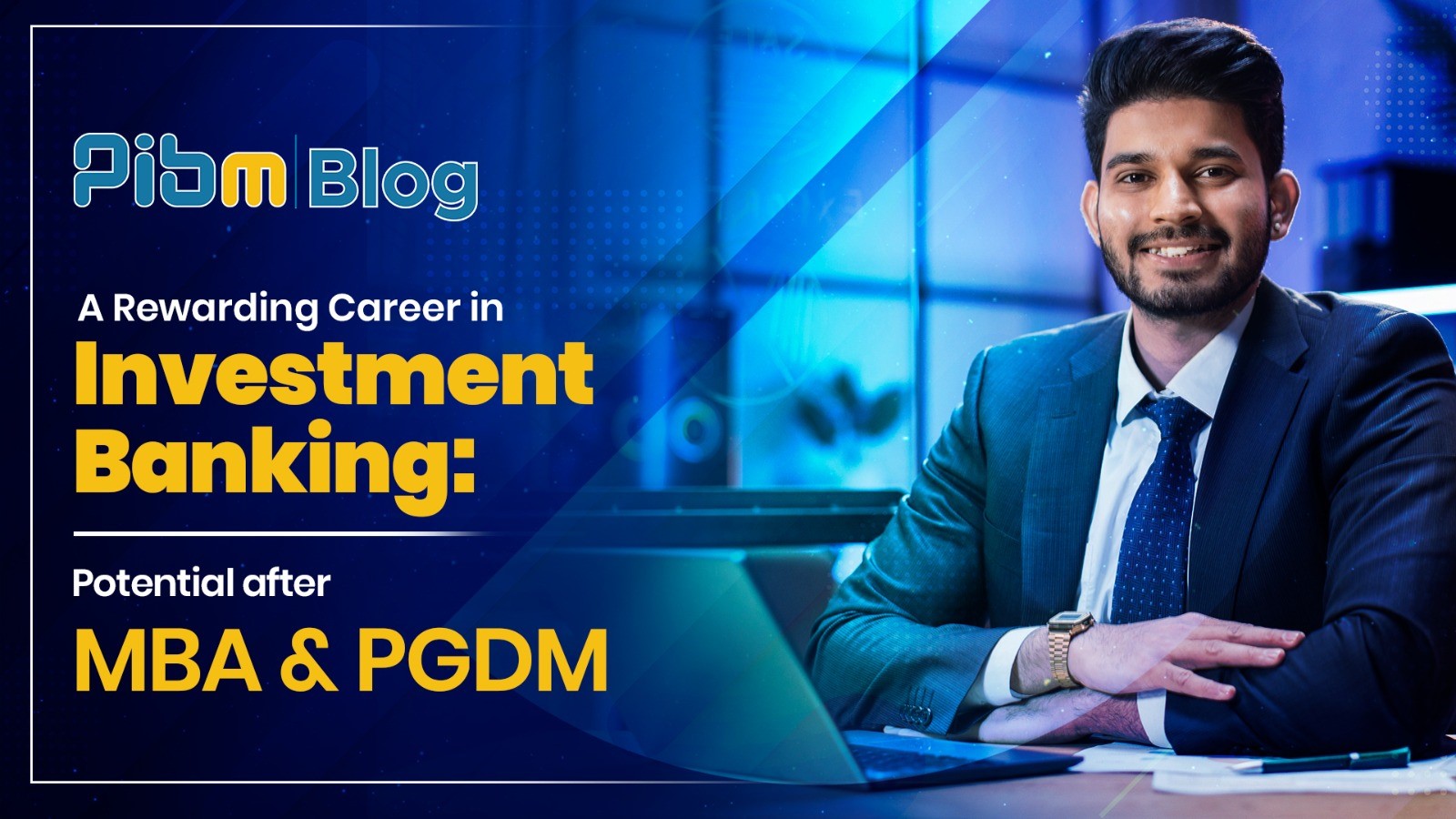 Education
---
For many years, Investment banking has been a lucrative and challenging career path for MBA & PGDM graduates. Investment bankers provide financial advice and services to companies and governments, working on a variety of financial projects, such as mergers, acquisitions, initial public offerings, debt financing, and more. An MBA or a PGDM in Finance from top B-Schools in India can provide the skills and knowledge necessary to succeed in the competitive field of Investment Banking which includes financial analysis, corporate finance, wealth management, asset management, and mergers & acquisitions. In addition to the technical skills, MBA and PGDM programs also teach management students the key soft skills that are essential for success in investment banking, such as business communication, teamwork, and problem-solving.
A career in investment banking can be enriching, with the opportunity to work on some of the most important deals in the world and learn from some of the brightest minds in finance. If you are interested in a career in investment banking after completing an MBA or a PGDM in Finance, this article will answer questions like why is investment banking important, what skills you gain from investment banking, and more.
Why build an Investment Banking Career?
The MBA and PGDM courses in Finance specialization offered by top B-Schools provide an in-depth understanding of various aspects of the financial markets, equipping you with the skills and knowledge necessary to excel in this competitive field. Let's delve into why an investment banking career is beneficial for you:
Broadened Skill Set in Finance
A Finance course like an MBA or a PGDM that focuses on Investment Banking covers a wide range of topics on financial management, including financial modeling, mergers and acquisitions, capital raising, wealth management, asset management, and securities trading. By acquiring these skills, you increase your marketability to potential employers and widen your career options in investment banking.

Enhanced Analytical Abilities
A crucial component of investment banking is the ability to analyze complex financial data and make informed decisions. Through specialized training in investment banking, you'll develop strong analytical and problem-solving skills, enabling you to tackle real-life business-related financial problems confidently and devise solutions to overcome these complex challenges.




Exposure to diverse Sectors & Industries
While working in the field of investment banking, you will receive the opportunity to gain exposure across diverse industries and sectors. This exposure serves as a platform for attaining specialized knowledge and obtaining valuable insights into numerous types of businesses. As an investment banker, this exposure will prove advantageous, if you aspire to specialize in a specific sector in your finance career ahead.




Competitive Edge in the Job Market
Investment banking is a highly competitive field in the finance domain, and having a PGDM or an MBA degree in Finance from top B-schools on your resume can set you apart from other candidates. Also, investment banking remains a relatively stable industry ensuring job security. Investment banks play a crucial role in assisting companies with capital-raising efforts and providing strategic guidance, ensuring their stability in turbulent economic times.




Lucrative Career Prospects
Investment banking is known for its high earning potential, with professionals often enjoying attractive compensation packages. Successful investment bankers get high salaries, bonuses, and other financial incentives, which can make it a highly rewarding career from a financial standpoint. Enrolling in an investment banking course can be the stepping stone to a rewarding and financially lucrative career.




Global Exposure
As an investment banker, you'll have the opportunity to engage in an interconnected and globalized economy, collaborating with international markets, companies, and transactions. Furthermore, working with global clients will give you exposure to different cultures and business practices, participating in cross-border transactions, and understanding global regulations and market conditions. Access to extensive research and global market data will empower your informed investment decision-making in today's global business landscape




Latest Financial Tools and Technology
Investment Banking as a competitive field in finance needs to have the access to latest financial technology and innovation. Being an investment banking professional, you will have exposure to advanced financial tools, software, and platforms that represent the leading edge of the finance industry. This exposure will enable you to remain abreast of the latest trends and advancements in the financial sector.




Networking Opportunities
PG programs in Finance like an MBA or a PGDM with specialized training in Investment Banking often provide opportunities to connect with industry professionals, experienced faculty members, alumni, and fellow students, helping you build a strong professional network. These connections can prove invaluable in accessing job opportunities, mentorship, and industry insights.
Choosing the Right Course for Building an Investment Banking Career
Pursuing an MBA or a PGDM course in Finance from the best B-schools in India or a foreign university is the right choice. As an aspiring Investment Banker, it's essential for you to evaluate the management colleges on various important factors before choosing the one to pursue your MBA or PGDM course. Here are some factors to consider:
Advanced Curriculum
Review the course curriculum and ensure it covers essential topics relevant to investment banking, such as financial modeling, valuation, and deal structuring. Some B-schools like PIBM have a specific focus on specialized training on mergers & acquisitions, wealth management, asset management, and private equity, so choose one that aligns with your career goals.

Practical Approach to Training
As a management graduate, your focus should be to acquire maximum practical and hands-on knowledge in the investment banking domain apart from the understanding of theoretical concepts. A top B-School will focus on providing you with advanced practical training methods, live projects in companies, real-life case studies, industry visits, and corporate internships.

Industry Experience-rich Faculty
Opt for a college where the MBA & PGDM courses are led by experienced faculty with strong industry connections. This will ensure you receive practical, real-world insights, and benefit from the expertise of teaching professionals who have firsthand experience in the field of investment banking.

Corporate Tie-ups
A top B-school where the MBA & PGDM courses focus on the practical approach to training will ensure to have strong corporate tie-up and industry connections. Such an interface will help you in interactions with business leaders from the Finance domain and learn from their experiences and domain knowledge.




Placement Opportunities
It is important for fresh management graduates to begin their careers in the respective domains in which they have undergone specialized training during MBA or PGDM courses. A top B-School with a strong corporate association with reputed recruiters will provide you with internships and placements in top companies, in the domains or careers of your choice.

Course Format and Duration
Consider the format and duration of the course, whether it's a full-time, part-time, or online program. Select a course that fits your schedule and allows you to balance your personal and professional commitments effectively.
How an MBA or PGDM from PIBM helps you build a career in Investment Banking
The Pune Institute of Business Management (PIBM) is a renowned management college located in Pune that offers a comprehensive MBA & PGDM curriculum covering job-profile-oriented training in investment banking. Ranked among the top 100 colleges in India by NIRF with NBA & NAAC accreditation, PIBM's world-class faculty, and strong industry connections ensure that finance students receive an education that equips them with the skills and knowledge necessary to excel in the investment banking domain.
In addition to offering specialized training in investment banking, PIBM provides students with numerous networking opportunities, live projects, internships, and practical exposure. By emphasizing experiential learning and hands-on training, PIBM graduates are well-prepared to tackle the challenges of the finance industry.
Furthermore, PIBM's commitment to providing a holistic learning experience extends to offering career guidance, mentorship, and placement support, ensuring students are ready to embark on their professional journey as investment bankers. As a result, PIBM graduates are highly sought-after by employers, paving the way for successful careers in investment banking and other areas of the financial industry.
All in all, enrolling in an MBA or PGDM with a special focus on investment banking can significantly boost your career. By broadening your skill set, enhancing your analytical abilities, and providing you with a competitive edge in the job market, investment banking training from top B-Schools in India serves as a valuable asset for professionals aspiring to excel in this dynamic field.
As you weigh your options and consider which MBA or PGDM course is best in the future and has more scope, institutions like the Pune Institute of Business Management can offer the specialized education and resources needed to help you achieve your career goals. With the right investment banking training, you can embark on a rewarding and financially lucrative career, setting yourself up for long-term success in the world of finance.