PIBM Blog
Education

Does Not Only
Happen in the Classroom
How Internships and Live Business Projects play a major role in practical/hands-on learning at PIBM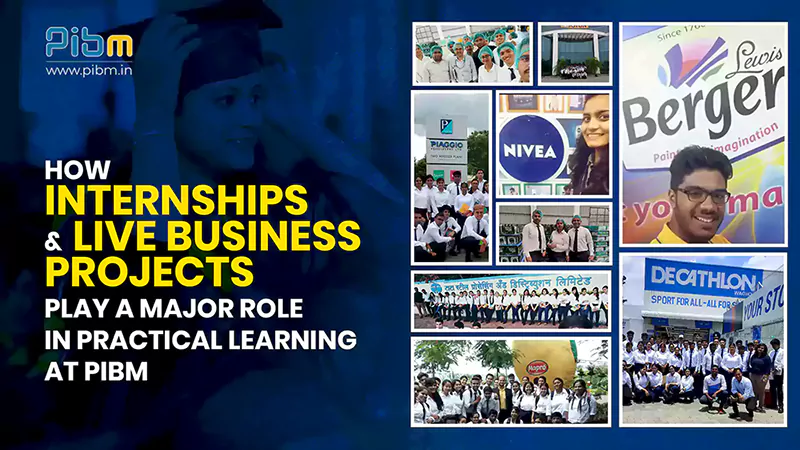 Education
---
A business school symbolizes the institution of business knowledge and expertise. To develop such competence, it is important for B-Schools to provide the students with ample opportunities for hands-on or practical learning. At PIBM, students get hands-on experience with different projects, modules, and strategies. They undergo 50+ Business Live Projects on various management concepts which not only sharpens their practical knowledge but also improves their analytical, research, and interpersonal skills. Apart from these small live projects, PIBM students also get a chance to pursue a month-long winter internship and 2 to 3 months-long summer internships in companies from diverse backgrounds.

These projects and internships are helpful in imparting practical knowledge to students alongside theoretical knowledge and serve as a means to build their corporate experience before starting a position post their management degree.

PIBM students are also taken on industrial visits to companies from various sectors and get a chance to directly interact with company professionals. The main objective of industrial visits is to empower students with industrial knowledge and the corporate world which helps them increase their sector understanding.

This article will throw light on all the important ways how PIBM develops practical knowledge.
Live Business Projects
Duration - 5 to 20 days

When - Every Semester throughout the program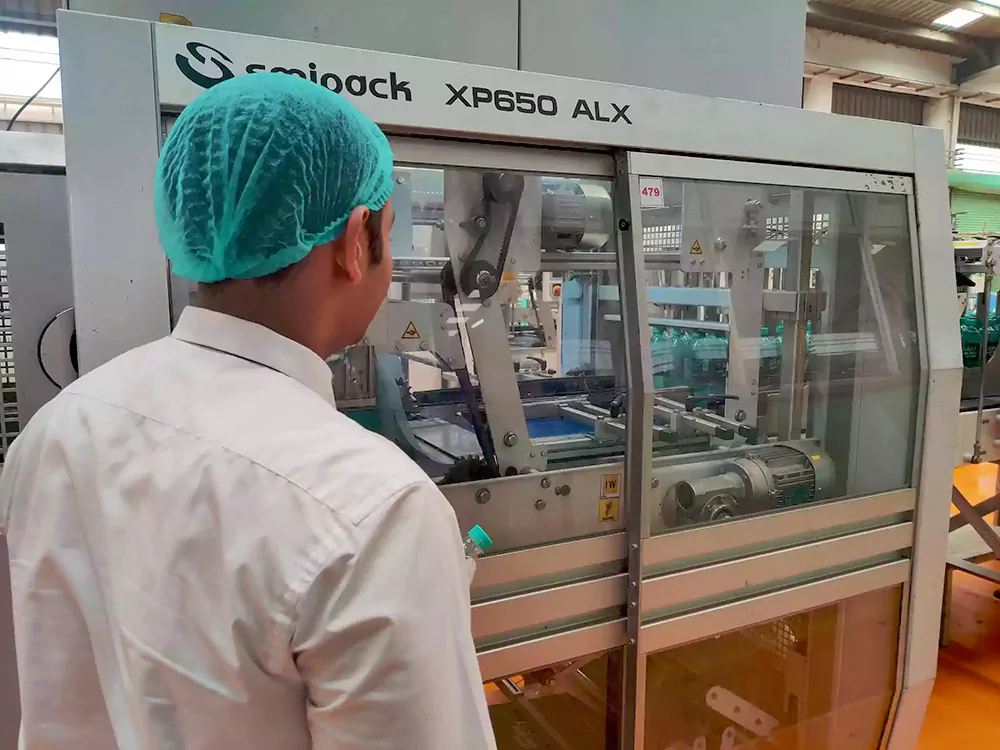 PIBM has included Live Business Projects in the curriculum to make the management programs more advanced and industry-focused. During the course, PIBM students work on short-term live business projects in diverse domains to develop their conceptual, analytical, communication, interpersonal, practical experience, leadership, and knowledge in the real world

Students at PIBM are assigned Live Projects in a variety of domains and profiles, where they work on various projects, modules, and strategies. Students get an understanding of the requirements and difficulties faced by many industries through their projects and then work on devising a solution to address the management problem and implementing it in enterprises, particularly SMEs.

For example, in Marketing Profile, students are assigned to various Distributors and Channel Partners to learn about the whole channel dynamics and channel conflicts, as well as to develop various marketing strategies. This allows students to gain corporate experience while also bridging the gap between classrooms. PIBM students complete 50+ Business Live Projects on various Management Concepts during the semester, which not only enhances their practical knowledge but also develops their analytical, research, and interpersonal skills.
Winter Internship program
Duration - 1 month

When - After 1st Semester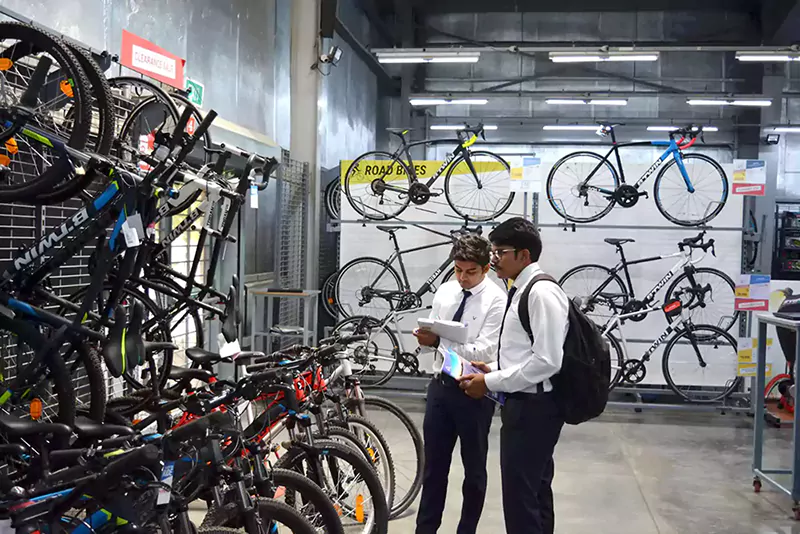 The first and most critical step for any management student on their path to a successful future is to choose the road ahead. It is a significant decision for any student to opt for specialization from among the various options available, such as finance, marketing, human resources, operations, and analytics among others because it determines the route ahead for their corporate career.

To make this process easier, PIBM students make an informed decision about their focus and they can participate in a month-long Winter Internship Program (WIP) at a variety of organizations in various industries. Winter internships assist students in gaining a clear understanding of how a company operates, what departments exist, how they interact with one another, organizational structure, and much more.

Students have a variety of sector alternatives to choose from for their Winter Internships, including Financial Services, FinTech, Digital Marketing, Manufacturing, Retail, FMCG, Automobile, Banking, IT & ITES, and Consumer Durables among many others. Students can choose from a multitude of companies that come to campus for internship placements after they've chosen a sector. Following their placement, students begin an internship in their selected companies to gain a better grasp of corporate dynamics with a focus on their preferred domain.

So, at the start of the second semester, when they must choose a specialization, PIBM students with brief but valuable business experience can make an informed decision about which specialization and career route to pursue.
Summer Internship Program
Duration - 2-3 months

When - After 2nd Semester

The main objective of the Summer Internship Program by PIBM is to give an opportunity to students about:
Developing an in-depth understanding of the domain they wish to build a career in
Developing an understanding of diverse job profiles under their domain and also developing the required skill sets
Building a corporate experience so as to make them market-ready.
Students at PIBM are sent for 2–3-month summer internships in a variety of sectors, companies, and profiles of their choice. This internship not only bridges the gap between theory and practice but also improves the skill sets and knowledge necessary to succeed in the corporate world. Students also get an opportunity to have a greater grasp of the corporate world, to work as part of a team, and to comprehend what their customers and clients want from them. Apart from this, students at PIBM not only understand how to learn but also how to perform in an organization in order to receive a Pre-Placement Offer (PPO), which prepares them for a better placement chance.

Following their internship, PIBM students conduct presentations in front of corporate executives, where they must present their Summer Internship Projects. Students are evaluated not just on the skills and information they learned during their internship, but also on how they contributed to the company's success through their work. Students gain practical knowledge and confidence as a result of the presentation and Q&A sessions with corporate executives.
Why internships are important for MBA/ PGDM students?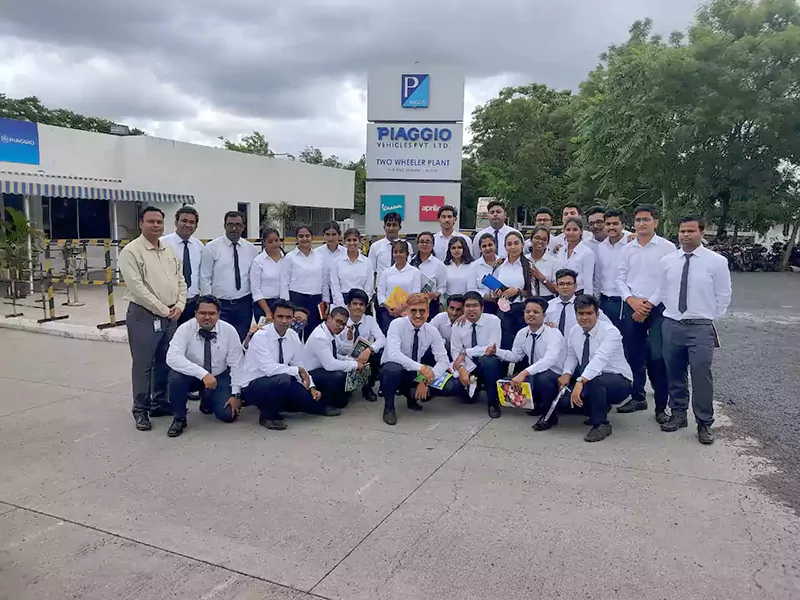 It is a life-changing decision to apply for an MBA/PGDM program. Internships are regarded as one of the most important sources of practical knowledge for management students. Honing your talents and increasing your qualifications is a surefire way to improve your chances of success. How internships help students at PIBM:
Exposure to the corporate world

It is essential for students to understand the world outside the classroom as only theoretical studies are never enough to help them understand the daily challenges or the functioning any sector goes through on a daily basis. Internships are therefore one of the best means to gain hands-on experience in understanding how industries function in reality. Students at PIBM are able to learn and apply business concepts in the real world.

Prior knowledge of roles and responsibilities

Internships are a great way to get valuable experience, skills, and information in a particular business or subject. It also offers students an idea of the types of jobs and obligations they can get to deal with if they choose to work in that field.

Improves the resume

Internships are an excellent means to showcase the skill sets that students acquire while working on various projects. It is advantageous to mention the projects students are deployed in during their tenure as an intern.

Excellent networking opportunities

While being exposed to several professional connections during the internship tenure, students can look for contacts who can continue to be their mentors or guides throughout their careers.

Convert internships to Pre-Placement offers (PPO)

Employers get to observe the students in action throughout their internship. Many businesses consider their interns to be the finest candidates for full-time positions. An MBA/PGDM internship done well ensures a strong possibility the employer will extend a job offer. At PIBM many students have received PPOs from their respective companies at attractive salaries.
---
Summary
Projects and Internships are a fantastic way to work closely with seasoned corporate professionals and business leaders in the chosen industry while also gaining knowledge, skills, and corporate experience relevant to the student's career aspirations. Internships can provide new contacts, mentors, and recommendations if they are handled properly.
| | |
| --- | --- |
| | By PIBM |