PIBM Blog
Education

Does Not Only
Happen in the Classroom
Corporate Interface: The Key to Career-oriented MBA and PGDM Programs
Education
---
If you're an MBA or PGDM student or aspiring to become one, you might have heard of the importance of 'Corporate Interface', but do you know how significant it is for your career growth? Many business schools or management colleges in India are emphasizing the importance of corporate interface in their MBA and PGDM programs. A corporate interface is a necessity for any educational institution since these partnerships help students to get hands-on training on business management principles as well as the right industry exposure.

In this blog post, we'll explore the benefits, real-world applications, and challenges of the corporate interface in MBA and PGDM programs and how to maximize their benefits.
What is Corporate Interface?
Corporate interface refers to the interaction between a business school and the corporate world. It's a platform where students can learn, interact, and gain real-world experience from seasoned industry professionals. The corporate interface is an essential component of the MBA and PGDM programs, as it provides students with a practical understanding of the diverse domains under business operations and prepares them for the job market.
The Role of Corporate Interface in MBA and PGDM Programs
The corporate interface plays a vital role in business management learning through the MBA and PGDM programs. It helps in bridging the gap between theoretical knowledge of business management concepts and practical applications in the real-world corporate scenarios.

A robust corporate interface provides students with the opportunity to interact with business professionals, network, and gain hands-on experience in their chosen field of business management. Through regular corporate interactions with the help of diverse activities, management students can apply classroom knowledge to real-world situations, which enhances their analytical, critical thinking, problem-solving, and decision-making skills.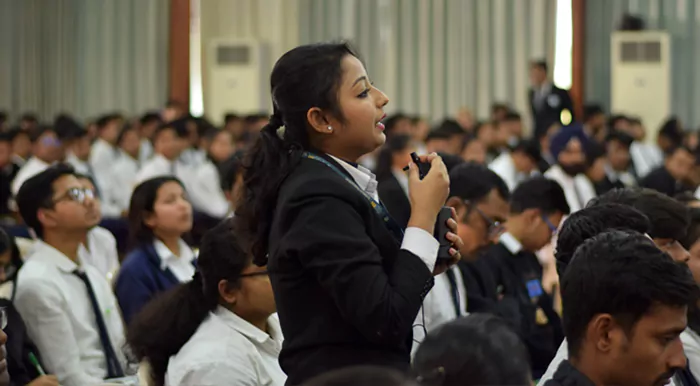 Benefits of Corporate Interface in MBA and PGDM Programs
Corporate interface programs provide many benefits to MBA and PGDM students, such as:
Exposure to experienced industry leaders and professionals
Interface with companies from diverse industries
Practical understanding of business operations
Hands-on experience in various business functions like finance, marketing, HR, analytics, operations, etc.
Networking opportunities
Industry-specific Skill development
Increased Job prospects and Career growth
Corporate interface programs have real-world applications that prepare students for the job market. For example, a corporate interface program might involve an industry visit, where students can interact with business professionals and gain practical knowledge about the company's operations. Similarly, internship programs, business projects, case studies, guest lectures, and workshops are an essential part of the corporate interface.

Some management institutes in India, for instance, the Pune Institute of Business Management (PIBM), the best MBA college in Pune, has a robust corporate interface for the benefit of management students. PIBM Institute has partnered with 750+ top MNCs and 700+ top Corporate Heads from diverse sectors. These partnerships train our students by leveraging unique training programs designed by the highly acclaimed executive committee to inculcate leadership, problem-solving techniques, analytical mindset, creativity, effective communication as well as organizational skills.

PIBM also conducts more than 150 corporate events, business conclaves, panel discussions, workshops, and training sessions, throughout the year. The objective of these events is to provide a platform for future entrepreneurs and future business leaders to learn and network with industry experts.
To maximize the benefits of corporate interface programs in MBA and PGDM programs, students should:
Attend industry visits, workshops, and networking events regularly
Participate in internships and live projects
Engage with industry professionals and alumni
Keep up-to-date with industry trends and developments
Apply classroom knowledge to real-world situations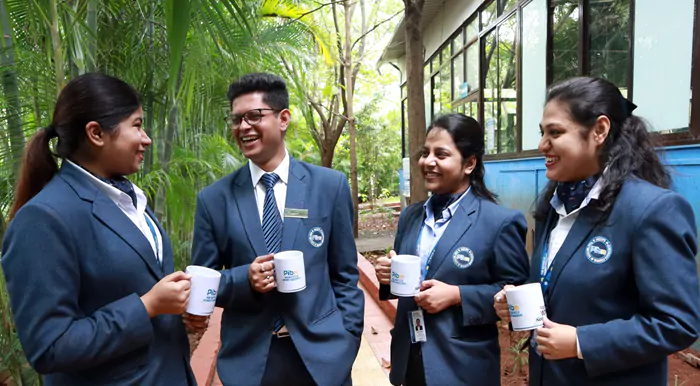 The Future of Corporate Interface @ B-Schools
The corporate interface is becoming increasingly important in MBA and PGDM programs, and its significance will continue to grow in the future. With the changing business landscape and the emergence of new technologies and industries, business schools will need to focus on providing students with the skills and knowledge required to succeed in the job market.

Additionally, in the future, the corporate interface in MBA and PGDM programs will become more customized and personalized. Business schools will focus on providing students with industry-specific skills and knowledge. With the rise of technology and automation, business schools will need to incorporate courses on emerging technologies such as artificial intelligence, blockchain, and data analytics.

Similarly, with the growing demand for sustainability and social responsibility, business schools will need to integrate courses on sustainability, business ethics, and social entrepreneurship. The future of corporate interface programs will also see an increase in virtual and online events, providing students with greater flexibility and convenience while still providing access to industry experts and professionals.

PIBM, being a top MBA & PGDM college in Pune, has always invested in initiatives that promote management students' development. This visionary outlook towards industry exposure has helped students to better their practical knowledge. Every year, PIBM conducts a multitude of corporate events such as 'CEO Charisma', 'International Conference', 'Pioneer Convergence', 'Digilytics', 'Business Conclave', 'Leaders Conjunction', 'Omnikart', and more to provide top-notch corporate interaction opportunities and practical learning to students. These efforts by PIBM are a testament to the college being one of the top 100 B-Schools in India as per the NIRF Rankings 2022.

Moreover, all colleges offering MBA and PGDM courses should have a strong foothold in the corporate sector. A corporate interface is crucial to decide the future of an institute in the near future.