PIBM Blog
Education

Does Not Only
Happen in the Classroom
Is a Global MBA Program from the USA Worth It? A Deep Dive into PIBM's Global Joint Degree Program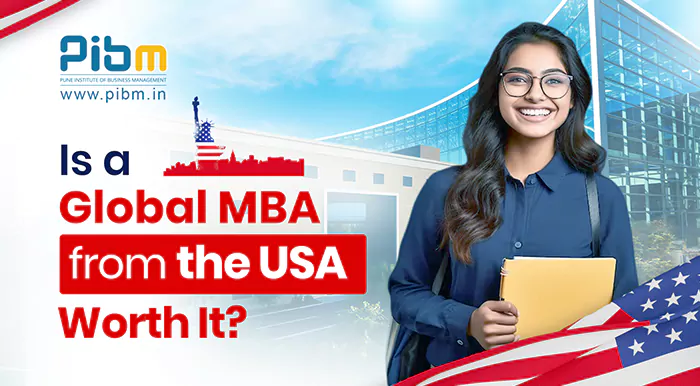 Education
---
What Is Global MBA?
A Global MBA is a management program that offers an international perspective and exposure, going beyond the confines of traditional MBA courses. It is designed to equip students with a global mindset, cross-cultural understanding, and the ability to navigate the complexities of the global business landscape. Thus, if a Global MBA is pursued from top MBA colleges in the world, it will add immense value to your management career.

Is the Global MBA better than a regular MBA? Well, Global MBA programs from the best B schools in the world, often feature international study trips, cross-border collaborations, and diverse faculty from various countries, providing students with a truly immersive and enriching learning experience. Thus, international MBA programs are more enriching and provide a wider global outlook to your management post-graduate program.
Why Pursue a Global MBA?
The advantages of pursuing a global MBA are many. Here are a listed few.
International Exposure: Students gain exposure to diverse cultures, business practices, and global trends, enhancing their cross-cultural communication and adaptability.
International Networking: Students form connections with professionals, alumni, and industry leaders from around the world, expanding their global network and access to opportunities.
Enhanced Job Opportunities and Career Mobility: Global MBAs are highly regarded by multinational corporations seeking professionals with a global perspective and the ability to handle international business challenges. Thus, graduates of global MBA programs are better positioned for international career opportunities and may experience accelerated career growth due to their diverse skill sets and global exposure.
Cultural Intelligence: A global MBA hones students' cultural intelligence, enabling them to work effectively in diverse teams and navigate global markets with sensitivity and understanding.
Global Perspective: The program provides insights into international business practices, geopolitical dynamics, and global economic trends, fostering a holistic understanding of the interconnected global economy.
Deep Dive into PIBM's Global Joint Degree Program
Pursue PIBM's Global MBA program, the Joint Degree Program, and get:
Exposure to Global Industry Practices: PIBM's Joint Degree Program immerses students in real-world industry practices through industry-led projects, case studies, and simulations, preparing them to tackle global business challenges.
Dual-Degree: Students will complete their PGDM from PIBM, Pune during the first year and will relocate in the second year to complete their MBA in USA.
Global Skills Development as Part of Curriculum: The curriculum focuses on developing students' global skills, including cross-cultural communication, critical thinking, and adaptability, essential for succeeding in international business environments.
Experiential Learning as per Global Industry Standards: The program emphasizes experiential learning methodologies aligned with global industry standards, empowering students to apply their theoretical knowledge in practical scenarios.
21+ Internationally-Recognized Industry Certifications: The program offers students an opportunity to earn over 21 internationally recognized industry certifications, enhancing their employability and industry relevance.
Internationally-Renowned Faculty & Instructors: PIBM boasts a faculty comprising experienced educators and industry experts from across the globe, enriching students' learning experiences with diverse perspectives.
Global Internship & Placement Opportunities in Best MNCs: PIBM's global connections enable students to access internship and placement opportunities with renowned multinational corporations, providing valuable international exposure.
Strong Professional Network with Global Leaders: Through guest lectures, seminars, and industry events, students at PIBM build strong connections with global business leaders, expanding their professional network.
Global Job Opportunities: PIBM's Global Joint Degree Program graduates have access to global job opportunities through international placement in top MNCs, facilitating international career mobility.
Applied Industry Experience with Curricular Practical Training (CPT) of 4-6 months: Students can gain applied industry experience through Curricular Practical Training, further enhancing their employability.
Hands-On Work Exposure with Optional Practical Training (OPT) of 1 Year in the US: Students have the option to undertake Optional Practical Training during their MBA in USA, gaining valuable work exposure in an international setting.
A Comprehensive Management Degree
PIBM's Global Joint Degree Program, one of the finest global MBA courses in India, offers a diverse range of management specializations, catering to the unique career aspirations and interests of students. With a comprehensive curriculum and exposure to global best business practices, this program equips students with specialized knowledge and skills, empowering them to excel in their chosen fields.
Why Join PIBM's Global Joint Degree Program?
PIBM's Global Joint Degree Program, one of the best global MBA courses in India, ensures that students receive hands-on training, experiential learning, and exposure to industry practices. With a focus on practical application, students are empowered to become innovative leaders, ready to address real-world challenges in their chosen specialization.

PIBM's Global Joint Degree Program offers a comprehensive and enriching global MBA experience. By combining academic rigor with international exposure and industry connections, the program equips students to excel in the worldwide business arena.

As the world becomes more interconnected, investing in a global MBA is a strategic choice for individuals seeking a successful career in the international business landscape. PIBM's program is a gateway to these opportunities, preparing students for global leadership and making it a truly worthy pursuit for aspiring global business professionals.
FAQs
Within 2 years, students will complete two programs both PGDM & MBA, and get a certificate of completion containing both degrees once the course concludes. So, PIBM's Global MBA program is called the Joint Degree Program.
Both OPT (Optional Practical Training) and CPT (Curricular Practical Training) programs allow international students in the United States to get job experience in their field of study. The main distinction is that OPT is for temporary employment after or during the program, whereas CPT is for academic training. OPT can be completed before or after the program, whereas CPT is completed during the program. OPT allows for greater job freedom, whereas CPT must be directly related to the academic program.
The course fee of PIBM's Global MBA program is ₹30 Lakh which includes the cost of the entire program from staying to studying PGDM for a year in Pune and the next year relocation for an MBA in the US.
Yes, PIBM's global MBA course provides a working VISA in the USA.
---