PIBM Blog
Education

Does Not Only
Happen in the Classroom
PIBM's PGDM Hybrid Program: Get a Management Degree from Your Home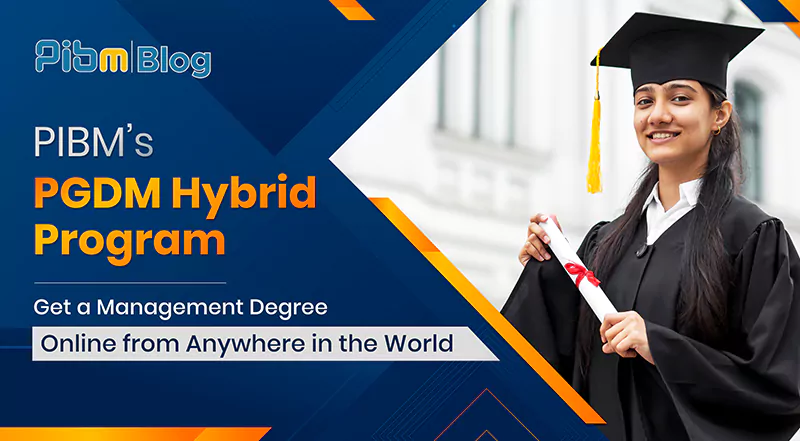 Education
---
In this era of 'work from home', where almost everything can be done online, it is not a surprise that the number of educational institutes providing degrees and certifications through online MBA and PGDM courses is on the rise. Previously, many B-schools that provided regular MBA and PGDM courses are now optimizing their curriculum and teaching methodologies for an online MBA program. There are numerous reasons why 'online MBA in India' is still the buzzword among management enthusiasts. Let's discuss this in detail.
Why Online MBA?
The rapid transformation of education going online has been a blessing in disguise for the students as Online MBA courses from top B-Schools offer:
Flexibility:
Online MBA programs are flexible as you can attend classes from anywhere thus making learning easier and user-friendly without hampering your daily work schedule.
Accessibility:
Since most of the classes in an online MBA program are recorded, participants can access the online study material according to their convenience.
Affordability:
Most of the Online MBA courses are available at a fee lower than that of the regular MBA programs.
Though these are the added advantages of pursuing an online MBA course, very few B-schools in India offering Online MBA or Online PGDM courses provide guaranteed internship and placement opportunities. An internship is key to getting placed as corporates check the real-world knowledge of a candidate before hiring.
What Are the Differences Between a Regular MBA and an Online MBA?
The main difference between a regular MBA and an online MBA course is the method of teaching. While in a regular MBA program, you need to be physically present in the classroom and attend the class, in the case of an online MBA, you generally get pre-recorded classroom lectures and a few live interactive classes that you need to attend virtually.

In the case of a regular MBA program, you need to attend the examinations physically and you get a full-time MBA degree while for an Online MBA course, the entire process of learning and giving exams happen online and once the course concludes, you get the degree.
What Is PIBM's PGDM Hybrid Program?
The PGDM Hybrid program offered by PIBM is a unique and advanced PG course designed to provide a blend of online and on-campus learning experiences, combining the flexibility of online education with the advantages of face-to-face interactions and practical learning.

The PGDM Hybrid course is structured to offer a comprehensive management education that prepares you for leadership roles in the business world. The program covers various aspects of management, including Marketing, Finance, and Business Analytics. It aims to develop your managerial, entrepreneurial, leadership, and critical thinking skills along with industry-relevant business management knowledge.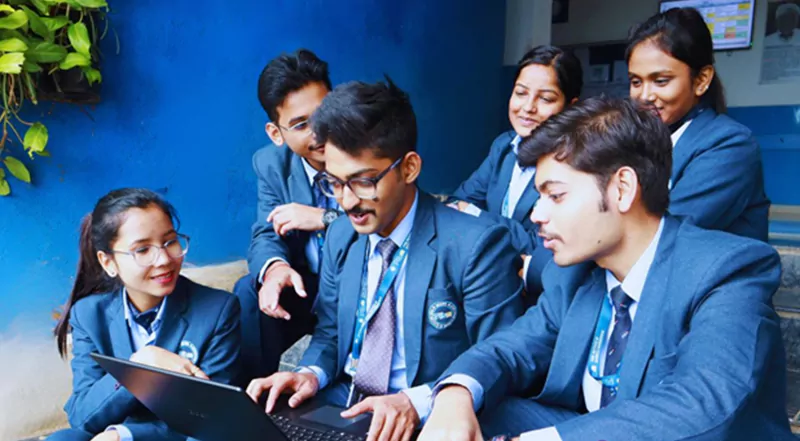 Why PIBM's PGDM Hybrid Program?
If you are searching for the best online MBA courses in India, your quest ends here, as with PIBM's PGDM Hybrid Program, you will get the following benefits:
Live Interactive Online and Physical Doubt-Clearing Sessions (at our centers across India)
The program offers both online and physical sessions. These sessions provide you with the opportunity to interact with instructors or mentors in real-time through online sessions and at designated centers located across India. You can ask questions, seek clarification, and receive guidance to overcome any difficulties you may have in your studies.
Hybrid Learning with 30-45 days of Physical on-campus Classes & Online Sessions
The program follows a hybrid learning model that combines both physical on-campus classes and online sessions. You are required to attend 30-45 days of in-person classes & workshops on campus, allowing for face-to-face interaction and hands-on learning. The remaining classes are conducted online, providing flexibility and convenience for you to access educational content remotely.
Industry-focused Curriculum
PIBM's PGDM Hybrid program inculcates an industry-focused curriculum, which is essential for imparting industry-relevant knowledge and skills. Employability in this dynamic job market is important where new skills are becoming relevant. This approach equips students with practical skills, problem-solving abilities, and industry insights, making them highly employable and adaptable to business challenges.
6-Month Internship in Top companies to enhance Practical Knowledge
As part of the curriculum, you are provided with a 6-month internship opportunity in top companies. This internship allows you to gain practical experience and apply your theoretical knowledge in a real-world work environment. It serves as a valuable learning experience and enhances the understanding of the industry you aspire to work in.
Advanced Industry-aligned Certification Programs to improve your Employability & Skills
You will be provided with certification programs that are designed to align with industry standards and requirements. These certifications and training aim to enhance your employability and skills, ensuring you are equipped with the necessary knowledge and capabilities sought after by employers in the relevant industries.
Corporate Interaction with Top Business Leaders during Events & Conclaves
PIBM organizes corporate events and conclaves like CEO Charisma, Pioneer Convergence, International Conference, Leadership Series, Business Conclave, Leaders' Conjunction, and Sector-Specific Business Conclaves, where you have the opportunity to interact with top business leaders. These interactions will take place online, allowing you to engage with industry experts, gain insights into the business world, and expand your professional network.
Letter of Intent (LOI) at the time of admission for Campus Placement assurance
This means that when you are admitted to the program, you will receive a Letter of Intent assuring job placement upon completion of your degree. This assures that you will have various campus placement opportunities waiting for you after the completion of your online PGDM course.
Best Campus Placements in Diverse Profiles in 750+ Top Companies
PIBM boasts a strong track record of achieving excellent campus placements. The institute has established connections and partnerships with over 750 top companies from various sectors, offering you a wide range of career opportunities across different profiles. This ensures that you have access to a diverse pool of job options upon your post-graduation.
Specializations Offered in PIBM's PGDM Hybrid Program
You can opt for one of the below specializations offered in PIBM's Online MBA program:
Finance
Marketing
Business Analytics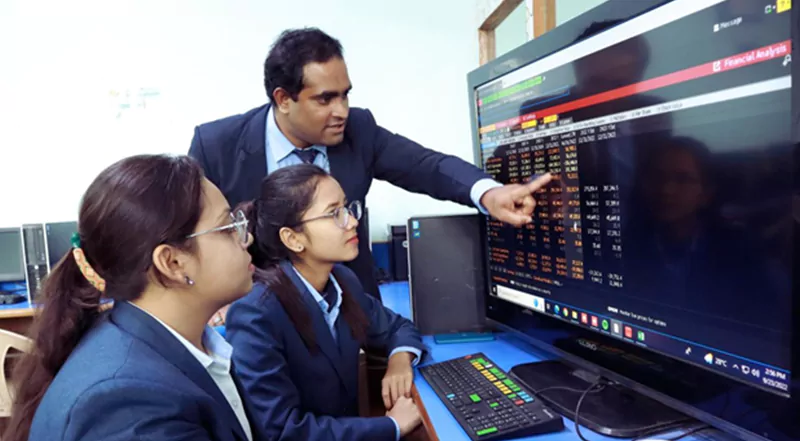 Certifications in PIBM's PGDM Hybrid Program
As part of the program, you will also get internationally recognized, industry-aligned training & certifications according to your domain of specialization.
Finance
Global Taxation:
This certification equips you with knowledge about international tax regulations, cross-border taxation, and global tax planning strategies. You will learn about tax compliance, transfer pricing, tax treaties, and other aspects of taxation that are relevant in a global business environment.
CFA Training:
CFA (Chartered Financial Analyst) training equips you with a comprehensive understanding of investment management and financial analysis. It covers topics like ethics, economics, portfolio management, and more. The CFA designation is globally recognized and highly respected, opening doors to rewarding career opportunities in finance.
Financial Modeling:
You will learn how to create dynamic financial models to help with forecasting, valuation, and decision-making. This program improves financial analysis, scenario planning, and risk assessment skills, which are important for finance professionals and consultants.
CISI Certification:
The CISI (Chartered Institute for Securities and Investment) certification validates your knowledge of securities, risk management, wealth management, and compliance. This globally recognized credential improves job opportunities in the financial services business.
Finance & Accounts:
This certification covers fundamental concepts and principles in finance and accounting. You will gain knowledge of financial statements, financial analysis, budgeting, costing, and other essential aspects of finance and accounting practices.
Marketing
Retail Store Management:
This certification focuses on the management and operation of retail stores. You will learn about inventory management, visual merchandising, customer service, sales techniques, store operations, and other critical skills necessary to run a successful retail store.
B2C Area Sales Management Certification:
This certification provides you with the skills and knowledge required for managing sales operations in the business-to-consumer (B2C) sector. You will learn about sales strategies, market analysis, customer relationship management, sales team management, and techniques for achieving sales targets.
Real Estate Sales & Marketing:
This certification is designed to equip you with the knowledge and skills necessary for successful sales and marketing in the real estate industry. You will learn about property marketing, lead generation, negotiation skills, market research, and real estate sales techniques.
Banking & Insurance Sales & Marketing:
This certification focuses on sales and marketing strategies specific to the banking and insurance sectors. You will learn about financial products, customer relationship management, sales techniques, insurance policies, banking regulations, and marketing strategies tailored to these industries.
B2C Sales Strategies For FMCG:
This certification is centered around sales strategies specifically applicable to the fast-moving consumer goods (FMCG) industry. You will gain insights into consumer behavior, distribution channels, pricing strategies, brand management, and sales techniques relevant to FMCG products.
Digital Marketing - Basic:
This certification provides you with an understanding of the fundamentals of digital marketing. You will learn about various digital marketing channels, including search engine optimization (SEO), social media marketing, email marketing, and content marketing.
Digital Marketing Analytics:
This certification focuses on analyzing and interpreting digital marketing data to make data-driven marketing decisions. You will learn about web analytics, key performance indicators (KPIs), conversion tracking, and tools for measuring the effectiveness of digital marketing campaigns.
Content Creation:
This certification focuses on developing skills in creating compelling and engaging content across various digital platforms. You will learn about content strategy, storytelling, copywriting, video production, and content optimization techniques.
Business Analytics
Python & R:
These certifications provide you with programming skills in Python and R, two widely used programming languages in data analysis and data science. You will learn about data manipulation, statistical analysis, data visualization, and machine learning algorithms using these languages.
Tableau:
This certification focuses on data visualization using Tableau, a popular business intelligence and analytics tool. You will learn to create interactive dashboards and visualizations to effectively communicate data insights.
Channel Analytics:
This certification focuses on analyzing data related to sales and distribution channels. You will learn to analyze channel performance, optimize channel strategies, and make data-driven decisions to improve sales effectiveness.
General Certifications
Advanced Excel - 50+ Hours Training:
This certification provides you with advanced skills in Microsoft Excel, including data analysis, modeling, automation, and complex formulae. You will learn to leverage Excel's advanced features to manipulate and analyze data efficiently.
Advanced Training on Report Writing Skills:
This certification focuses on developing advanced report writing skills. You will learn techniques for structuring and organizing reports, writing clearly and concisely, presenting data effectively, and coherently conveying complex information. This certification is valuable for those who need to create professional reports, such as business professionals, researchers, and analysts.
Cognitive & Quantitative Ability Enhancement Certification:
This certification aims to enhance your cognitive and quantitative abilities, which are essential for problem-solving, critical thinking, and data analysis. You will learn techniques to improve your logical reasoning, numerical aptitude, analytical thinking, and decision-making skills. This certification is particularly useful for those pursuing careers in fields such as finance, data analysis, research, and management.
Linguistic & Verbal Ability Enhancement Training:
This certification focuses on improving your linguistic and verbal abilities, including vocabulary, grammar, comprehension, and verbal communication skills. You will learn techniques for effective verbal expression, articulation, persuasive communication, and listening comprehension. This certification is valuable for those who need to communicate effectively in various professional contexts, such as public speaking, presentations, negotiations, and interpersonal interactions.
Communication Skills Enhancement Training:
This certification is designed to enhance your overall communication skills, including both verbal and non-verbal communication. You will learn techniques for effective communication, such as active listening, empathetic communication, assertiveness, body language, and presentation skills. This certification is valuable for those in any professional field, as strong communication skills are essential for building relationships, collaborating with colleagues, and conveying ideas clearly.
These certifications provide you with specialized knowledge and skills in specific areas, making you more competitive in the job market and enabling you to excel in your chosen fields. By obtaining these certifications, you can enhance your employability, communicate effectively, analyze data, solve problems, and present information clearly and compellingly, thereby gaining a competitive edge in your chosen career.
Internship and Placement Opportunities with PIBM's PGDM Hybrid Program
With PIBM's online MBA program, you get:
6-month Internship
PIBM's online PGDM Hybrid course offers a 6-month internship program in collaboration with renowned companies. During this internship, you have the opportunity to work in real-world settings, gaining practical experience and exposure to industry practices. Additionally, some of these internships come with a Pre-Placement Offer (PPO) opportunity, which means that outstanding performers during the internship may be offered a job position by the company upon successful completion of studies.
Letter of Intent (LOI)
PGDM Hybrid provides Letters of Intent (LOI) to you upon admission, in MNCs from diverse sectors like IT, FMCG, BFSI, Media, etc. This LOI guarantees your placement in relevant job roles. It assures that you will have employment opportunities waiting upon completion of your studies, creating a sense of security and confidence in your career prospects.
Campus Placements
PIBM facilitates campus drives, where representatives from over 750 top recruiters visit the campus to conduct recruitment processes. This gives you the chance to participate in these drives and showcase your skills and capabilities to potential employers. The wide range of recruiters ensures diverse job opportunities across various industries and sectors, increasing your chances of securing desired placements.
Our Top Recruiters: Deloitte, KPMG, Capgemini, Accenture, EY, Tech Mahindra, IBM, Wipro, TCS, Federal Bank, Citi Group, HP, Bosch, Deutsche Bank, Lenovo, Tiaa, Barclays, Nestle, and many more MNCs.

So, choose PIBM's PGDM Hybrid Program for a flexible and comprehensive learning experience. Enjoy a perfect mix of online and on-campus classes, live doubt-clearing sessions, and industry internships. Gain specialized skills, corporate interactions, and assured campus placements. Enroll now for a rewarding career in management!
Important FAQs
Is an online MBA worth it?
Yes, provided that the online MBA course you consider is recognized and accredited by the governing authorities, both the offline and online MBA courses have almost similar recognition everywhere.
How Can I Apply for PIBM's PGDM Hybrid Program?
To apply for PIBM's PGDM Hybrid Program, simply click here or simply search PIBM PGDM Hybrid on Google and click on 'Apply Now'.
What are the Eligibility Criteria to Apply for PIBM's PGDM Hybrid Program?
To be eligible for the online PGDM course, you need a minimum of 50% aggregate marks in graduation and all other post-graduation courses.
What is the difference between an MBA and a PGDM?
While both the MBA and PGDM are postgraduate management programs, there are a few differences between the two. These are:

Master of Business Administration (MBA) is a degree, while Post Graduate Diploma in Management is a diploma program.
While the MBA program focuses mainly on the theoretical aspects of management, the PGDM program focuses more on the practical and application-based aspects of management.

Why is it called a PGDM Hybrid program?
The program is called PGDM Hybrid as it is not fully but mostly an online PGDM course. You will need to be physically present at the PIBM Pune campus for a total of 30–45 days to attend only the most important events.
What is the course fee for PIBM's PGDM Hybrid program?
The online MBA fee for PIBM's PGDM course is ₹2.5 Lac which may amount to ₹3.0 Lac with an educational trip to Dubai or Singapore.
Is the program only for Indian students?
This program is best suited for Indian students, but people all over the world can apply for it, especially students from neighboring countries like Bangladesh, Bhutan, Nepal, and Sri Lanka.
Can I apply for jobs both in India and outside India with this degree?
This degree is recognized worldwide, and you can apply in organizations all across the globe.
Shall I get a laptop with PIBM's PGDM Hybrid course?
Yes, PIBM's PGDM Hybrid program provides you with a free Atom Laptop at the time of admission.
What is the importance of an internship program while doing an Online MBA?
To get real-world corporate experience, you must pursue an online MBA from an institute that provides an internship opportunity. At PIBM, the online MBA courses provide you with a 6-month internship opportunity.