MICROTOM 5.0
Corporate Events

- Learn from 550+ Business Leaders
Date: 15th February 2023
Venue: PIBM Auditorium
We at PIBM Pune recently organized an event called 'Microtom 5.0' with the theme of 'Industry 5.0 - AI & Beyond'. The objective of the event was to provide a platform for entrepreneurs to learn and network with industry experts, and for PIBM Pune to showcase its commitment to fostering innovation and entrepreneurship. The event was a great success and was attended by over 35 top entrepreneurs from the SME and MSME sectors, who were invited to participate by the Entrepreneurs' International Club.

The event began with an inaugural speech by Dr. Bharat Bhushan Singh, Director of PIBM Pune, who emphasized the importance of innovation and the need for entrepreneurs to embrace the latest technologies, such as artificial intelligence, to stay ahead of the competition. He highlighted the fact that PIBM Pune is committed to providing an environment that fosters innovation and encourages entrepreneurship, and that events such as 'Microtom 5.0' play a crucial role in achieving this goal.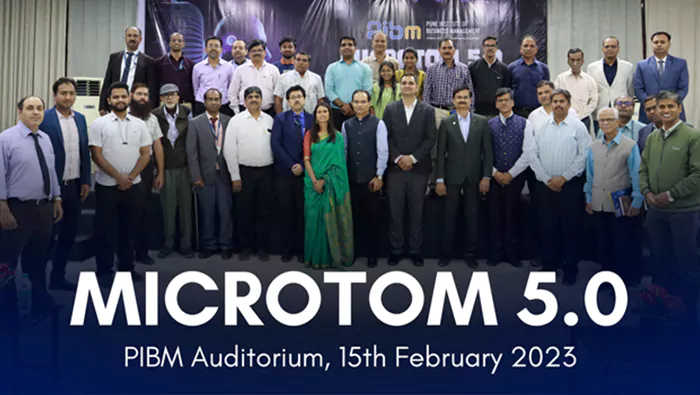 Dr. Raman Preet, Chairman & Executive Director of PIBM Pune, also gave a speech, where he discussed the significance of the event and its potential impact on the entrepreneurial ecosystem. He emphasized the need for collaboration between industry experts, academia, and entrepreneurs to create a holistic ecosystem that nurtures innovation and supports the growth of new businesses.

The event was packed with informative sessions and interactive discussions on various topics related to Industry 5.0 and beyond. The speakers at the event included industry experts, successful entrepreneurs, and academic leaders, who shared their experiences and insights with the attendees. Some of the key topics covered at the event included the latest developments in AI and their potential impact on various industries, the role of technology in driving innovation, and strategies for building successful businesses in the current economic climate.

One of the highlights of the event was the opportunity for entrepreneurs to network with other like-minded individuals and connect with potential partners and investors. PIBM Pune, known for advanced and future-oriented MBA & PGDM programs, promised to work in collaboration with the entrepreneurs, to guide and assist them in their entrepreneurial journeys. This was a great opportunity for entrepreneurs to learn from experienced professionals and get valuable insights into the challenges and opportunities they might face in their respective industries.

Overall, 'Microtom 5.0' - an initiative by Industry Representation Cell, was a highly successful event that provided a platform for entrepreneurs to learn, network, and grow. The event demonstrated PIBM Pune's commitment to fostering innovation and entrepreneurship and highlighted the importance of collaboration between academia and industry experts to create a vibrant entrepreneurial ecosystem. The event was a great success and was highly appreciated by the attendees, who left the event feeling motivated and inspired to take their businesses to new heights.