PIBM Blog
Education

Does Not Only
Happen in the Classroom
What sets PIBM's PGDM in Business Analytics apart?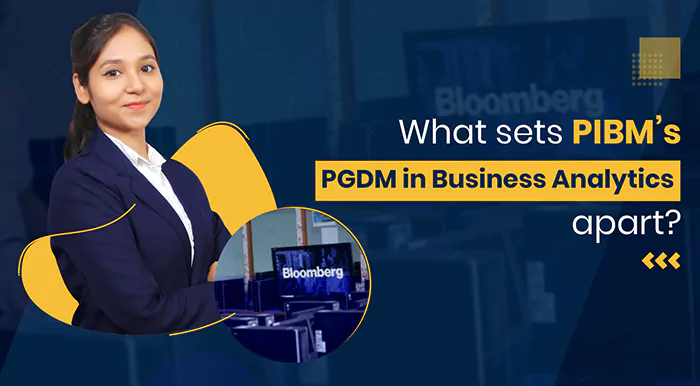 Education
---
PIBM is the most preferred institute in India for offering an industry-aligned PGDM program in Business Analytics. We offer inclusive training to all our students so that they can gain in-depth knowledge and understanding of all aspects of business analytics. We are among the best MBA colleges in India, and we ensure we impart a solid understanding of the subject and make our students industry-ready so that they can give their best when they start working in a corporate environment.

Here are some of the reasons why PIBM is one of the top management colleges in India offering the best training and placements in the Business Analytics domain.
Industry 5.0 relevant Curriculum
PIBM is the top B-Schools in India as it offers an industry co-designed curriculum to equip students with the necessary tools so that they can do well in a corporate environment and become successful professionals. We have understood the importance of 'Industry 5.0' for future managers and have integrated the training through in-depth knowledge of Artificial Intelligence (AI), Data Quality, Data Analytics, Statistical Methods, and Data Visualization Models so that our students can optimally measure the past performance of an organization and guide its business planning.

We take our students through the most trending job profiles to help them analyze and conceptualize real-time business scenarios. Such a method of industry-relevant training aids our Business Analytics students in making the right decisions based on different criteria such as customer preferences, shifting trends, market competition, and business performance.
Specialized Domain-focussed Training
We at PIBM take each student in the Business Analytics program through a rigorous and specialized training process where they learn to make smart business decisions and improve business processes. We equip them with relevant skills, technologies, applications, and processes so that they can visualize relevant data and other statistical inputs and make informed business decisions.

Our specialized training is one of the reasons that places PIBM on the list of top B-schools in India. Our students learn to make better business planning from sales to product development to customer service and optimize workflow and operational processes in a corporate environment.
Developing Analytical Skills & Competencies
PIBM offers specialized training in all aspects of Business Analytics. Students are trained to develop analytical skills as they learn to collect, organize, assimilate, and visualize the data for finding patterns and conclusions and eventually find relevant solutions for ultimate business success.

We take our students through research, data mining, brainstorming, and problem-solving sessions during classroom sessions as well as during their live industry projects. They learn to use data and metric interpretation for effective business decisions and achieve results.
Developing Technical Knowledge and IT Skills In Analytical Tools
We train our students in using different analytical and statistical tools like R, SAP, Tableau, PYTHON, SPSS, QlikView, and MS-Excel. Apart from these tools, PIBM students also learn Microsoft Project, Data Manipulation, and Navigation for a data-driven business approach and make effective business decisions.

Being among the top PGDM colleges in India, we make sure that our students gain a solid understanding and grasp of the analytical aspects of top businesses throughout the world. They develop problem-solving skills through training and internship programs each semester.

Internships along with numerous live business projects offer hands-on experience to our students and allow them to implement the strategies and models developed during the training process. They learn to make effective business strategies and execute them efficiently and effectively to achieve results.
Live Business Projects & Internships
We strive to remain at the top of the list of best B-schools in India. Hence, we provide a curriculum that not only imparts subject knowledge but also provides students with practical experience. Our hands-on approach to train students during their MBA and PGDM programs in Business Analytics has proven to be a successful model in preparing students with necessary analytical skills.

We send our students for internships and real-time projects in various sectors and industries so that they can utilize the strategies and models created during the training process in practice. Live business projects and internships enable them to achieve the ideal balance between developing a business strategy and executing it effectively and achieving successful results.
Placement Assistance for best Job Opportunities
PIBM provides comprehensive support to each student to get a suitable job through the campus placement interview. We have partnered with over 650 companies from various industries and 600+ corporate leaders. We invite them on-campus for training our students as well as for recruitment interviews for various Business Analytics positions every year so that we can place our students in various positions on the corporate ladder.

We support students during the interview rounds so that they can perform better and bag a relevant job in the industry. Our optimal support and industry tie-ups make us one of the top placement colleges for MBA and PGDM programs in India. Some of the top recruiters hiring our students for Business Analytics positions over the years are Citi Group, Wipro, TCS, Genpact, Syntel, Tech Mahindra, Barclays, RBL Bank, and many more.
---
Summary
PIBM is one of the top MBA colleges in India, and it offers the best curriculum in MBA and PGDM in Business Analytics. Our approach to hands-on learning has helped students gain in-depth subject knowledge and practical experience to fulfill the requirements of today's in-demand employment roles.

Get in touch with us today if you want to know more about our management programs in Business Analytics
| | |
| --- | --- |
| | By PIBM |