SheConfluence 2023
Corporate Events

- Learn from 550+ Business Leaders
SheConfluence 2023: Elevating Women in Leadership and Inclusion
---
Date: 21th October, 2023
Venue: PIBM Auditorium
The power-packed Season 1 of 'SheConfluence 2023' hosted by PIBM, celebrated Women in Business Leadership and witnessed thought-provoking discussions on 'Innovation and Entrepreneurship by Women' and 'Diversity and Inclusion in Corporate Culture.' Distinguished women leaders from various fields converged to share their insights, experiences, and visions, leaving the MBA and PGDM students of PIBM inspired and enlightened.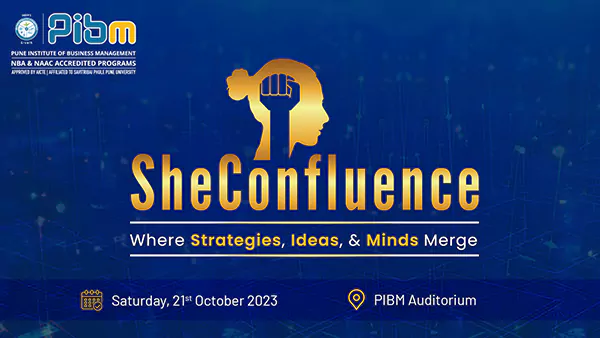 Topic of Discussion for Panel 1: Innovation and Entrepreneurship by Women
Dr. Anjali Nigam's wisdom resonated with the audience as she emphasized the power of breaking free from biases and recognizing that barriers exist only in the mind. She illuminated the concept that innovation extends beyond creating something entirely new, emphasizing that reengineering itself is a form of innovation. Dr. Nigam also encouraged budding entrepreneurs to judiciously seek financial aid, taking only what is truly necessary.
Dr. Anjali Nigam
CEO
MeriStartupHub
---
Ms. Pinki Tewani highlighted the significance of actively seeking and hiring women with career breaks, emphasizing their immense potential and contributions to the workforce. She encouraged the audience to never succumb to the phrase 'I can't do it,' stressing that change is the only constant, propelling us toward evolution and growth. Ms. Tewani also shared the profound notion that we are all interconnected by vibrations and, at our core, are all equal in essence.
Ms. Pinki Tewani
VP of Talent Acquisition
ICICI Home Finance Company Limited
---
Ms. Sayali Marawar spoke about the essence of entrepreneurship as a mindset that challenges the status quo. She shared her invaluable journey of evolving from an intrapreneur to an entrepreneur, emphasizing the significance of personal growth and development in this transition. Ms. Marawar also underlined the pressing need to address the unique challenges faced by women hailing from difficult backgrounds, offering them the support and opportunities they deserve.
Ms. Sayali Marawar
Strategic Alliances
Vastu Housing Finance
---
Ms. Anushka Iyer captivated the audience with her insights into the qualities that make a successful entrepreneur: Resilience, Grit, and Humility. She emphasized the significance of leaving a lasting legacy and giving back to society as an entrepreneur, reminding us of our responsibility to create a positive change. Ms. Iyer also highlighted the countless benefits that come with turning your passion into a business, emphasizing the fulfillment and success that can be achieved by following one's heart.
Ms. Anushka Iyer
Founder & CEO
Wiggles.in
---
Topic of Discussion for Panel 2: Diversity and Inclusion in Corporate Culture
Ms. Vineeta Mittal shared the commendable initiative in her company to provide "Womentorship" for women returning to work after career breaks, fostering their growth and development in the corporate world. She highlighted the resounding importance of self-advocacy, breaking through barriers and biases, and standing up for oneself in the professional realm. Ms. Mittal also emphasized the undeniable significance of embracing diversity and inclusion in the workplace, not only as an ethical principle but also as a catalyst for innovation and growth.
Ms. Vineeta Mittal
Director - People & Culture
Grant Thornton Bharat LLP
---
Ms. Bhakti Shirke discussed the critical significance of breaking down subconscious biases and barriers, underlining the need to confront the hidden prejudices that limit progress and inclusivity. She shared the inspiring example of Axis Bank's tagline, 'Dil Se Open,' which emphasizes the institution's dedication to diversification and inclusion from the heart. Ms. Shirke also spoke about the importance of fostering diversity.
Ms. Bhakti Shirke
Talent Acquisition - Lead
Axis Bank Limited
---
Ms. Richa Kale delved into the four essential pillars of Diversity, Equity, and Inclusion (DEI): Leadership commitment, having robust systems and processes in place, cultural integration fostering awareness and acceptance, and the critical importance of monitoring metrics to gauge progress. She brought attention to the insights from the Mackenzie Report of 2023, emphasizing that women's representation in corporate settings is not keeping pace and debunking the myth of a 'glass ceiling.' Ms. Kale also shed light on the pressing issue of women leaving their careers when family income increases, highlighting the challenges they face in maintaining professional aspirations amidst evolving family dynamics.
Ms. Richa Kale
Head Of Human Resources
Egon Zehnder
---
Ms. Devangi Kamra stressed the critical importance of raising awareness about gender biases right from the grassroots level. She reminded the audience to be their own voice and advocate for themselves to contribute to a more inclusive and diverse corporate environment. Ms. Kamra also emphasized the significance of setting clear goals and working persistently towards them, encouraging personal and professional growth by identifying one's destination and following a determined path.
Ms. Devangi Kamra
Chief People Officer
Technogise
---
Ms. Sheetal Joshi shared the undeniable importance of fostering inclusion and gender equality in the corporate world, ensuring that all voices are heard and valued, irrespective of gender. She narrated the inspiring example of how the inclusion of local women workers significantly increased productivity in her previous company during expansion. Ms. Joshi delivered a profound message about the significance of treating mothers and fathers equally at home from childhood, reinforcing the need for balanced responsibilities and equal opportunities for all.
Ms. Sheetal Joshi
Head Of Human Resources
Anchor Health & Beauty Care Pvt. Ltd.
---
SheConfluence 2023: Season 1 was a remarkable corporate event that brought together extraordinary women leaders from diverse industries who shattered stereotypes, shared their invaluable insights, and kindled the flames of inspiration in all who had the privilege of attending. The event echoed the belief that gender should never be a barrier to achieving greatness. It was a day of transformation, leaving all attendees with a renewed sense of purpose and commitment to create a world where women's contributions are not only recognized but celebrated. The journey towards gender equality and empowerment continues, and events like SheConfluence are a significant step in the right direction.