PIBM Blog
Education

Does Not Only
Happen in the Classroom
Seven Golden Rules nobody told you about an MBA or a PGDM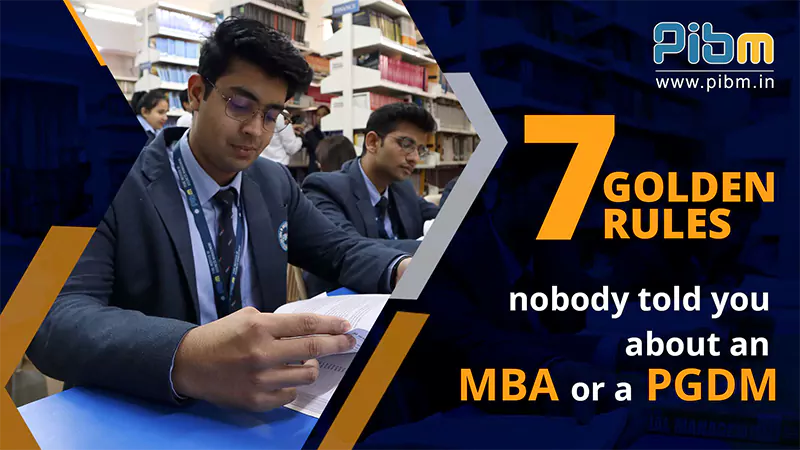 Education
---
If you look closely at the corporate world today, you will see that, if there is one discipline that students and working professionals are looking forward to pursuing, it is an MBA or a PGDM program. However, at times, the popularity of a course is so overwhelming that you rarely take into account the underlying aspects of the program. In this blog, we would like to talk about the seven most important factors that need to be considered in an MBA or a PGDM program.

An MBA or a PGDM is undoubtedly a good PG course and will provide a sustainable and growth-oriented career in the future. Whether you are looking forward to joining a company or want to start/manage your own venture, pursuing a PG program in management is the best option available for you. At the same time though, knowing everything about these programs is very important because you will be investing a lot of time and money, which should not go to waste under any circumstances.

With this article, we have tried to share some of the most important aspects related to an MBA or a PGDM program, that you must know before making a decision to pursue them.
The Seven important aspects of an MBA or a PGDM
Data-Driven Decisions
An MBA or a PGDM is a program that is wholly based on data-driven decisions. A crucial aspect of these programs on business management is that while many people think this is not a data-driven domain, all conclusions are based on statistics obtained.

Data-driven decisions are probably the fundamental pillars on which information is gathered and the course is structured. Any good MBA or PGDM program offered by the best b-schools in India will ensure that you develop excellent decision-making skills driven by data and analysis.

Taking Risks is Important
Yes, you read it right! Some people believe that pursuing an MBA or a PGDM is one of the safest decisions in life and thus lose the appetite for taking risks. We can say with conviction that you will be able to achieve nothing unless you take risks.

Taking risks helps you understand the domain better and also builds up self-confidence levels. Without risk, you will never be able to move out of your comfort zone and try things that could be innovative while providing a new dimension to your work. An MBA or a PGDM program will thus ensure that you understand the importance of taking risks for making informative decisions.
Learn from your Mistakes
All of us know that when we talk about MBA/PGDM as a program, it is undoubtedly a professional degree of two-year duration in which you will be exposed to many areas. Throughout the program, you will undergo a long journey of experimenting, failing, and learning from them. Hence, the most important thing you need to do is make sure you learn from your mistakes.

Sometimes you could make basic mistakes related to your projects, academics, or other curricular activities; however, ensure that you do not let those mistakes pull you down. Learning from your mistakes will strengthen your base further. And, this is what any great b-school will ensure to teach you.
Leadership Skills
There is a common notion among people that only your boss is your leader. However, that is not true. It is essential to remember that leadership can come from a number of quarters and in different forms. Hence as an MBA or PGDM aspirant, you have to make sure that you are ready to take on leadership roles across platforms, and even if it comes from another quarter, it should not be a problem for you.

A good MBA or PGDM program offered by top b-schools will ensure the development of leadership qualities or skills through different and innovative training pedagogies. These methods will be part of your curriculum and will mold you into a complete and holistic business leader.
Power of Networking
When you pursue a professional degree like an MBA or a PGDM, it is essential to make sure that you start networking from the very beginning of the program itself. The most straightforward explanation we can give about networking is that it is a professional skill used to make more professional alliances that can help you grow in your career. We can say with conviction that networking is vital when it comes to MBA or PGDM courses and will enhance your future prospects.

Whether it is networking at your college with your peers, with faculty members, or with corporate guests, it will prepare you for being skilled at business networking for your future in the corporate world. While many overlook this factor, this is very important and often more fruitful.

Soft Skills
Yes, you read it right. You could have hundreds of hard skills like your knowledge, certifications, experience, and much more, but during your final placements, someone with better soft skills than you can bag the position. One of the most important reasons why many companies tend to focus on soft skills is because the hard skills can always be taught to you or you can be trained in acquiring them.

However, soft skills like leadership, empathy, teamwork, emotional quotient, and likewise must be cultivated with time and are very important when it comes to becoming holistic business management professional.
Take Nothing For Granted
And finally, there is a widespread mistake that many MBA or PGDM aspirants tend to make: once they have been able to crack their way into top PGDM or MBA colleges in India, nothing can stop them further. Not only that; there is also a widespread misconception among individuals that companies will be coming forward for the placements and offering them lucrative packages, irrespective of what they have to offer as students. However, this is one of the worst mistakes you can make.

Understanding that MBA or PGDM is just a milestone in your learning and self-development journey is important. You must take full advantage of the two-year program in reshaping yourself with knowledge, experience, and skills. Make sure you take nothing for granted.
---
Summary
In hindsight, we can say that pursuing an MBA or a PGDM course from the best b-schools in India is fruitful. However, you have to be very vigilant about what decisions you are making. People often do not know what they should do in the future and how they should pursue the course to have better placement opportunities. Just like these seven lesser-known facts, always ensure you conduct proper research before finalizing a b-school and thereby jumping into the program.
| | |
| --- | --- |
| | By PIBM |