PIBM Blog
Education

Does Not Only
Happen in the Classroom
12 Important Tips on How to Prepare for CAT 2023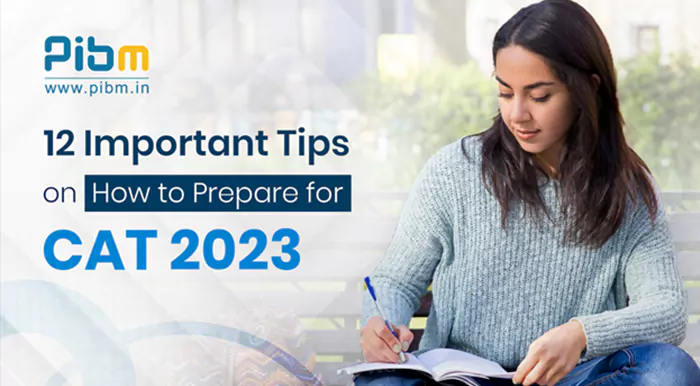 Education
---
Now, let's dive into our top 12 CAT preparation tips:
Create a Study Plan
Develop a well-structured study plan that covers all sections, allocating more time to your weaker areas. This will help you master your weaknesses and finish the entire exam in time,
CAT Mock Tests
The more you practice, the better you will become at solving problems. Make sure to practice CAT mock tests under a fixed time to get used to the format of the exam.
Go through the previous Years Question Papers
Like any other competitive examination go through the previous year's question papers for the preparation of CAT 2023.. Going over previous year's CAT question papers is vital as it will give you an advantage and help you understand the focus areas. You can also try to solve the question papers to assess your level of preparation and time management.
Practice, Practice, and Practice
Revise new words regularly to increase your vocabulary and practice a variety of questions from different sections to see which section of the CAT paper is taking up the most time and invest your time accordingly.
Self-Assessment
Identify your strengths and weaknesses and work on improving weak areas. This is extremely important as you will be facing a variety of problems and you need to master as many types as possible.
Stay Updated
Keep an eye on CAT notifications and changes in the exam pattern and syllabus to avoid last-minute changes in the plan.
Best Books for CAT Preparation
Refer to trusted CAT preparation books for each section. Take guidance from seniors and competitors while choosing them as the quality of your preparation depends on these books.
Group Study
Collaborate with fellow CAT aspirants for group study sessions and discussions. Peer learning can be really helpful as your weakness can be your friend's strength.
Stay Positive and Maintain a Healthy Lifestyle
The CAT exam can be a stressful experience, but it is important to stay calm and focused during the exam. Take deep breaths, practice yoga, and remind yourself that you have prepared well and that you are capable of doing well. Maintain a healthy lifestyle with a balanced diet and regular exercise to stay focused.
Eliminate wrong answers
In some cases, you can eliminate incorrect answer choices to narrow down your options and make it easier to choose the correct answer.
Don't Get Hung Up on Difficult Questions
If you get stuck on a particular problem, move on to the next one and come back to it later. It is better to solve more questions and score more marks than to get stuck on a few difficult ones and score fewer marks.
Make the Most of Online Free Resources
Reap maximum benefits in this age of the internet from reviewing where you stand by giving free CAT mock tests, and also learning from free CAT materials that are easily available on different platforms of the internet.
Note:
CAT preparation requires dedication, consistent effort, and a well-structured plan. By following these CAT preparation tips and guides for each section, you can enhance your chances of scoring well in the CAT 2023. Remember to follow all these tips to ensure success in CAT.
FAQs
CAT 2023 consists of three sections: Verbal Ability and Reading Comprehension (VARC), Data Interpretation and Logical Reasoning (DILR), and Quantitative Aptitude (QA). The exam will have a total of 66 questions.
For General, EWS, and NC-OBC applicants, the CAT exam application cost is Rs 2,400. The CAT application fee for SC/ ST/ PWD candidates is Rs 1,200.
The official date for CAT 2023 is 26th November.
For General Category students, a graduation degree with a minimum of 50% marks, and for Reserved Category (SC/ST) a graduation degree in any discipline with a minimum of 45% marks is required.
---