PIBM Blog
Education

Does Not Only
Happen in the Classroom
10 Things: B-Schools must provide to Students to boost their Placement Success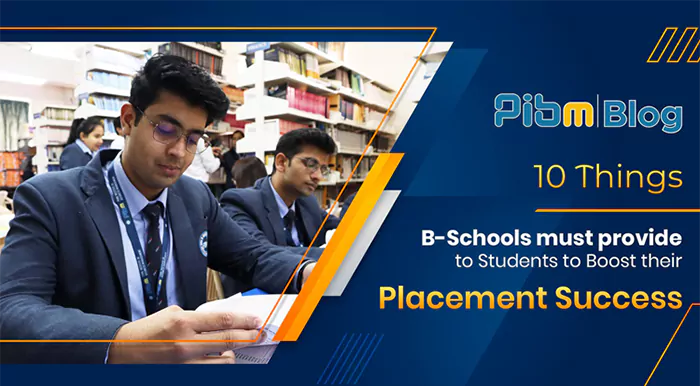 Education
---
A Business or Management Education is crucial for students who aspire to be successful business management leaders or entrepreneurs in today's competitive business world. However, with the rising number of management colleges or B-schools in India, students must select the institutions that offer them comprehensive resources and support services to help them crack the placements and become corporate leaders.

Diverse factors like the institution's reputation, accreditation, internship & placement opportunities, faculty expertise, curriculum, and other learning & development resources available to students must be considered before choosing the right management school. This ensures that students can succeed both academically and professionally.

In addition to providing students with a strong academic curriculum, B-Schools should offer extracurricular activities, strategic location advantage, good infrastructure, and mentorship programs. All these factors can help students develop knowledge, and a range of entrepreneurial skills, from problem-solving and critical thinking to leadership and communication.
Whether the students are applying for B-Schools in Pune or B-Schools in India, they should select institutions that offer comprehensive resources and support services, such as the ones mentioned in this blog. Let's take a closer look at them.
Industry Requirement-focussed Curriculum
In this dynamic corporate world, where skills that were relevant yesterday, are becoming irrelevant tomorrow. It's of paramount significance that B-schools provide curriculum and training based on the latest skills and requirements that will stay relevant in the future. The best B-schools make the curriculum and the practical training aligned with the industry's specific needs & requirements to make sure that their domain knowledge and skills stay relevant.

You can also check our blog '10 Essential Things a Business School should teach every Student' to know more.
Highly Qualified, Experienced, and Approachable Faculty Members
The quality of faculty members is essential for the success of any management college. Top B-schools have highly qualified and experienced faculty members who are flexible to the changing curriculums and can provide students with practical training aligned with the industry's specific needs & requirements.

In addition to being highly qualified, faculty members should also be readily available and approachable to students. They should be more like mentors, willing to help students with questions and concerns outside of class.
Corporate Interface
The best way to land a job in the business world is often through learning from the leaders. Management institutes should run numerous corporate events providing students with opportunities to learn from and network with the top industry leaders from CEOs to CHROs, and other inspiring entrepreneurs.

In this fast-paced, dynamic corporate world, filled with uncertainties, industry connections are a must-have for both freshers and experienced people to launch or relaunch their careers, respectively.

Certifications & Technology Resources
Rigorous training on industry-relevant technologies like R, Python, Advanced Excel, Tableau, Power BI, and Bloomberg Terminal along with certification courses like CISI, CPA, CFA, etc. is a must-have in B-Schools to boost the proficiency of the students.

In today's digital age, technology resources are crucial for business and management students. Every B-school should provide students with access to and training on the latest software and hardware to help them stay up-to-date with industry trends.
Internship & Job Placements
Best B-schools should have a robust placements department that can offer live projects and internships with excellent placement opportunities to the students. Access to internship programs introduces them to real-world problems and how to find apt solutions for them.

Top B-schools also have tie-ups with the recruiters of the thriving organizations who visit campus to pick the best fit for their workspace. The internship experience comes in handy here to help them crack the final placement interviews where industry knowledge and problem-solving skills are given paramount importance.
Learning Resources & Library
A top business or management school should have a well-stocked library with books, journals, and online resources. Access to a wide range of business, finance, marketing, analytics, AI, and other management books is essential for students to gain a deeper understanding of the field. Not only this, inspirational books by several authors and entrepreneurs must also be there to ignite the spark among budding business leaders.

Access to leading business journals and publications is also essential for students to stay informed about the latest developments in the industry whether it is related to cryptocurrencies, shares, or new tax laws. Schools should provide students with subscriptions to leading publications such as the Harvard Business Review, The Economist, and Forbes.
Accreditations
This is of utmost importance as there have been several cases of students passing out from a university that is not accredited. While practical knowledge and rankings are important, it's still necessary to consider your management degree's accreditation e.g., AICTE, AACSB, AIU, NBA, NAAC, AMBA, etc.

This is crucial to guarantee the quality and acceptance of the educational degree. Additionally, researching the appropriate kind of accreditation will guarantee the places where your degree is appropriately recognized.
Networking Opportunities
The top B-schools not only provide opportunities for the students to connect with the stalwarts of the corporate world outside the campus but also with the visionaries of the industry who are present inside the campus in the form of mentors & faculty. They also have a vast network of alumni who can guide the freshers with their knowledge of industry-aligned skills or refer them to better places and help them build successful careers in the corporate world.

Career Counseling and Mentorship
Many students need guidance to help them choose the right career path. Career counseling and guidance services can help students explore their interests, identify their strengths, and make informed decisions about their future. The best B-schools have in-house faculties and mentors who provide career and personal guidance. Some top B-schools also have tie-ups with career counselors who help the students in finding their own passion at the very beginning of their course.
Extracurricular Activities
While academics are essential, extracurricular activities are also important for students to develop their overall personality. Soft skills like leadership, empathy, humility, team-playing skills, and more are required to be developed among future managers. B-Schools should offer a range of extracurricular activities such as student clubs, sports teams, and industry events to inculcate these qualities.

Extracurricular activities can allow students to explore their interests and develop skills not necessarily taught in the classroom. For example, participation in a student club or sports team can help students develop teamwork, leadership, and communication skills. Attending industry events, such as networking sessions or conferences, can provide students with valuable insights into current industry trends and help them build their professional network. Furthermore, extracurricular activities can also help students develop a well-rounded personality, which is essential for success in the business world. Students can demonstrate their passion, commitment, and leadership qualities to potential employers by engaging in activities outside of their academic curriculum.
The Pune Institute of Business Management (PIBM) is one such B-School that provides students with the right mix of theoretical and practical knowledge. PIBM's industry-focused curriculum focuses on developing students' skills in various areas, such as communication, leadership, analytics, and much more. With state-of-the-art infrastructure and experienced faculty, PIBM is an excellent choice for students who want to boost their campus placement success and holistic development.

Business schools in India play a vital role in shaping students' careers by providing them with a range of skills that can help them succeed in the competitive job market. So if you are an MBA or PGDM aspirant, make sure your dream B-school provides you with the above ten things to ensure your success story.