PIBM Blog
Education

Does Not Only
Happen in the Classroom
Top 10 reasons why PIBM is the perfect B-School to pursue an MBA or PGDM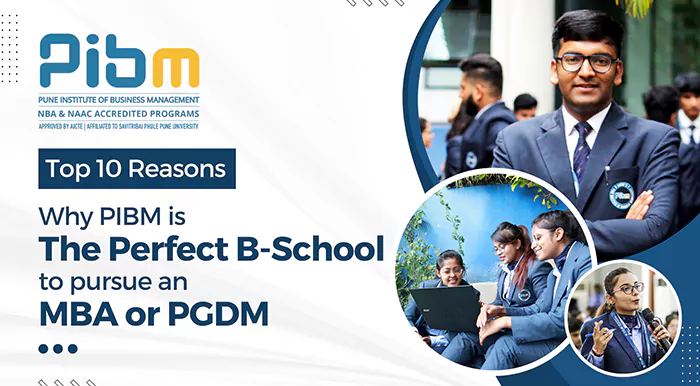 Education
---
Choosing the right business school can be a daunting task for aspiring MBA and PGDM students. As a student, you need to do thorough research of several B-Schools and consider various key factors. Some of these important factors can be training, industry interface, faculty experience, internships provided, tie-ups with recruiters, placements, and many others. A B-school providing the best-in-class experience in all the aforementioned parameters should be your preferred destination to pursue your post-graduate program in management.

The Pune Institute of Business Management (PIBM) has established itself as a leading B-school in India over the years. PIBM as a management college in Pune offers a world-class management learning experience through industry-oriented MBA and PGDM programs that cater to the market's ever-changing demands and has a proven track record of providing excellent placement opportunities to its students.

Read this article to know the top reasons that make PIBM the perfect choice as a B-School for pursuing management education.
Top 10 reasons to choose PIBM
Industry-oriented Curriculum
PIBM's curriculum is co-designed with industry experts on its panel. It focuses on providing students with practical knowledge and skills that can be applied to real-world business settings. The programs and curriculum are structured to ensure that students gain an in-depth understanding of various business disciplines, such as marketing, finance, human resources, operations, analytics, and more. The latest curriculum has been designed in association with industry experts and focuses on Industry 5.0.
Training Methodology
One of the main highlights of PIBM is the job profile-oriented training provided to the students. The curriculum is designed around the skills and knowledge requirements of diverse job profiles. The faculty members use a mix of advanced teaching and training methodologies, including case studies, simulations, role plays, business projects, and peer learning, to help students understand complex business concepts. Also, the SCPS methodology (Sector-Company-Products/Services) focuses on training the students on the application of management theories in different products and services offered by companies from diverse sectors.



Experience-rich Faculty Members
PIBM has a team of 150+ highly qualified and experienced faculty members, from top institutions like IIMs, who are experts in their respective domains. They bring their vast industry experience to the classrooms and help students develop a deep understanding of the subject matter under various business management concepts. In addition, the faculty members at PIBM use a student-centered approach and encourage critical thinking, analytical bent of mind, organizational skills, negotiation skills, and problem-solving skills.
Industry Tie-up
Learning at a B-School can't be considered complete without the Corporate Interaction opportunities. PIBM has tie-ups with 750+ leading companies and 700+ business leaders from diverse sectors. The strong industry connection provides students with opportunities for internships, projects, placements, mentorships, workshops, industry visits, and training sessions by industry experts. Throughout the program, PIBM students get numerous interaction opportunities through 150+ business conclaves, panel discussions, and corporate events.
Practical Learning through Internships & Projects
Being a fresher after completing your UG degree e.g., BBA, B.Com, B.Sc., B.Tech, B.E., etc., it is important to build corporate experience. This experience will help you as a management graduate in gaining the much-needed practical knowledge as well as required corporate exposure for your profile. PIBM ensures that all the students get multiple live business projects that are of short durations i.e., 10-15 days, to work on real-life business problems. MBA & PGDM students are also provided with dual internships i.e., winter internship for 30 days and summer internship for 60 days in top companies from diverse sectors, which helps improve your practical knowledge.



Proficiency-enhancement Certifications & Training
In today's corporate landscape, which is heavily influenced by Industry 5.0, possessing the knowledge of the latest technology tools and industry certifications has become an essential requirement for MBA & PGDM graduates. PIBM recognizes this need and has taken measures to ensure that students possess key technical competencies. Students are offered 21 certification courses and workshops like SAP, Six Sigma, MS Project, CFA, CPA, Advanced Excel, Digital Marketing tools, and more. The chosen industry certifications are carefully selected to equip the students with IT skills that make them job-ready right from the outset of their careers.
Strong Placement Record
PIBM has an impressive track record when it comes to campus placements of MBA and PGDM students. Over the years, PIBM students have received job offers from many of the top companies in India like Deloitte, Accenture, Amazon, Wipro, BNY Mellon, ITC, Nestle, Colgate Palmolive, L&T Financial, Federal Bank, Barclays, and many more. The students get the opportunity to sit for campus placements in companies from diverse sectors such as Financial Services, IT & ITES, Banking, Consulting, FMCG, Consumer Durable, Telecom, ECommerce, Digital Marketing, and more.
Focus on Entrepreneurship
The mission at PIBM is to train students so that they can either join a company or create a company. That's why PIBM has a strong focus on developing entrepreneurial skills and innovation. A dedicated innovation and incubation center allows students to develop hands-on skills in entrepreneurship. The institute provides additional support and guidance to students who want to start their businesses. Moreover, corporate events like Pioneer Convergence, CEO Charisma, Microtom, Digilytics, Business Conclave, Omnikart, and more motivate students to thrive in the entrepreneurial environment. PIBM's well-structured entrepreneurship program helps students develop their entrepreneurial skills and turn their ideas into successful businesses.



State-of-the-art Infrastructure
PIBM has state-of-the-art infrastructure, including smart classrooms, well-equipped computer labs, a well-stocked library, and a Wi-Fi-enabled campus. Apart from academics, PIBM also focuses on the holistic development of the student's personalities. The campus has a well-equipped gymnasium, tennis court, sports ground, music room, mess, cafeteria, and a common room for all the students. The hostel provides excellent facilities to the students such as a secured campus and wi-fi-enabled rooms. As a result, PIBM has created a conducive learning environment that supports both academic and extracurricular activities.
Vibrant student life
PIBM has a vibrant student life, with various clubs and societies catering to different interests and hobbies. The institution has various committees like the placement committee, cultural committee, sports committee, music committee, social responsibility (NGO) committee, and more, which help students showcase their talents, develop leadership skills, and contribute to society.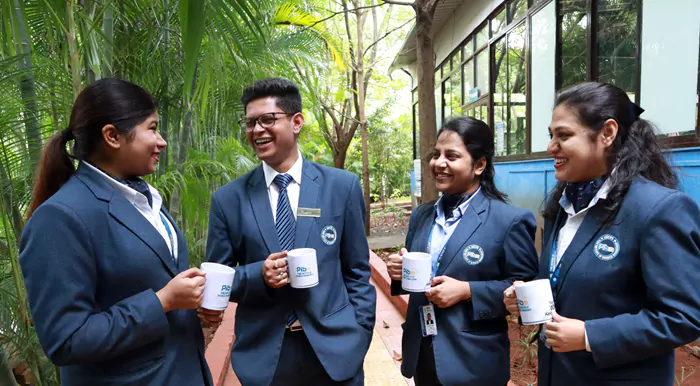 In conclusion, PIBM is a leading B-school that offers students industry-oriented MBA and PGDM programs. The institution has established itself as a center of excellence for management education in India, with a strong focus on practical learning and industry tie-ups. PIBM's curriculum, experienced faculty members, state-of-the-art infrastructure, strong placement record, and diverse student body make it the perfect B-school to pursue an MBA or PGDM.

The institution's emphasis on entrepreneurship and innovation and its affordable fee structure add to the value proposition for students. In addition, the vibrant student life at PIBM provides students with ample opportunities to develop their leadership skills, showcase their talents, and contribute to society. Moreover, the location of the institution in Pune provides students with access to a thriving business community, which enhances their learning experience and provides them with opportunities for networking and internships. Additionally, PIBM's tie-ups with leading companies also provide students with opportunities for internships, projects, and guest lectures by industry experts, which helps them gain exposure to the corporate world.

In conclusion, if you are an aspiring MBA or PGDM student looking for a leading B-school with a practical curriculum, excellent placement opportunities, and a vibrant student life, PIBM is a perfect choice. With our focus on entrepreneurship, innovation, and management, PIBM provides students with a world-class education and prepares them for a successful career in the business world.