PIBM Blog
Education

Does Not Only
Happen in the Classroom
A Polished Career Path With Top MBA or PGDM Courses In Pune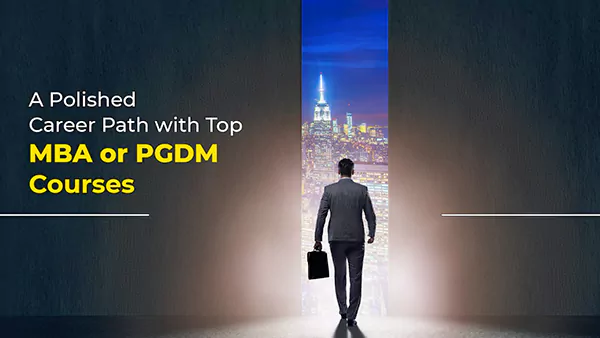 Education
---
PGDM is one of India's most popular and in-demand courses. MBA or PGDM courses in Pune are regarded as prestigious and rewarding job options. Companies that hire management professionals from a prominent business school usually provide competitive salaries and exciting career opportunities. For students aiming to develop a management career in 2022, the PGDM or MBA Program appears to be the most trustworthy option. We will discuss a polished career path with the MBA or PGDM Course in this article.
Difference Between MBA Or PGDM Course
Both organizations AICTE and UGC were established by an Act of Parliament to promote higher education. As a result, the programs approved by these authorities have the same legal standing. That means, both the PGDM and MBA are postgraduate programs with the same legal equivalency. For management students, some of the top management institutes in Pune offer both PGDM and MBA programs.
Degree Vs Diploma
The MBA is a degree program, whereas the PGDM is a diploma program. This is the first and most important distinction between the two programs. A government or private institution, or a college affiliated with a university, offers an MBA program. Degrees can only be granted by these universities, which are governed by the University Grants Commission (UGC).

AICTE certified b-schools and standalone/autonomous b-schools under the Ministry of Human Resource Development (HRD), which are not under the UGC, offer a PGDM program. It is important to note, however, that the business world makes no distinction between the two. Graduates of both degrees are equally qualified for management positions.

To evaluate which program will put you in the searchlight of promising recruiters, you should focus more on important quality factors such as faculty, curriculum, campus, peer group, rankings and accreditations, and placements, rather than the name.
Curriculum
MBA programs are more theoretical and have a standard curriculum. The modification of curriculum to keep up with changes in the industry and economic landscape has a certain rigidity about it. Over 3-5 years, such changes are carried out.

On the other hand, The PGDM curriculum can be amended or modified at the discretion of the business school, keeping it up to date with new industry requirements and standards. This allows schools to maintain a competitive advantage, and competition stimulates curriculum and pedagogy innovation. In contrast to pure theoretical learning, such systems allow for more practical application-based learning.

Industry experts would be included in the curriculum design of any excellent PGDM program. These veterans provide a foresight that fosters the incorporation of emerging and disruptive technologies like artificial intelligence, design thinking, and business analytics into management education.
Teaching Methodology
A good PGDM program provides a lot beyond just classroom training. Case study pedagogy is very important in PGDM courses since these cases help students to learn how concepts are used in real-world situations and are based on classic and contemporary business cases that have changed the industry over time. Extracurricular activities, social initiatives, events, competitions, and other forms of learning take place outside of the classroom to build a variety of soft required skills for management professionals.

During intensive industry interface sessions, students in a PGDM degree get the opportunity to connect with several leading experts and CXOs, which helps them to develop industry perspectives and blur the lines between theory and practical application.
Fee Structure
MBA programs are offered by universities and colleges, the majority of which obtain grants from the UGC and government subsidies. As a result, their costs are quite affordable.

A PGDM program is undoubtedly a significant financial investment. Because institutions and autonomous business schools that offer PGDM programs, which are usually on-campus, bear all of their costs, the result is substantially higher program prices. However, these fees are used to provide cutting-edge facilities, provide worldwide faculty exposure, deliver cutting-edge curriculum, and prepare students for highly sought-after careers. For such high-quality PGDM programs, several banks and financial organizations offer loans with reasonable interest rates.
Entrance Exam Criteria
Both programs accept scores from CAT, MAT, GMAT, and CMAT, among other competitive exams. Many institutions and colleges accept scores from state-level tests such as MAHCET, TSICET, PGCET, and TANCET when applying to MBA programs.

Shortlisting would also be based on other considerations such as past academic and professional performance, achievements, variety of background, and so on, therefore PGDM colleges may not have a precise entry score cut-off. These exam results are an important parameter for admission to the colleges of your choosing. As a result, you must first identify which test scores are preferred at those schools, as well as their cut-off or safe-score requirements, and then prepare accordingly.
Most Favored Specialization in India for MBA or PGDM Courses
MBA or PGDM is a famous option among management aspirants and business leaders. In Pune, an MBA or PGDM course is an adaptable course route that can equip you for a wide range of industries. The following are some popular specializations:
Marketing
Finance
Human Resources
Digital Marketing
Business Analytics
Career Options in PGDM or MBA Specializations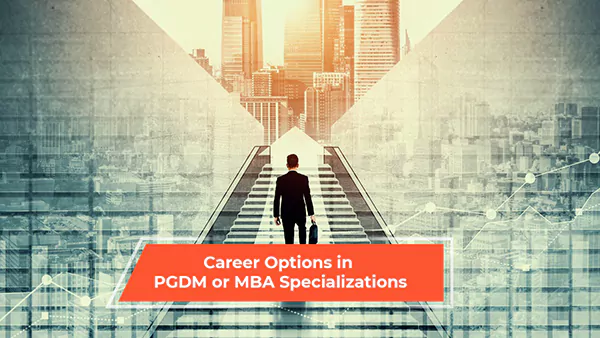 PGDM Or MBA In Finance
Marketing and finance are the most popular specializations among all the majors available. Management personnel with these specializations are in high demand. MBA or PGDM in Finance is a business management degree that provides students with financial knowledge, insights, tools, and wisdom. A PGDM or MBA in Finance gives management professionals a thorough understanding of company administration as well as financial products, processes, and technicalities.

When we talk about finance, we're not only talking about accounting or taxation, which are two different aspects of the industry. Money markets, stock trading and investments, banking, merchant banking, insurance, credit, and a range of other sectors involving money and capital fall under the category of finance, with job roles including Financial Analyst, Investment Banker, Insurance Broker, Financial Advisor, and others. A PGDM or MBA in finance covers all of these topics and gives students the necessary information and abilities to make financial decisions in a business.
PGDM Or MBA In Marketing
Because marketing positions are so vital in most businesses, there will always be a demand for marketing jobs. This means that pursuing a PGDM or MBA in this field can help you to gain skills and knowledge for a job that accounts for a major portion of the labor market. Candidates who intend to apply for a PGDM or MBA in Marketing program must have earned a bachelor's degree from a recognized university with a minimum of 50% marks in any stream. As part of this specialization, students will learn about B2B, B2C, Marketing Analytics, Channel Management, Retail Management, Market Research, Media Sales & Pre Sales, Digital Marketing, and many other concepts, which consists career opportunities such as Marketing Manager, Public Relations Specialist, Research Analyst, Digital Marketer, Business Analyst, and more.
Human Resource Management (HRM) is a continuous process that comprises the acquisition, development, and maintenance of human resources. Planning, organizing, leading, and controlling are all management functions. HRM's major goal is to make the most of personnel, minimize risk, and optimize return on investment. HR specialized students are trained to be tomorrow's leaders by developing the correct attitude and personality, as well as competencies, aptitude, and communication skills. HR Analytics, Talent Acquisition, HR Business Partner, Compensation & Reward Management, Labour Law & Industrial Relations, and other concepts are taught to Human Resources students to properly manage the organization's policies. HR professionals can work as Human Resource Officers, Training & Development Officers, HR Consultants, Executive Recruiters, and other positions.
We have now entered the Digital India era. Traditional approaches have shifted to online or digital platforms over time. From local convenience stores to prominent companies, everyone is leveraging digital platforms in some capacity. Maintaining a web presence has become important for all businesses, large and small. The demand for digital marketing experts has risen and will continue to rise in the future. This specialization would assist students who want to study Digital Channels, Content Creation, Content Marketing, Search Engine Optimization, Social Media Optimization, Social Media Marketing, Digital Marketing Analytics, and other topics. Candidates can work as Analytics Managers, Content Managers, Digital Account Managers, and Digital Directors, among other positions.
Business analytics entails the application of relevant skills and technologies to historical data to provide useful insight and intelligence for planning and decision-making. Some of the most common components of business analytics are data mining, statistical analysis, and predictive analytics. Data analytics, which includes business analytics, is a larger term for organizing data for analysis and study. Data and business analytics encompass a wide range of specialized operations. Data analysts and data engineers are among them. This concentration covers data analytics, statistical methods, machine learning & data visualization models, AI & Natural Language Processing, Big Data & Database Tools, and a variety of new developing concepts, as well as a variety of analytical tools. Business Analyst, Data Analysis Scientist, Business Analyst Manager, Data Business Analyst, and other positions are open to students.
---
Summary
When it comes to pursuing a profession, a PGDM or MBA student has a lot of alternatives. A candidate with a PG Program immediately stands out, and recruiters consider this when evaluating him or her as a potential employee for top organizations. The PGDM or MBA is the program to enroll in if you want to advance quickly in the field of management.
| | |
| --- | --- |
| | By PIBM |