Omnikart Season-6
Corporate Events

- Learn from 550+ Business Leaders
Successful Completion of Corporate Event: Omnikart Season 6
---
Date: 14th and 15th July 2023
Venue: Pune Institute of Business Management [PIBM]
The FMCG sector has undergone a plethora of changes in the last decade through technological advancement and so has the world of marketing and branding. To become a leader in the FMCG sector, we need to understand consumers' behavior and preferences, optimize supply chains, embrace e-commerce, explore the power of storytelling, leverage digital marketing and data-driven approaches, build customer trust, and finally adapt to an ever-changing market landscape by exploring innovative technologies for global expansion and sustained success in the digital age.

The theme of Omnikart Season 6 revolved around all the factors mentioned above. The topics for the panel discussion were 'Marketing and Branding Strategies', 'E-commerce and Digital Transformation in FMCG', and 'Talent and Leadership in FMCG'. The panel members included industry stalwarts from the FMCG sector from different MNCs.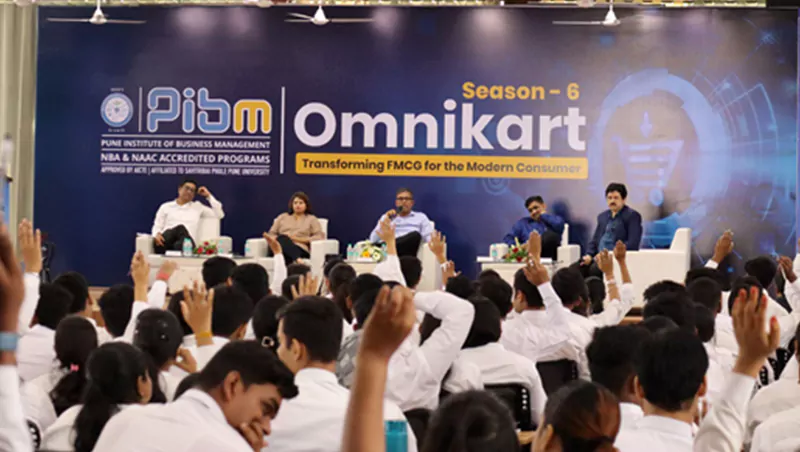 ---
Date: 14th July, 2023
Panel- 1
The first panel members of Omnikart Season 6 were:
Time: 11:00 am to 1:30 pm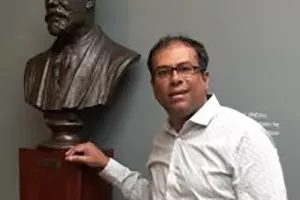 Mr. Mahesh Kanchan
CEO
Del Monte Foods Inc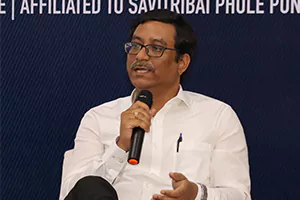 Mr. Bimalendu Tarafdar
Vice President of Marketing
Weikfield Foods Pvt. Ltd.
Ms. Kavita Narayanan
Co-Founder
Trelish Foods & Beverages Pvt. Ltd.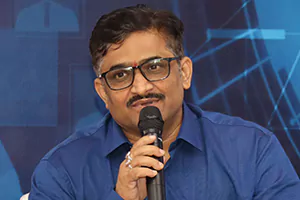 Mr. Rajesh Joshi
President- Consumer Division
Regal Farm Fresh Pvt. Ltd.
The topic of discussion was 'Marketing and Branding Strategies'. The panel members stressed the significance of understanding consumer behavior by conducting in-depth market research and using data analytics to gain insights into customer preferences, needs, and purchasing habits. They emphasized the need for companies to have a strong online presence and to leverage digital marketing to reach a wider audience and engage with potential customers.

They also highlighted the importance of customer engagement through storyboarding and communication to turn their needs into wants. They also highlighted that businesses need to be agile and adaptive, ready to embrace new trends to remain relevant and competitive in the market.
Panel- 2
The honored guests of the second panel were:
Time: 02.30 pm - 05.00 pm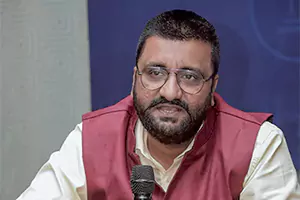 Mr. Abhay Pathak
Head of Modern Trade Sales
Hector Beverages Pvt. Ltd.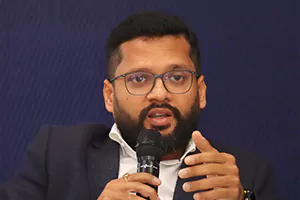 Mr. Surbhit Lihala
Vice President of IT, Digital & International Business
Keventers Agro Ltd.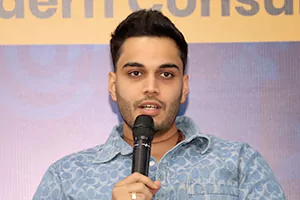 Mr. Pranav Malhotra
Founder
TruNativ
The second panel focused on the topic of the 'E-commerce and Digital Transformation in the Fast-Moving Consumer Goods (FMCG)' sector, exploring the opportunities and challenges in the digital realm. The eminent members highlighted how consumers have increasingly embraced online shopping and digital channels to purchase everyday goods. The rise of convenience-oriented shopping habits and the impact of mobile technology on consumer choices were among the key factors discussed.

The panel members also highlighted the need for personalized and interactive approaches to capture and retain the attention of consumers in the crowded digital landscape. According to them, by harnessing data analytics, FMCG companies can gain valuable insights to optimize their marketing efforts, enhance product offerings, and make strategic business decisions.
---
Date: 15th July, 2023
The eminent panel members were:
Time: 11.00 am - 01.30 pm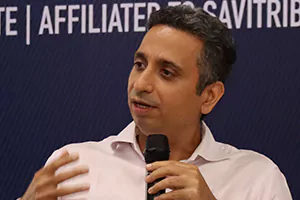 Mr. Nitin Kathuria
Executive Director of Sourcing
Marico Limited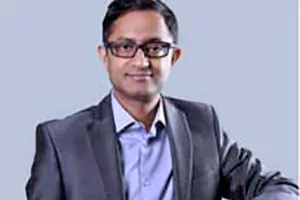 Mr. Anil Kumar Mishra
National Logistics Head of South Asia
Pladis Global
Mr. Arkadeb Chakraborty
CHRO
Capital Foods Pvt. Ltd.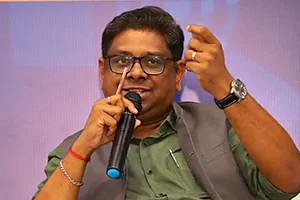 Mr. Debargha Deb
National Sales HR & Campus Lead
Dabur Limited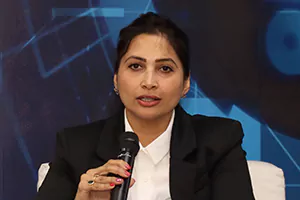 Ms. Manpreet Kaur
Head HR
Davidoff
The corporate panel focused on the critical role of 'Talent and Leadership in the Fast-Moving Consumer Goods (FMCG)' industry and discussed key aspects of nurturing and developing effective leaders. Innovation and agility were identified as crucial elements for success in the FMCG sector. The discussions explored how leadership can be learned by motivating, communicating (through data, story, and action), and uniting people.

The panel members emphasized the importance of strong communication, strategic thinking, adaptability, and decision-making capabilities. They also highlighted the importance of staying updated with industry trends, technological advancements, and leadership best practices. According to the honored speakers, understanding various aspects of the business, such as marketing, supply chain, finance, and operations, allows leaders to make holistic and well-informed decisions that positively impact the organization.