PIBM Blog
Education

Does Not Only
Happen in the Classroom
What Makes PIBM The Best Choice For Post-Graduation?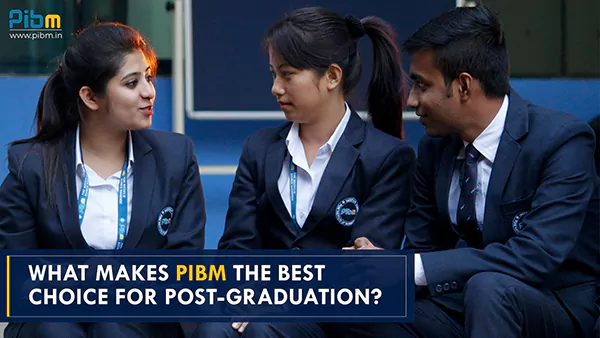 Education
---
The vision of the institute is that "Every student passing out from the institute must contribute to the economy of India & the world by becoming a business leader - either by joining to lead a company or becoming a successful entrepreneur creating employment".

Pune Institute of Business Management (PIBM) is one of the top B-Schools in India, which aims to provide high-value business management education to produce educated and skilled Management Graduates.

Post Graduate Diploma in Management (PGDM) Program which is an AICTE approved course is the flagship program at PIBM Pune and Master in Business Administration MBA Program course in affiliation to Savitribai Phule Pune University.

At PIBM, education is more than just academics; it goes well beyond what is taught in traditional classrooms. Teamwork, problem-solving, analytical thinking, creativity, leadership skills, decision-making, and goal attainment are all important aspects of a successful business management profession. Recently ranked in top-100 B-Schools by NIRF India, PIBM has an industry co-designed curriculum and provides extensive corporate interactions and training which aids students to cope up with the corporate world. This helps in bridging the gap between Companies' requirements & Management Graduates' business knowledge.
Ranking & Recognitions of PIBM
Accredited by NAAC
Ranked amongst the Top 100 B-Schools in India by NIRF
10th - Intellectual Capital & Learning Experience
16th - Top B-Schools in India for Finance
22nd - Best Private B-Schools in Western India
32nd - Top 100 B-Schools in India
22nd in Top 75 Private B-Schools in India
Recognized as one of the "Best Education Brands of 2018"
Awarded as "Best Emerging Institute in India"
Awarded as one of the "Most Innovative Learning Practices 2018"
Featured in Forbes Marquee edition as one of the "Great Indian B-Schools"
Till date, PIBM has produced 6000+ successful Alumni who are placed in top companies at Senior Management positions as well as few have become Entrepreneurs. Read this article to know more about the reason to choose PIBM for Post-Graduation.
Why PIBM?
Industry-aligned curriculum

Over the years, PIBM has designed advanced Training Pedagogies and Curriculum in which students are taught to develop the knowledge and skills needed in industries to execute duties efficiently and excel in their careers. Students receive intensive instruction on job profiles in a variety of domains based on the precise abilities listed in Job Descriptions.

Training from Industry Experts

PIBM provides an excellent opportunity to learn the business from seasoned professors and corporate executives. Students will get the opportunity to work with professionals on research and projects while developing their Business Management knowledge and expertise outside of the classroom.

Industry-Specific Business Tools

By providing Bloomberg Terminal, Ace Analyzer, Certifications (ERP Modules, Six Sigma - Green Belt, MS Project), and a well-equipped Library with Management Journals, Books, Case Studies, and other resources, PIBM helps to improve employability and advance management careers.

Confidence Building

Continuous evaluation and feedback, aptitude and communication skill development training, regular practice on GD/PI, Business Etiquette training, and building a sharp mind and active body through Gym, Aerobics, Yoga, Sports, and developing hobbies are all ways that PIBM assists in laying a strong foundation to build self-confidence among the aspirants.

Best Learning Environment

Pune, often known as the Oxford of the East, is one of the most sought-after places for Management Education due to its central location in the manufacturing, automotive, and information technology sectors, as well as the presence of many other top firms' headquarters. PIBM is located in a tranquil and serene location on the outskirts of Pune, with an industrial area nearby, providing the ideal environment for mastering Business Management education.
What Makes PIBM Unique?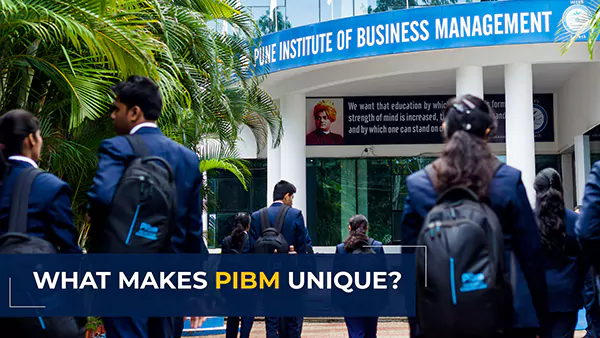 PIBM's goal is to develop industry-ready management professionals with confident, smart, and bright personalities by giving students more practical experience rather than only classroom teaching.
360-degree learning and training method focusing on strong Competencies Development that empowers the students with Advanced Skills, Rich Domain Knowledge and Strong Corporate Insights.
Experiential Learning and Profile and Sector-specific training to Corporate Exposure through Internships and Live Projects, PIBM ensures overall and holistic development of the students which includes both body and mind.
PIBM is associated with 550+ business leaders and 600+ leading companies, to keep up with industry trends, who train our students using unique training programs designed by the highly acclaimed executive committee to foster leadership, problem-solving techniques, analytical mindset, creativity, effective communication, and organizational skills.
PIBM conducts Mentorship Programs routinely to guide our students on the right path, help them overcome any fears, eliminate their doubts, and much more. The mentorship Program enables both students and faculty members an opportunity to understand each other's perspectives and grow professionally. Be it choosing the right specialization or having any curricular-related doubts, our support is always there with the students.
Students at PIBM undergo a one-month Winter Internship and two-months Summer Internship Program along with several Business Live Projects.
PIBM has introduced training methods & certification courses inside the curriculum like Bloomberg Terminal, Ace Analyzer, Enterprise Resource Planning (ERP), Six Sigma (Green Belt), MS Project, Advanced Excel, Balance Sheet Analysis & Financial Modeling. This ensures students to acquire the skills and capabilities that would enable them to work effectively and efficiently in their workplace.
The institute takes initiative in preparing the students to take on any challenge with Confidence. Rigorous training on improving Business Communication, continuous improvement of Presentation skills, and thorough preparation for the Placement process which includes Aptitude Training, Mock GDs, and Mock PIs, ensures students to gain the required confidence to become ready to enter the Corporate World. PIBM Students undergo 100+ Mock Interviews and GD's where they not only face internal Trainers and Mentors but also get interviewed by the Corporate Heads themselves who visit campus for Final Placements and 150+ Aptitude Tests which not only check the continuous growth of the students but also give them regular feedback on the key improvement areas.
PIBM has formed an International Academic collaboration, welcoming members from various universities from different countries. This collaboration with some of the Top Institutions across the Globe will develop a dynamic network of Knowledge Creation and Research. Tie-ups with new-age universities enable us to provide the students with better training and development with proper international exposure.
---
Summary
The objective of PIBM is to provide opportunities to all striving young people from across the country who are regarded as potentially good prospects based on their academic records but lack exposure to learn and grow. PIBM converts these individuals into first-class professionals in two years Post Graduate Program in Management in terms of Domain Knowledge, Aptitude, Analytical skills, Self Confidence, Positive Attitude, Soft Skills & Communication Skills. These individuals who are otherwise talented and are trainable to assume a significant role in the management profession are our intake and raw material. In nutshell, PIBM's mission is to provide opportunities and support their students to enable them to realize their ambition to join diverse management professions and achieve their dream of a managerial career.
| | |
| --- | --- |
| | By PIBM |