PIBM Blog
Education

Does Not Only
Happen in the Classroom
What are the lucrative career options after pursuing a PGDM Program?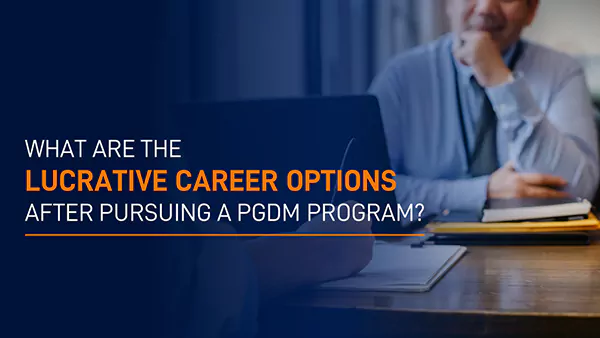 Education
---
PGDM course is one of the most popular programs among today's youth as it is one of the most sought-after professional management courses in India, aspirants who are looking forward to taking up this management course must understand the Career Opportunities after Completing PGDM Program.
Industry-Aligned Curriculum
The program is designed by industry leaders and academic specialists to ensure that it meets the most recent industry requirements and transforms students into the greatest business professionals possible. The levels of this curriculum differ in terms of conceptual learning, which includes tools, business models, and procedures, as well as experiential learning which includes case studies and simulations.
Holistic Development
This course is designed around the three principles of innovative mentality, holistic leadership, and technological skills, which include expanding their perspective, competence, and communication in order to acquire great employment abilities.
Enhance the quality of Leadership
Students with a PGDM degree have the rationale and confidence to excel and lead. The PGDM program prepares future leaders and meets the needs of great top-level managers.
Hike in Position
A PGDM program helps to develop the career by adding valuable skills, increasing compensation, and adds an extra edge to the resume.
Course Overview:
A PGDM college is not affiliated with a university and it does not follow the university standards. It is a 2-year full-time diploma program that has been authorized by the All India Council for Technical Education (AICTE).

Priority is given to PGDM institutes that have been approved by the AICTE. The All India Council for Technical Education (AICTE) is a statutory organization that was founded as an advisory council in November 1945 before receiving statutory status in 1987 by an Act of Parliament. The AICTE is in charge of ensuring that India's technical and management education systems are properly planned and coordinated.

Students seek to participate in an AICTE certified PGDM program because the industry requires highly skilled experts. These institutions are free to adjust their curriculum in response to the changes in the business environment and industry standards.

To stay up with current developments and industry expectations, the PGDM course curriculum is revised on a regular basis. The curriculum prepares students for positions in management. A decent PGDM program includes instruction in corporate strategy & finance, economics, long-term business plans, marketing, and basic accounting. It not only focuses on theoretical knowledge but also emphasizes practical know-how, preparing students to become future managers. Choosing the correct PGDM college is a great approach to kick off a rewarding career.
The course offers specialization in various domains such as: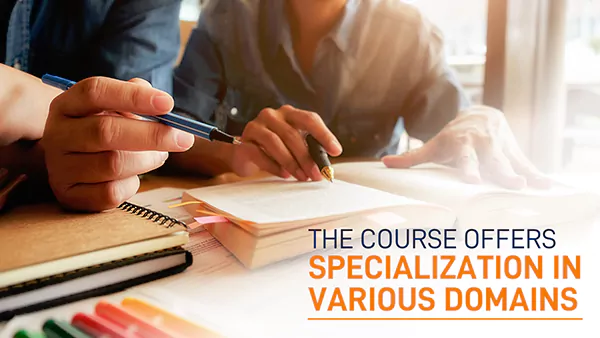 PGDM in Marketing Management
PGDM in Human Resource Management (HRM)
PGDM in Financial Management
PGDM in Business Analytics
PGDM in Logistics Management
PGDM in Operations
PGDM in Digital Marketing
Eligibility Criteria:
Candidates must have a Bachelor's degree from a recognized college or institute in any discipline with a minimum of 50%.
Accepts entrance exam score of the following:
National level Entrance Exam - CAT, MAT, CMAT, PMAT, XAT, ATMA
State Level Entrance Exam - TANCET, MAH-CET, MET-MP
Let's learn about the most distinguished career opportunities in India after the completion of the PGDM course.
Business Strategy Consultant
By assessing corporate operations and proposing improvement initiatives, business strategy consultants assist organizations in remaining competitive. They assist in the definition of firm markets, the identification of industry trends, and the development of plans for increasing performance and revenue. A business strategy consultant should have a strong understanding of financial analysis and familiarity with workflow management to succeed as a strategy consultant. A senior strategy consultant will uncover and recommend cost-cutting, performance-enhancing, and industry-longevity strategies. Top companies like Deloitte Consulting LLP, Accenture, EY (Ernst & Young) LLP Consulting Practice, IBM Global Services, etc. have a crucial necessity for hiring candidates in the Business Strategy Consulting profile.
Business Strategy Consultant Responsibilities:
Conferences with clients to discuss business objectives and goals.
Conducting market research and analyzing market trends.
Examining current business procedures and workflows.
Examining industry competitors' business practices and market activity.
Creating and presenting analytical reports.
Developing revenue-generating, cost-cutting, and growth-promoting initiatives.
Supervising the execution of revised company plans.
Examining and analyzing the effectiveness of new business strategies.
Monitoring the long-term effects of business changes.
Marketing Data Analyst
A marketing analyst conducts research and identifies innovative strategies to strengthen the brand and attract new customers. Tracking advertising expenses, investigating customer behavior, and exploring market trends and prospects. They should also have prior experience with PPC campaigns and be comfortable processing and analyzing marketing data to be successful in this position.

Finally, a Marketing Analyst must ensure that marketing budgets are used wisely and that targeted audiences are reached through successful campaigns.
Marketing Data Analyst Responsibilities:
Examining customer intent and sales funnels.
Calculating the return on investment (ROI) of online and offline advertising efforts.
Marketing KPIs including leads, conversion rates, website traffic, and social media engagement should all be reported on.
Keeping a track of the results of your email marketing campaigns.
Monitoring the distribution of budgets and the results of paid ad campaigns.
Analyzing benchmarking data and conducting competitive research.
Recommending improvements to your website and campaign.
Supporting promotional campaigns, we must conduct research and apply marketing techniques.
Collaborating closely with the sales and marketing departments to find new customer acquisition possibilities.
Common Internship Challenges and Solutions
Market research analysts are marketing specialists who assist in determining an organization's position in the marketplace so that its products and services can be properly promoted. They examine and collect customer data while researching competitors' marketing strategies. To be successful, market research analysts must be excellent communicators who intuitively spot trends and have a strong desire to provide useful and accurate information about customer behavior and competitors' activities. Top candidates will be able to think critically, have good IT abilities, and pay close attention to detail.
Market Research Analyst Responsibilities:
Keeping a track of marketing and sales trends and make predictions.
Assisting with the development of marketing strategies.
Conducting market research to learn more about unique market conditions.
Analyzing consumer preferences to determine a product's or service's potential sales.
Examining pricing, marketing, and distribution tactics.
Analyzing the results of marketing campaigns and tactics.
Evaluating methods for data collecting.
Compiling information on customers, competitors, and market circumstances.
Analyzing and evaluating data using statistical software.
Confidentiality of sensitive information must be maintained at all times.
Presenting complicated data in graphs, charts.
Digital Marketing Analyst
Digital marketing analysts examine campaign performance, monitor online marketing trends, analyze information, and design plans for digital marketing initiatives. They prepare campaign results, produce data visualizations, and share their findings and ideas with coworkers and clients. A top-notch digital marketing analyst should also be analytically strong, detail-oriented, and able to work well in a group.
Digital Marketing Analyst Responsibilities:
Testing campaigns, analyzing key metrics, and determining prospects to boost campaign performance.
Creating and presenting takeaways from your research, including actionable insights and recommendations.
Developing online measurement and digital campaign tactics.
Creating dashboards, data visualizations, and performance reports for campaigns and websites.
Analyzing Digital media and marketing trends.
Investment Banker
Investment Bankers are in charge of issuing loans and selling stock to raise funds for firms and individuals. An investment banker is responsible for overseeing mergers, applying financial models, and preparing legal and financial records as an investment banker. In addition to great communication skills, the ideal candidate will have strong quantitative and analytical abilities.
Investment Banker Responsibilities:
Executing research and analysis of financial data and market trends.
To raise capital, issue debt, and trade stock.
To assess deals and estimate profitability, create and implement financial models.
Handling Mergers and acquisitions.
Supervising initial public offerings (IPOs) and venture capital settlements.
Executing investments, acquisitions, and purchases, preparing legal and financial paperwork.
Examining all potential hazards and providing financial guidance.
Preparing a list of potential investors and following up with them.
Maintaining a thorough record of financial industry regulatory and legal issues.
Credit Analyst
A credit analyst assesses an individual's or company's creditworthiness and risk profile by evaluating financial data and choosing whether to grant credit or not. Commercial banks and financial firms are the most common employers of credit analysts. A credit analyst must have a full awareness of potential customers' financial position, monitor existing clients, undertake risk assessments, create extensive reports, and make informed decisions when giving credit to succeed in this role.
Credit Analyst Responsibilities:
Analyzing and evaluating financial statements and credit reports of potential clients.
Reviewing credit applications and credit checks.
Consult with clients on financial transactions, payment terms, and credit limits, and negotiate with them.
Having the ability to manage various projects while still completing applications on schedule.
Keeping up with the latest financial news, forecasts, and trends.
HR Manager
Human resources managers oversee the entire hiring process for a firm or organization, including recruiting, interviewing, and hiring new employees. They assist leaders in connecting with employees, developing an employer brand, increasing employee engagement, and developing strategic personnel resource plans. To take up the responsibility for all HR issues at the organization, including recruitment, performance reviews, salary reviews, disciplinary action, and learning and development.
HR Manager Responsibilities:
Recruiting excellent staff and maintaining a smooth onboarding methodology.
Training, counseling, coaching, and resolving conflicts of the staff.
Carrying out essential administrative duties & conducting performance and wage reviews.
Maintaining and reporting on workplace health and safety compliance.
Retaining employee and workplace privacy.
Training & Development Manager
Training managers are experts who assist organizations by designing, implementing, and supervising staff training programs. They evaluate a company's needs, create training and development plans, and support a wide range of training programs that improve the workforce's effectiveness. To be successful, training managers must have a thorough understanding of business operations and decision-making processes, as well as a strong desire to provide focused and measurable results through the development of an effective and efficient workforce.
Training & Development Manager Responsibilities:
Identifying and assessing the organization's training needs through job analysis, career trajectories, and management consultation.
Creating customized and group training programs that meet specific corporate requirements.
Using efficient and effective training approaches.
Assess organizational performance to ensure that training is meeting business needs and enhancing results.
Discovering opportunities for improvement, assessing employees' skills, performance, and productivity.
Operations Manager
An operations manager is an important member of a management team who is in charge of high-level HR responsibilities such as acquiring talent and establishing training and hiring procedures. They also aim to increase quality, productivity, and efficiency by analyzing and improving organizational processes. An operations manager is responsible for inspiring leadership for the organization's line of business operations, which includes making crucial policy and strategic choices as well as developing and implementing standard operating procedures. When necessary, an operations manager assists the Human Resources department with recruiting and promotes a workplace culture that encourages morale and performance.
Operations Manager Responsibilities:
Making critical judgments on policy, planning, and strategy.
Operational policies and procedures should be developed, implemented, and reviewed.
Collaborating with key stakeholders, budgeting, reporting, planning, and auditing.
Ensuring that all legal and regulatory paperwork, rules, and regulations are followed.
Working with the board of directors to define the organization's values and mission, as well as to set short- and long-term objectives.
Identifying and solving the company's problems and prospects.
Collaborating with other groups to form alliances and partnerships.
---
Summary
Candidates with the appropriate qualifications have a plethora of job options. Graduates of the PGDM program are considered to have the knowledge and ability to adapt to changing industry demands. With the advancement of technology, new age employment is emerging in the business, creating a competitive market to thrive.

As a result, a professional with only an elementary education will not be successful in today's world. Therefore, the demand for a PGDM degree has increased as organizations have begun to hire PGDM graduates. This program transforms hopefuls into self-assured business executives with balanced personalities ensuring a bright future in the business world.
| | |
| --- | --- |
| | By PIBM |