PIBM Blog
Education

Does Not Only
Happen in the Classroom
What are The Best Strategies To Crack Campus Placements?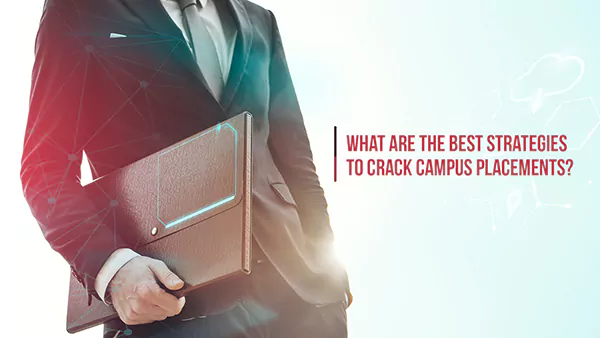 Education
---
Campus Placements can be nerve-wracking. Job hunting has always been difficult, especially for new graduates. Finding a job without experience appears difficult since you may not know where to start. This is why all college students want to give it their all when it comes to business management placements from top placement colleges for MBA in Pune.

Companies hire young and fresh talent right out of college through campus placements. This blog is for you if you're preparing for campus placements. We've put together this blog to give you some ideas on how to prepare for your first job interview.

Let's get started !!
Here are some tips and strategies on how you can crack the campus placements.
Apply With A Crisp And Clear Resume
A resume plays a crucial role in your job search since it allows you to highlight your traits and skills. Because your resume is your ticket to being shortlisted for a job interview, it must be structured to stand out.

As a result, the first step in campus placement is to create a powerful and concise resume that shows all of your accomplishments, both academic and extracurricular. Your CV should be tailored to the job requirements for which you are applying.

Here are some things you must include in your resume:
A strong resume headline
A clear career objective
Profile summary
Skills that make you a good fit for the job
Academic references
A good format for your CV
Research About The Company
Before preparing for an interview, it is important that you thoroughly research the organization. This will help you in better preparing for the interview and will also allow you to evaluate if the organization is a good fit for you.

Here are a few elements to look for in good research:
Company reviews and ratings by employees on websites
Additional perks and benefits offered by the company
The company's vision and mission statement
The company culture
Low retention rate
Salary insights of the company
Interview questions to prepare for the interview
Prepare For Interview Questions
Interviews may be stressful, especially if it's your first one. But there isn't anything that practice can't improve. So, be prepared for some rigorous placement preparation with important interview questions.

Some of these questions are:
Tell me about yourself
What are your strengths and weaknesses?
What motivates you to work hard?
Are you a team player?
Why do you want to work for our company?
Where do you see yourself in five years?
Describe yourself in one word
While preparing for campus recruitments, make sure you rehearse your tone and voice and make a list of points to include.

However, depart from the script and respond in a conversational tone.
Practice With Mock Interviews
When it comes to placement preparation, reading and preparing are not enough. If you're anxious about interviews and want to do well in campus placement, all you need is a lot of practice before the big day. And the most effective approach to do so is to conduct mock interviews. The good news is that mock interviews may be practiced for free online. If you don't want to experiment online, ask your friends or family to interview you and provide feedback on your responses.
Practice For All Kinds Of Interviews Rounds
Campus recruitment differs from traditional interviews in that you may need to go above and beyond in your preparation. Many college hiring processes begin with a group interview, in which firms interview 8 to 10 applicants at once based on their performance. The goal is to go through the best candidates and identify those who have leadership traits and logic.

In a panel interview, you will be interviewed by not one, but two or more interviewers who will screen you for the job. It is to pass judgment on you under pressure. Panel interviews are often used interchangeably with group discussion, although they take a more formal approach. Face-to-face interviews are straightforward one-on-one sessions in which an interviewer evaluates your competency and screens your qualifications for the position.

The HR interview is another interview for which you must prepare. This phase normally takes place at the conclusion, and it involves HR attempting to spot red flags and determine whether you will be a good fit for the firm and vice versa. You can practice with HR interview questions for placement preparation in the HR round.
To get an idea about How Campus Placements works at PIBM, Pune
PLACEMENT PREPARATION CHECKLIST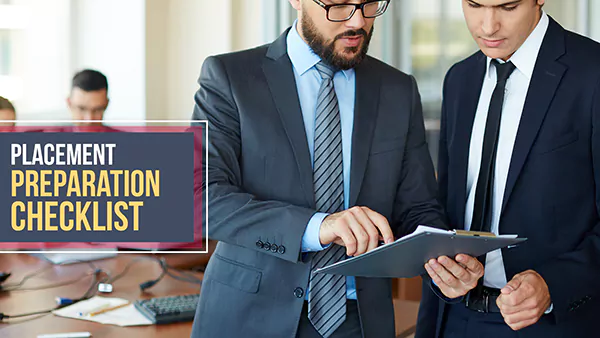 Here are a few things that will impress your interviewers in the campus recruitment process.
Dress To Impress
In an interview, how you dress and portray yourself is very important, and campus recruitment is no exception. So, before you go in for the interview, make a list of your placement preparation checklists that includes acquiring formal apparel for yourself.

Select a formal outfit that is both comfortable and makes you feel confident. The idea is to keep the outfit simple and professional. Overdressing with blazers, a tie is a no-no. You don't have to stress about finding a suit or tie for campus recruitment.

Simply choose something that is official and reflects your commitment to the job. Choose the appropriate accessories, such as clean, polished shoes, matching socks, and the handbag or folder you intend to bring. Make sure you're not wearing anything that makes you conscious or pulls your focus away from the task at hand.
Body Language
Did you know that it takes less than a minute for someone to leave a lasting impact on you?

And, since you only get one shot to make a first impression, we recommend that you nail it the first time. As you prepare for campus placements, focus on keeping a positive body language.

Begin with a firm handshake and maintain good eye contact while maintaining a strong body stance. A smile may go a long way. So, while you go through your interview, remember to keep a gracious smile on your face. Make sure to include finding a powerful interview posture in your placement preparation.

By practicing speaking in front of a mirror and checking your expressions, you can develop effective body language. It will also help to determine the dos and don'ts for seeming less nervous and more assured.
Communication Skills
Placement preparations might be difficult, but with good communication skills, you can get through them. Making a good impression requires speaking confidently, and the best way to do so is to prepare a list of topics to address during the interview.

Your interest in the role, field, domain, career ambitions, and how this job would fit into the picture can all be included on the list. You can also talk about how your skills make you a good fit for the job. Knowing what you need to say will make you feel more secure than being asked a question and having no idea what to answer.
Organize All The Documents In A Folder
Yes, it may appear to be a minor thing, but putting all documents in one place and a logical order can make a huge difference. Your résumé, marksheets, college certificates, cover letters, school certificates, and any other documents requested by the company.

It shows that you're well-organized and aware of what's important in the situation. It will also save you the time and effort of having to sift through a pile of paperwork during your interview.
Get Enough Sleep
It's one of the things that people overlook when they're worried about campus recruitment. Getting a good rest before the big day is always a smart idea because it will help you to stay calm and focused.

Sleep deprivation might make you irritable and even lead you to be late for your interview. So plan by setting numerous alarms and going to bed earlier than usual.
THE DO'S AND DON'TS IN CAMPUS PLACEMENT INTERVIEWS
Interview Do's
While certain things may work for an individual but not for others, the suggestions below are better to follow.
Ask questions and be honest in your approach.
Be familiar with the company's profile and how well you can fulfill their requirement.
Be Confident.
Be comfortable while talking with your hand gestures.
Be punctual and ensure that you reach at least 10 minutes before.
Bring a copy of all relevant documents.
Dress properly and look neat and clean.
Express yourself in simple words and indeed.
If you are being interviewed by a panel, ensure to make eye contact with the person who asks the question.
Be attentive and listen to the questions and answer thoughtfully.
Present your skills in a positive light, even your weaknesses.
Make sure to fully understand the question and raise a question if you doubt a certain statement.
In an interview, try to maintain the positive image that your CV has already created after the first round of short-listing.
Show enthusiasm for joining the company and the position.
Interview Don'ts
There are some points to remember, just as there are some do's. Go over them and make sure you don't make any of these mistakes on your big day.
Don't sit in an inflexible posture.
Don't answer questions with a simple yes or no.
Don't dress casually.
Don't interrupt the interviewer before they have finished asking a question.
Don't lie when it comes to internship experiences. They can always cross-check.
Avoid asking too many questions about salary, holidays, or bonuses. You may discuss these at length after an offer is made.
Don't wear strong perfumes or fragrances.
Frequently-Asked Questions In Campus Placement Interviews
Tell Us Something About Yourself

One of the most frequent campus placement interview questions is this one. Even if the question is straightforward, answer it carefully and from the perspective of the job applicant.

What Are Your Likes And Dislikes?

Places, modes of transportation, clothing, and hobbies can all be discussed. It's the same with dislikes, nevertheless, don't be too harsh or nasty. Try to talk about it in a way that complements your field and seems casual.

What Are Your Likes And Dislikes?

To be a successful professional in a certain field, everyone requires certain skills, thus tailoring your response to your field. Integrity, strong speech communication, listening skills, and excellent product knowledge are all attributes to strive towards. Don't give broad replies, instead, try to be as specific as possible. Do not reveal any of your key flaws. One strategy is to conceal your strengths as flaws, such as punctuality.

What Is Your Ambition?

Avoid broad statements like 'I want to be an excellent manager' or 'In five years, I want to be the CEO.' Short-term and long-term goals can both be pursued. Make your answer as clear and explanatory as possible so that the interviewer understands what strategy you've devised to reach the bigger goal.
---
Summary
You'll be ready to land your dream job at your preferred company if you follow these guidelines on how to prepare for placements. In front of the interviewer, you will be able to demonstrate your abilities and determination.

Be bold and enthusiastic, and you will land your dream job !!

Best wishes !!
| | |
| --- | --- |
| | By PIBM |