PIBM Blog
Education

Does Not Only
Happen in the Classroom
Top 10 reasons why you should pursue an MBA or PGDM after Graduation?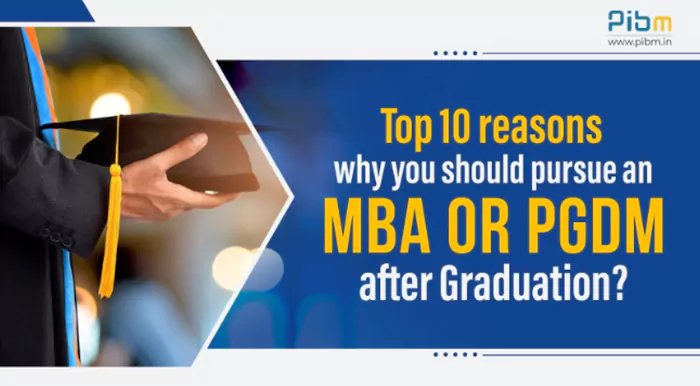 Education
---
Introduction
A very common predicament faced by fresh graduates is about their further education. With a plethora of options available on the table, it's easy to choose the wrong one. Amongst these options, stand out the two best management courses - MBA and PGDM. The best business schools in India entirely focus on actionable business education programs and management studies. Generally, people make a decision to pursue an MBA or a PGDM without knowing its true benefits. If you are an undergraduate student pursuing a B.Com, B.Sc., B.E, B.Tech, BA, BBA, or any other degree, and still confused about whether to opt for MBA or PGDM for higher studies, then this article will help you to make an informed decision.
Here are the top 10 reasons why you should pursue an MBA or a PGDM program after Graduation?
Career Enhancement with Skills & Competency Development
The career landscape is more and more competitive. Where graduation was once thought of as being sufficient, employers today are looking for candidates who have special skills. It is only a PGDM or an MBA program that will help students garner strong management skills. The program provides you with an edge in management, which opens doors to strong positions in both the private and public sectors. A range of hard and soft skill sets are covered in the program to ensure MBA & PGDM students are well prepared to take strategic management decisions and succeed in their careers. These key skills include:

Problem-solving and Decision-making Skills
Analytical bent of Mind
Entrepreneurial Mindset
Strong Core Domain Knowledge
Technical Knowledge of Industry Tools
Accountability & Ownership
Communication, Personality, & Confidence development
Time Management
Organizational Skills
Integrity & Ethics
Team Spirit

Globally-recognized Skills
A Master of Business Administration (MBA) or a Post-graduate Diploma in Management (PGDM) broadens your enterprise vision and helps you perceive the nuances of business management in an international marketplace or global corporate world. Several of today's best MBA or PGDM programs embrace a foreign immersion trip so that graduate students get a primary feel of the way to manage a business in an international arena. Selecting a program that pulls international students can raise the room's diversity and enlighten discussions. Don't underestimate the advantage of this additional benefit in today's international economy. After following an MBA program, you get an excellent summary of the dynamic business world, a profound understanding, and a positive receptiveness to the changes in the business environment. Apart from these, you will develop essential business management knowledge and globally recognized and accepted skills.
Practical Learning Approach
Many courses can teach you theory, however, the PGDM or MBA course pursued from the right B-School will teach you about the practical application of theoretical information. No matter what you learn within the course, applying it in the real corporate world requires a systematic approach. Pune Institute of Business Management (PIBM Pune) is one such B-School where the entire training pedagogy focuses on industry interface and practical learning approach. Here are a few benefits of the practical course:

Builds Confidence: Very often, contemporary graduates with no work experience draw a blank after pursuing an MBA or a PGDM degree to satisfy their management career aspirations. With proper exposure like internships and business projects, they get hands-on experience of the workings of a company in the real world, leading to building up their practical knowledge and confidence.
Build Skills while Enhancing Knowledge: Handling a sensible business project involves the management students performing several tasks and responsibilities. It helps them develop new skills and acquire greater knowledge while at the same time sharpening their present ones.
Strengthens the Business Management Foundation: It is a proven fact that we learn by working hands-on. Knowledge is enhanced when we do things practically. Hence, when students apply their theoretical knowledge to the industry, it penetrates deeper and stays longer.
Networking: Working as an intern opens the door for aspiring management students to move into the corporate world as they get recognition from their superiors and bosses. If handled well, the Internships will turn into potential jobs or provide references that will help students to move forward in life.

Industry-recognized Specializations
An MBA or a PGDM program can open doors to a world of opportunities and take your career up a number of notches. If you decide on the correct specialization, you will not only gain a competitive edge but could benefit a lot over the years. Some of the industries' most relevant specializations are offered by leading B-Schools, like Finance, Marketing, HR, Operations, IT, and likewise. These specializations are the most sought-after and the best MBA or PGDM specializations offered to students.

However with time and particularly in the post-pandemic environment, the business landscape around the world has become an ever-changing scenario. These days the specializations like Business Consulting, Digital Marketing, Business Data Analytics, Finance Analytics, Marketing Analytics, and HR Analytics among others, are offered by top B-Schools across India.
Interaction with Corporate Leaders
The curriculum offered by the best PGDM and MBA colleges in India is created with a special emphasis on Industry Interface that allows the students to communicate with the industry leaders and gain understanding and knowledge of the real-time happenings in the corporate world. Corporate exposure in form of numerous corporate events, live projects, industry visits, dual internships, and corporate training sessions, helps students understand real-time challenges and to develop the necessary skills for problem-solving. Students also get to learn how to apply the best management practices for optimum output. This opportunity can be provided only in an MBA or a PGDM program due to its strong alignment with the Business World.

Placement Opportunities
There are very few professional courses where campus placements are organized with equivalent zeal and a PGDM or an MBA is certainly one of them. In leading B-schools like PIBM Pune, the PGDM and MBA graduates get multiple lucrative job offers from top companies from diverse industries. Top Indian management colleges with the highest placement results offer a chance for companies to assess the abilities of individual students and provide them packages accordingly.
Entrepreneurial Insights
In all motivational talks, one aspect is always discussed: that of a dropout-turned-billionaire. This narrative always brings recall. In fact, there are two distinctive types of individuals: One lot that spend a major part of their lives updating their academic prowess and the other that likes to act on their academic dreams. Aspiring businessmen have always pursued an MBA/PGDM program because it equips them better as startup runners. Top B-schools in India always ensure to develop the entrepreneurial mindset and skills so that students can always look for starting their own ventures instead of focusing on joining companies for a job or career.
Soft Skills development
A Master in Business Administration undoubtedly offers you wonderful insights into the technical side of doing things. However, an MBA or a PGDM degree isn't restricted to this alone. It additionally teaches you the importance of soft skills in business functionalities and the way a selected soft skill will assist you to manage the business environment and dynamic atmosphere around. It conditions you to conduct yourself with a proper demeanor across all functions of the business. The PG program from a right B-School like PIBM offers numerous insights on the way to build a temperament. The foremost widespread soft skills are listed below:

Communication skills
Teamwork
Leadership
Creativity
Self-Awareness
Resilience
Strong Work Ethic
Interpersonal Skills
Ownership
Accountability

Higher Salary Packages
Getting a Master of Business Administration (MBA) degree is one of the foremost solid investments you'll ever make in life. Besides helping you expand your career opportunities, it prepares you for well-paying jobs in today's competitive environment. After you complete your master's program, there will be a major rise in your earnings, irrespective of whether you have the expertise or not. Packages being offered in the past five years have shown tremendous growth when compared to those in the organization who have not done a master's program. Also, the salaries keep on increasing at a greater rate every year if you start performing well and producing results for your company.
International Business Exposure
A PGDM degree could go hand in hand with numerous specializations, one being an international business. It will equip you with all the data, knowledge, and skills to run an export-import business expeditiously. In traditional circumstances, learning the tricks of international trade will take years engaging at an export-import house. However, once you select a PGDM degree with a specialization in international business, you become industry-ready in two years' time. The international business incorporates an immense volume and offers world-class careers. Your PGDM/MBA degree, therefore, will launch you into a global career.
---
Summary
There are a number of plusses of doing a PGDM or an MBA and one should look at all angles while choosing the right B-School or a Management College because those two years will help you carve a path to a successful career and fulfill your dreams.
| | |
| --- | --- |
| | By PIBM |