PIBM Blog
Education

Does Not Only
Happen in the Classroom
Reasons Why an Internship is Important for Management Students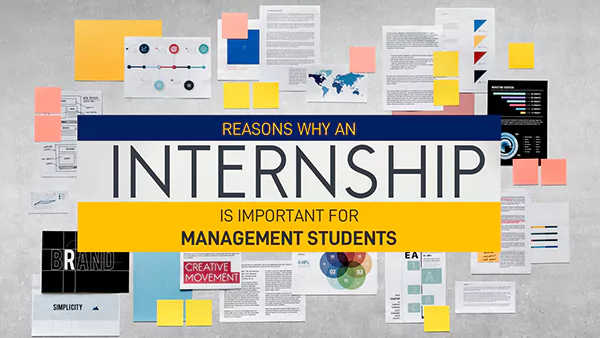 Education
---
Do you believe that experience is required to enter into the corporate world?
This is one of the most important concerns for young people, graduates, and newcomers into the corporate world as they make their way into the workforce. This is where the importance of the winter or Summer Internship Program for PGDM and MBA students comes into play. Before giving you an opportunity, every company wants to see some relevant experience. In reality, resumes that highlight employment history whether through internships, volunteer work, or experience are highly valued by employers.

You can acquire a good package and long-term employment if you have an excellent resume with experience and talents that meet your employer's expectations. Interning from management colleges in Pune throughout your post-graduation, whether in PGDM or MBA, can make the difference between getting your ideal job and not getting it.
Internships and Applied Learning Statistics
According to the latest report from The Economic Times, 76,000 students applied to internships every day in the past year during the pandemic also and the awareness of summer and winter internships for MBA students is increasing amongst Indian students.
When the nation was faced with the problems brought by the pandemic, the number of students seeking internships increased by 35%.
The reason behind this is that an internship program has become an important part of a college student's professional path in India, regardless of their educational background or degree of education - undergraduate, postgraduate, or doctoral.
76% of students applied to virtual internship opportunities. Students today understand the value of internships. As a result, they took up the challenge of adapting to the internship during the pandemic.
65% of students had one or more internship experiences listed in their resume to improve the employability of the students.
73% of students pursued internships in a field different from their field of education. This trend demonstrates how students are using internships to try out several career routes in order to discover their real purpose based on their interests, skill set, and internship experiences.
In the 2019-2020 academic year, 105,010 enrolled students participated in 26,127 applied learning courses.
Approximately 18% of employers offer interns full-time jobs.
Students who have done an internship are 15% less likely to be unemployed in the first years after college and earn 6% more than students who did not do an internship.
Here are the top reasons Why an Internship is Important for MBA and PGDM students
Gain First-Hand Corporate Experience
Nothing compares to the first-hand experience of working in a corporate office, which business schools in Pune provide through live projects, case studies, and seminars by industry experts. Both the education you acquire in a college atmosphere and the skills you learn in a professional setting are important to your future success. Every day you learn something new when you acquire an internship in a company or field that you're interested in. Beyond academics, you learn a lot more about meeting new people, learning new skills, understanding operations, and dealing with the real-world pressures of business deadlines.
Professional Network
Though we all need each other to grow and excel, networking is vital in today's workplace culture. If you want to enhance your professional career, one of the most important things you can do is increase your networking skills. An internship allows you to form new long-term business contacts with people in your field of interest. For example, if you intend to work in human resources in the future, an internship will introduce you to many professionals who could become your future clients. If you want to be an entrepreneur, your internship will introduce you to marketing experts, financial gurus, sales representatives, and others who can help you to expand your company in the future.
Translate Your Internship into a Full-Time Position
During an internship program, you have the chance to showcase your abilities, skills, and dedication to become a potential employer. In addition, many organizations find it easier to hire employees they have already invested in. Employers apply the same logic with internships as they do with clients who like to experience before they buy. If you meet your employer's performance standards, there's a chance you'll get a pre-placement offer.
Preview Of The Roles And Responsibilities
We all have a basic concept of what we want to accomplish after we complete our PGDM and MBA programs. On the other hand, students frequently struggle to cope with the demands of a corporate environment. You get a real-life preview of what to expect in your selected career when you finish your course with an internships program. You have the choice to switch your course and reassess your area of interest if you don't think you're cut out for it. If it feels right, it will help you to grow in the future.
Valuable Industry Feedback
When you accept an internship, you are representing your institute or university to a potential employer and the business world. Feedback on your knowledge, skills, and talent assists the college and placement team in evaluating the batch's strengths and weaknesses before the final placement. As a result, before your final campus placements, you'll be well-prepared and aware of industry expectations. The feedback can also be used to improve the curriculum.
How do you get an Internship?
A few tips will help you search for business management internships.
If you're a first-year student, find a degree program that fits your career aspirations.
Consider your degree path and the usual professions that go along with it. Begin your research into those positions and the companies where those graduates work.
Make a list of fascinating career prospects and interests to expand your choices.
Visit job sites and career fairs.
Look at what is available on campus.
Head over to the career services office on your college campus for professional help with resume writing and finding an internship.
5 Important Soft Skills You can Learn with an Internship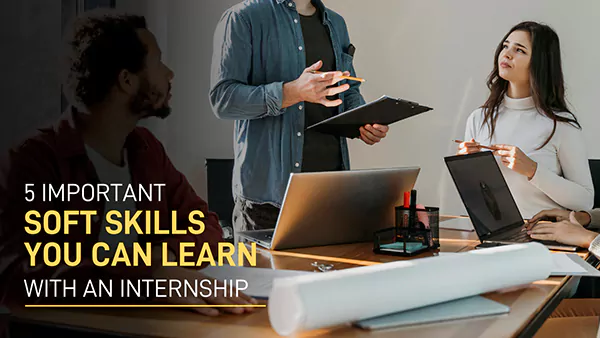 Unlike technical abilities, soft skills can be learned without taking a long-term course or acquiring a degree. You could be a native speaker of a language, but it doesn't make you a good communicator. Soft skills are something that you'll always need, regardless of the nature of your job, because they're the first and foremost factors that potential employers look for in a candidate.

For better understanding, here are the top 5 in-demand soft skills which you could learn during an internship:
Communication Skills When we think of soft skills, the first thing that comes to mind is communication. The reason is, it is of foremost importance for every job role. Having good communication skills entails not just a thorough command of a language but also excellent listening and presentation skills. During an internship, you will be required to communicate with your team members as well as your clients or customers about the tasks you are working on. These activities will help you study different aspects of communication and improve your verbal and written communication skills.
Interpersonal Skills Communication and interpersonal skills are often confused. Interpersonal skills focus on how you interact with people, your attitude toward them, how you deal with conflicts, how you persuade people, and so on. While communication skills are more about being able to understand and express your views or messages. On a daily basis, as you connect and collaborate with people of various mindsets, age groups, and positions of authority while on an internship, you hone your interpersonal skills.
Teamwork Teamwork is of utter importance in the professional setting of this age. There's seldom a project that is handled by just an individual. In such a scenario, being a team player is critical in order to collaborate and achieve the desired outcome. Internships provide you with the opportunity to master this skill because you will frequently work in groups.
Critical Thinking It's all about solving problems in business, and here is where your critical thinking abilities come in handy. Critical thinking is nothing but your ability to think logically, use your existing talents and prior knowledge to solve problems efficiently. Every day on an internship, you are faced with a new challenge, and with each obstacle, you learn a new approach to dealing with a problem.
Creativity In today's competitive world, there's always the risk that your work will become routine, halting your learning and career advancement. You must be inventive in carrying out your job duties since this will set you apart from your competition and put you one step ahead of them. Interning allows you to work with successful professionals and learn from them how to improve on current techniques while also incorporating new ones creatively using available resources.
Internship Tips Mistakes to avoid while applying for Internships
Internships have become an important component of the college environment. Everyone aspires to intern at the most prestigious organizations in their field. Having a big brand under the Internship area surely helps when it comes to finding a job. The following are some of the most significant mistakes students make when applying for college internships. If you're looking for college internships, make sure you don't commit any of these silly blunders.
Not Applying to Enough Workplace One of the most common mistakes students make is not applying to enough places. They pick the top three or four organizations in their field and submit applications to them. They don't realize, that few of these organizations hire interns, and those that do, do so in limited numbers. As a result, the chances of getting an internship with one of these firms are limited. It's a good idea to apply to a few different places. Shortlist a variety of organizations, such as some at the top and others that are as good, and apply to a mixed bunch. However, you should not apply for or accept an internship that you get an application for. Before accepting or rejecting any offer, be sure you've given it some thought and weighed all of the advantages and disadvantages.
Not Following Up On a daily basis, recruiters receive a large number of applications. It's quite normal for them to forget about some application after all no one is perfect. Following up with employers is an excellent approach to remind them of your application and ensure that it is taken into consideration. Another advantage of following up is that you won't have to wait endlessly to know the status of your application. Regular follow-up will ensure that you are well-informed on the prospects of your application being accepted. However, keep in mind that shortlisting prospects takes time, so allow the employers some breathing room before contacting them. Follow-up should be done within 4-5 days of the application being sent out.
Not Following Company's Instructions Candidates must follow certain basic application guidelines while applying to such companies. The majority of these rules are unchangeable. These rules may not seem relevant to you, but they are critical from the standpoint of the employer. Because if you can't follow these easy regulations, how will you follow your senior's instructions if the internship is offered to you? Small things like these can have a detrimental impact on your employer's perception of you. Even if you have all of the qualifications for the position, you risk having your application rejected if you do not follow the company's standards.
Not Appearing Passionate This frequently happens when you apply to a company only for the purpose of getting an internship. As an example, suppose you applied for an internship at a dream organization but were turned down, and now you're here because you need to intern somewhere. In an interview, never make the mistake of appearing inattentive. It is not only impolite to the interviewer, but it also gives them an unfavorable impression of you. If the interviewer senses you are not excited about the job profile at any point throughout the interview, they will stop interviewing you and you will forfeit any opportunity of interning with the company.
Common Internship Challenges and Solutions
Internship challenges are difficult to overcome because it is your first time in such an atmosphere and you are unfamiliar with work-life issues. The good news is that if you're aware of these internship issues ahead of time, you'll be able to deal with them more effectively rather than letting it go to waste.

So, to assist you, here is a list of the 8 most frequent internship problems, as well as solutions.
Unnoticed Work

People succeed in any industry because they expect to be recognized. Even if you are doing a fantastic job as an intern, you may find yourself in a situation where your contribution is undervalued. This may be discouraging.

Solution: The solution to such internship challenges is to understand that hard work doesn't get unnoticed for long. It may be overlooked the first time, and again the second time, but persistence is the key.
Your job will not be overlooked if you consistently perform well. So, don't be discouraged, and keep doing what you're doing. It's very likely when you're new to the company and only intend to be there for a short time.

Uncooperative Mentor

The amount of knowledge you gain from your internships is mostly determined by your mentor. Your internship might be really fruitful if your mentor takes you seriously and helps you learn.
On the other hand, if they are unwilling to cooperate, it may be one of the most difficult internship tasks you will experience.

Solution: If your mentor isn't willing to share his knowledge, you'll have to push it out of them. Make a list of your questions and concerns and ask them all at once, as nagging them regularly can alter their perception of you.
In either case, if it doesn't work, you can request a new mentor from the concerned authorities.

Issues with Time Management

It's your first job, thus it's a wonderful experience. Your college professors were indulgent of latecomers for classes and late submissions of assignments.
However, in a professional setting, this is not acceptable, and thus time management might be quite challenging for you. Striking a balance between work, academics, and personal life appears to be a difficult task.

Solution: This isn't something you can pick up in a day. Self-management is only possible through the formation of habits and the adoption of a more structured lifestyle.

Competitive Co-interns

Your co-interns are energetic and dedicated to their work. You're nervous since you didn't anticipate your internship being so competitive.

Solution: Contrary to appearances, competing co-interns enhance your internship experience. Instead of merely doing random work and finishing your internship, you will feel actual pressure to work more and get noticed. Participate in the competition to get the most out of your internship.
---
Summary
Internships are a great way to work closely with experienced professionals in your area even while gaining knowledge, skills, and experience relevant to your career aspirations. Internships can provide you with new contacts, mentors, and recommendations if they are handled properly.
| | |
| --- | --- |
| | By PIBM |