PIBM's Students Scattered Smiles at Zila Parishad Primary School in Nasrapur, Pune
Corporate Events

- Learn from 550+ Business Leaders
PIBM's Students Scattered Smiles at Zila Parishad Primary School in Nasrapur, Pune
---
Date: 20th July 2023
PIBM Pune campus - On the occasion of the beginning of a new academic session, the students of the Batch 2023-25 of Pune Institute of Business Management (PIBM) MBA & PGDM programs played an active part in a heartwarming visit at Zila Parishad Primary School in Nasrapur, Pune. The visit aimed to foster a sense of learning, fun, and hygiene among the young students of the school.

The students from PIBM participated in a series of engaging activities, incorporating a blend of education and entertainment to make the day memorable for the kids at Zila Parishad Primary School. The visit was overseen by several faculty members, including Dr. Yachna, Dr. J. P. Verma, Ms. Ashwini, and Mr. Uttam Malvi, who accompanied our students throughout the day.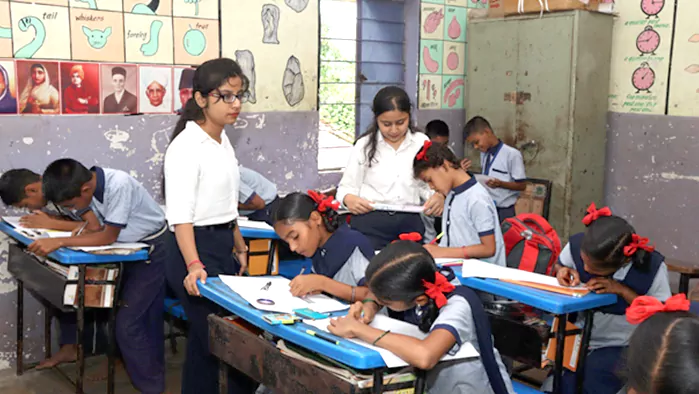 The day started with an enlightening roleplay conducted by MBA and PGDM students, showcasing the importance of education, cleanliness, and teamwork in daily life. The skit left a profound impact on young minds, inspiring them to dream big and aim for a brighter future.

Following the roleplay, a passionate speech on hygiene was delivered to the students, emphasizing the significance of personal hygiene, cleanliness, and sanitation. The speech aimed to raise awareness and instill good habits among the children, ultimately contributing to their overall well-being.

The next segment of the activity involved craft and drawing sessions, where the would-be business leaders at PIBM encouraged the children to unleash their creativity and artistic abilities. They provided art supplies and guidance, allowing the kids to create colorful masterpieces that sparked joy and creativity all around.

The atmosphere then shifted to excitement as a lively game of musical chairs ensued. The children enthusiastically participated, laughing and cheering throughout the game, creating an atmosphere of camaraderie and enjoyment.

To keep the energy high, music and dance performances were presented by the PIBM students, who showed off their talents and grooved to the beats. The children joined in, and the whole school ground became a vibrant dance floor filled with joy and happiness.

As part of their commitment to education, the MBA and PGDM students also conducted engaging teaching sessions, where they shared their knowledge on various subjects. These interactive sessions encouraged the kids to ask questions and develop a curiosity for learning, paving the way for their academic growth.

The day was filled with joy, learning, and inspiration. The dedication of our would-be world leaders to giving back to the community sets a positive example for future generations of business leaders, emphasizing the importance of empathy and social responsibility.