Food Distribution during Palkhi Festival 2023
Most Innovtive

Learning
Practices 2018

PIBM Family Spreads Smiles and Warmth Through Food Distribution during Palkhi Festival
---
13th June, PIBM - Pune Campus: In a heartwarming display of compassion and community service, the Pune Institute of Business Management (PIBM) family came together to engage in a CSR activity aimed at bringing smiles and warmth to the devotees of the sacred Palkhi festival. The event was marked by a collective effort to distribute food to those in need, creating a sense of joy and well-being within the community.

The Palkhi festival, celebrated with great fervor and devotion, holds deep spiritual significance for its participants. It was against this backdrop that the students and esteemed faculty members of PIBM seized the opportunity to actively contribute to the festival's essence by engaging in the selfless act of providing food to the devotees.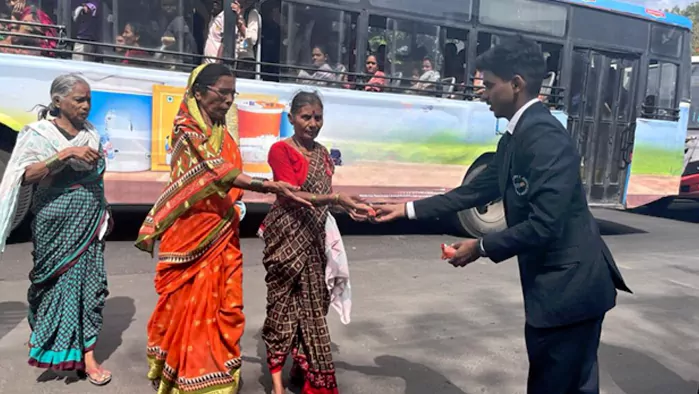 The students, with humility and a sense of purpose, enthusiastically took on the responsibility of distributing food to the needy. Their involvement in this noble endeavor left a lasting impact, not only on the recipients but also on the students themselves. The experience of being part of such a joyous occasion and witnessing the smiles of gratitude on the faces of the devotees serves as a humbling reminder of the power of collective action in making a positive impact.

We are immensely proud of our students for their compassionate participation in the Palkhi festival. Their dedication to spreading smiles and warmth exemplifies the values we strive to instill in them. The event also showcased the ethos of the PIBM family, as faculty members also actively participated in the food distribution, reinforcing the message of collective responsibility and empathy. By working hand in hand with the students, the faculty demonstrated their unwavering support for fostering a culture of compassion and community engagement.

As PIBM continues to make strides in creating socially responsible world leaders, this initiative serves as a reminder that small acts of kindness can have a profound impact on individuals and communities. By spreading smiles and warmth during the sacred Palkhi festival, the PIBM family reaffirms its commitment to making a positive difference in the lives of others and sets a shining example for the wider society.