PIBM Blog
Education

Does Not Only
Happen in the Classroom
Leaders Conjunction 2022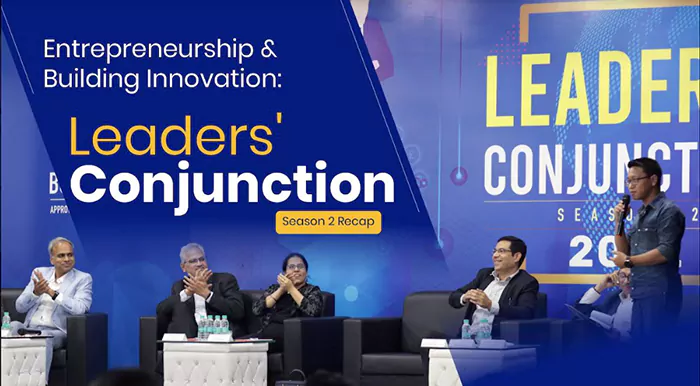 Education
---
The last Leaders' Conjunction held in 2020 was a huge success that saw business barons from a cross-section of industry throwing light on future work culture and the change in consumption pattern. After a hiatus of one year, Leaders' Conjunction Season II, was back with a bang this month with the topic on the floor being 'Entrepreneurship & Building Innovative Organizations'

The panelists included Mr. Shashank Jagirdar, Retired VP Global Head HR DHL GSC, Dec 2021 & Sr. Director HR DHL Supply Chain, Dec 2019, Mr Sachin Sahni, Founder and CEO Keeros Super Foods Pvt Ltd, Mr Ashish Goyal, Founder and CFO EarlySalary.com, Mr Abhinandan Dhoke, Managing Director Bauli Group, Mr Thomas Lagashu, Vice-President Sales, WhiteHat Jr, Mr Ramesh Mitragotri, CHRO Ultra Tech Cements Limited and Ms Richa Kaur, Head Human Resources, Fraazo.com.

The discussion threw light on the ecosystems for innovative organisations while dwelling on the need to create a platform to sell ideas.

Mr. Thomas Lagashu, Vice-President Sales, WhiteHat Jr on his part said, "The world is changing fast today thanks to technology. Be a problem solver and be the innovator."
Mr. Sachin Sahni, Founder and CEO Keeros Super Foods Pvt Ltd, noted, "You need to think like an entrepreneur when you work as an employee. People at the lowest level come up with ideas that even people at the managerial level don't. We need to bridge the gap and move forward." He added, "Though at Keeros, our focus is on diabetes, our products are healthy and meant for all."

Mr. Shashank Jagirdar, Retired VP Global Head HR DHL GSC, dwelt on the fact that solving small problems are game changers indeed.

The student interactive session was lively with young minds keenly following the vision of the panelists. Mr Abhinandan Dhoke, Managing Director Bauli Group, was quick to point out that if we think of innovation, the first name that comes to mind is Apple. It is in their DNA. "Innovation has to be on-going and students need to be a big part of that innovative culture," he noted. He said, business strategy depends on the proposition of the entire business.

Mr. Ramesh Mitragotri, CHRO UltraTech Cements Limited, was quick to add that the power of ownership cannot be diminished. In his opinion, innovation need not be breakthrough nor does it need to be complex. Just like the power of Nokia when it transfers numbers from one tower to the next. According to him, paradigms need to be constantly challenged.
Ms. Richa Kaur, Head Human Resources, Fraazo.com, elaborated that Fraazo has an idea forum in place and provides a platform to share ideas to everyone in the organization from ground level to the top management. "So never stop giving ideas," she said.

Ashish Goyal, Founder and CFO EarlySalary.com, had a message for students. "We went bankrupt twice. You will feel hopeless in many situations, but it is upto you to make the best of where you are. Trust me, some of your life decisions will be made in those situations. Starting your own business is never risky. Entrepreneurship teaches you every aspect of life. Dream, risk and you will always come a winner," he noted. It was undoubtedly an evening to remember.
---
| | |
| --- | --- |
| | By PIBM |