Induction Program Batch 2023-25
Most Innovtive

Learning
Practices 2018

An Exciting Journey Begins at PIBM's Induction Program for Batch 2023-25
---
26 & 27th May 2023, PIBM Campus: PIBM's highly anticipated Induction Program for the MBA & PGDM Batch of 2023-25 unfolded with great enthusiasm, leaving the students inspired and prepared to embark on their path towards conquering the corporate world. The two-day event, held on 26th and 27th May 2023, witnessed the introduction of PIBM's unique Training Methodology, setting the stage for the aspiring future business leaders.

The program proved to be a remarkable experience, with esteemed faculty members at PIBM taking the lead in introducing the students to the institute's distinctive Training Methodology. Through interactive sessions, workshops, and engaging activities, the faculty members instilled in the students the knowledge, skills, and mindset necessary for excelling in the corporate landscape.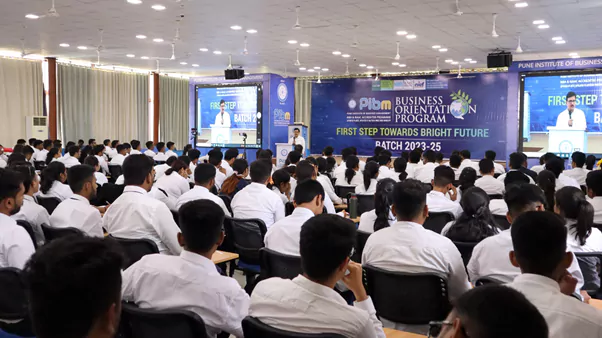 The Induction Program became even more insightful and impactful with the presence of notable #CorporateGuests who generously shared their invaluable insights on the dynamic setting of the corporate world. Among the esteemed guests were:
Mr. Rajesh Singh
Head of Human Resources
KPIT
Mr. Sushant Kumar
India Lead - University Relations & Early Talent Hiring
Tata Technologies
Mr. Majid Ali Khan
Director of Human Resources and Talent Acquisition (India)
Alorica
These experienced professionals brought forth their wealth of knowledge and industry expertise, offering a glimpse into the real-world challenges and opportunities that lie ahead for the students. Their presence proved to be truly inspiring, igniting a passion and desire within the students to excel in their future endeavors.

Addressing the MBA & PGDM Batch of 2023-25, the institute conveyed a message of encouragement and determination, stating that it is now time for the students to embrace new challenges, seize opportunities, and ignite the fire within them. With the conclusion of the Induction Program, the journey towards success has officially begun for the batch.

The students were filled with a sense of anticipation, armed with the tools and guidance provided by PIBM's faculty members and the invaluable insights shared by the esteemed corporate guests. It is expected that the Batch of 2023-25 will rise to new heights, making a mark in the corporate world and contributing to the growth and development of their respective industries.

As the students embarked on this exciting journey, PIBM assured them of continuous support, guidance, and numerous opportunities for growth and development. The institute remains committed to nurturing and shaping the future business leaders who will make a difference in the global business landscape.

Congratulations to the MBA & PGDM Batch of 2023-25 on this momentous occasion!