Hackathon 2023
Most Innovtive

Learning
Practices 2018

Hackathon 2023 at PIBM Campus Ignites Innovation and Collaboration Amongst Students
---
1st June 2023, PIBM Campus: The Hackathon 2023 organized by Bajaj Allianz General Insurance Co. Ltd. proved to be an exceptional experience, fueling the spirit of innovation and collaboration among the students of PIBM. This event witnessed the remarkable talent of aspiring future business leaders as they tackled real-world business challenges and devised efficient solutions.

Divided into multiple teams, the students engaged in intensive brainstorming sessions, research, and solution development for the problem statements provided by Bajaj Allianz General Insurance. These problem statements encompassed a wide range of business concepts, urging the students to present solutions related to market penetration, distribution strategies, go-to-market strategies, product awareness and reach, technology integration, customer engagement, and employee productivity enhancement.

The Hackathon 2023 reached its evaluation round, where each team presented their research, findings, and business solutions in front of an esteemed industry panel. The teams were assessed based on various criteria and their overall performance during the presentations.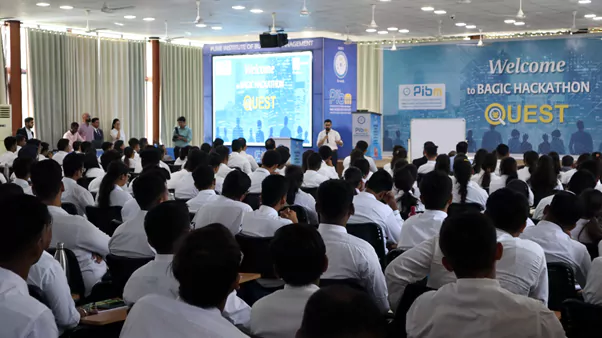 The Hackathon 2023 pushed the PIBM students beyond their limits, encouraging them to step out of their comfort zones and collaborate with industry experts. It truly highlighted the creativity, resilience, and problem-solving skills of the talented MBA and PGDM students of Batch 2023-25.

We take pride in providing an exceptional platform at PIBM Campus for our young minds to exhibit their true potential and drive innovation. This remarkable event has undoubtedly equipped them with the skills to tackle real-world business challenges.

A heartfelt thank you goes to the entire team of Bajaj Allianz General Insurance for providing a wonderful learning opportunity to the students of PIBM. We eagerly look forward to future collaborations and more exciting events together.