PIBM Blog
Education

Does Not Only
Happen in the Classroom
The Future of HR: How MBA Programs are adapting to changing Business and Technological Landscapes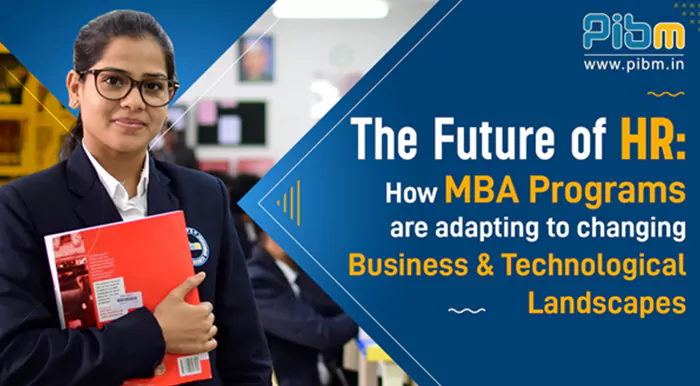 Education
---
The world of business and technology is rapidly changing, and so is the role of human resources function in organizations across the globe. As the workforce becomes more diverse and companies expand globally, HR professionals need a deep understanding of business, technology, and leadership to succeed in their careers. MBA programs in HR Management are adapting to these changes by incorporating new strategies and tools into their curriculum.
The Importance of HR Leadership Strategies
Effective HR leadership strategies are critical to any organization's success. HR leaders must attract, develop, and retain top talent while ensuring compliance with labor laws and regulations. Additionally, they must have excellent collaboration and communication skills to work effectively with other departments and stakeholders.

PGDM and MBA programs in HR Management teach students how to develop these skills and become effective leaders in the field. They provide a solid foundation in business and management principles while also teaching about the latest HR trends and best practices. By combining these skills, students can become well-rounded HR professionals who drive business success through effective HR strategies.
The Changing Business Landscape and its Impact on HRM
Diverse HR Functions:
In the past, Human Resource Management (HRM) focused mainly on personnel management, compliance, and benefits administration. However, as businesses have become more global and competitive, human resource management careers have evolved into strategic functions critical to organizational success. Today's HR leaders are responsible for developing and implementing business strategies that support overall organizational goals.
Effective Talent Management:
One of the key challenges faced by HR leaders is attracting and retaining top talent. In a globalized and highly competitive marketplace, companies that cannot attract and retain the best employees are at a significant disadvantage. Therefore, HR leaders must develop effective talent management strategies to attract top talent and provide opportunities for career development and advancement.
Diverse Workforce:
Another challenge facing HR leaders is managing an increasingly diverse workforce. As companies expand globally, they face the challenge of managing employees from different cultures and backgrounds. As a result, HR leaders must develop strategies that promote inclusion and diversity in the work culture while ensuring fair and equitable treatment for all employees.
The Future of HR
The future of HR is bright, with PGDM & MBA programs in HR management preparing students for this future. In the coming years, HR professionals will need to be experts in data analytics, artificial intelligence, and machine learning. Additionally, they will need to create a culture of continuous learning and development as technological change accelerates. PGDM & MBA programs in HR management teach students how to be lifelong learners who can adapt to change and drive business success through effective HR strategies.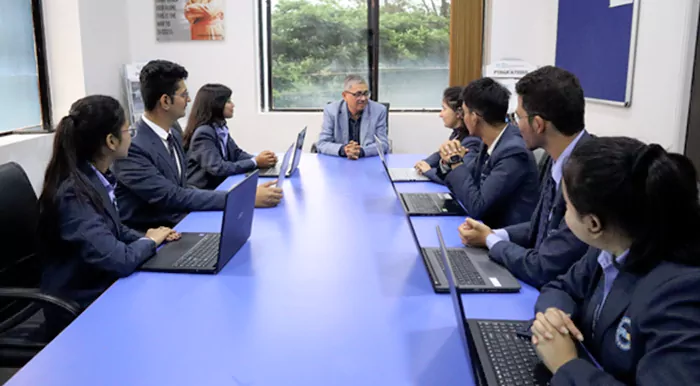 The Future of HR Leadership Strategies
HR leadership strategies of the future will revolve around three key areas:
Talent Management


Identifying and nurturing talent will be a key responsibility for HR leaders. This will involve leveraging data to make informed decisions about hiring training career development. HR leaders will also need to create a culture of continuous learning where employees are encouraged to develop skills and take on new challenges.

Organizational Culture


The culture of an organization will be a crucial factor in attracting and retaining top talent. HR leaders will need to promote diversity, equality, equity, and inclusion, and ensure that all employees feel valued and supported.

Integration of Technology


Technology will also play an important role. HR leaders must stay abreast of emerging technologies and leverage them to create a competitive advantage. This will involve using data to make informed decisions, automating routine HR processes, and using AI to identify and address talent gaps. HR leaders will also need to ensure that technology is used ethically and transparently and that employees are trained to use new technologies effectively.
The Best Choice for a PGDM or an MBA in HR Management
PIBM's PGDM & MBA program in HR management focuses on developing the industry-oriented skills essential for effective HR leadership in today's business environment. Our PGDM & MBA programs are aligned with Industry 5.0 at Pune Institute of Business Management (PIBM), one of the best MBA & PGDM colleges in Pune.

PIBM is approved by AICTE and affiliated with Savitribai Phule Pune University. With accreditation from reputed bodies like NAAC and NBA as well as being ranked among the top 100 management colleges across India by the latest NIRF rankings, PIBM strives for educational excellence.