PIBM Blog
Education

Does Not Only
Happen in the Classroom
Career Prospects After Completing Management Program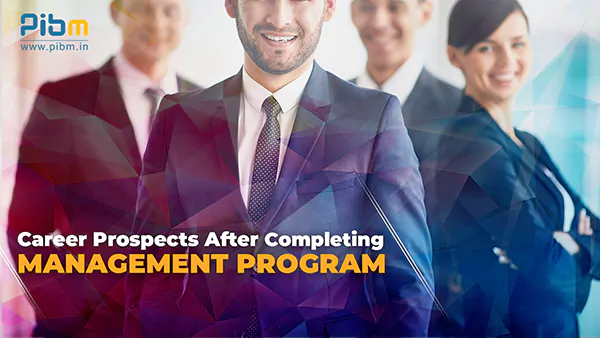 Education
---
Management positions are appealing to both young hopefuls and working professionals today, and for good reason. A management profession from a top business management college allows you to take over people-centric roles, obtain a reputable position in the workplace, and take home a substantial annual income package, in addition to promising lots of new fascinating and lucrative career options.
After graduating from the finest MBA institutes in Pune, you can advance to top management positions in organizations where you can make significant changes using data-driven business methods. For example, you'll be better prepared to make significant changes in a firm, such as ensuring improved resource use, streamlining corporate procedures, supervising staff performance, planning business campaigns, and much more.
The bottom line is that management positions will continue to exist. So, if you want to take advantage of the ever-changing and new job opportunities in management, now is the time to get started!
Leading Career Opportunities in Management
Not only do management positions guarantee job pleasure, but they also come with hefty annual compensation packages. Most managerial positions have an upward-sloping career graph, implying that the more you learn and gain experience, the further up the ladder you will climb.

The most rewarding feature of a management profession is that you gain transferable abilities that may be used in any industry. Marketing Management, Human Resources Management, Business Management, Finance Management, Retail Management, and Management Consulting, to name a few, are just a few of the management specializations available.
Here are the top career options in Management that you should look out for.
Marketing Manager
Marketing managers are responsible for building brand awareness, growing brand reach, and promoting a company's products and services to the target audience. They have a large influence on how a brand looks and feels, as well as how it interacts with its target audience. Internal teams are managed, marketing/sales campaigns are planned and designed, seasonal promotional offers/discounts are determined, and the marketing team is liaised with to promote the brand's messages on print, digital, and social media platforms.

Marketing Managers can work in a variety of industries, including retail, media and advertising, hospitality, healthcare, finance, and information technology. This management position is best suited for candidates with a creative mind and excellent business acumen. Furthermore, Marketing Managers must have excellent communication and leadership skills.
Sales Manager
A Sales Manager's primary responsibilities include managing and directing a company's sales team, accomplishing sales goals, and expanding the brand's reach to increase sales. Sales Managers devote a substantial amount of effort to cultivating connections with clients and business partners, in addition to developing sales strategies and campaigns. They must work with product development and marketing teams to develop campaigns that will increase customer brand engagement and drive sales.

Marketing, business management, business administration, and client relationship management are all skills that sales managers must possess. They should have excellent communication skills, a strong sense of teamwork, and a desire to move the firm ahead.
Financial Manager
Financial managers are in charge of all aspects of a company's finances. They set short- and long-term financial goals and devise data-centric strategies to attain them in this role. They collaborate with Project Managers and departmental managers to make crucial financial choices for the organization, such as budgeting, resource allocation, and investment plans.

Financial managers prepare detailed financial reports, implement budgeting and forecasting procedures, discuss ideas for money acquisition, assess risk, track important metrics, and review the organization's financial performance. Finance executives must have a master's degree in a relevant field such as mathematics, economics, accounting, finance, or business studies. They must also possess exceptional problem-solving, analytical, and technical abilities.
Public Relations Manager
Public relations managers work to improve and maintain their client's or employers' public image. They devise, implement, and monitor campaigns and content aimed at improving a company's public image.

Public relations managers write press releases, answer media questions, prepare speeches for product launches and media events, write pieces for business publications, compile media kits, and organize conferences for their clients. They must respond to any negative news and deal with any public relations crisis. Communication, presentation, organizational, time-management, and leadership skills are all required of PR managers.
Human Resources Manager
HR managers are in charge of directing and managing a company's workforce. They act as a link between the company's top management and its employees. HR Managers collaborate with top executives to develop strategies for recruiting, interviewing, and keeping personnel.

HR managers are also responsible for boosting employee morale and productivity in the workplace, developing talent acquisition plans, monitoring employee performance, evaluating employer-employee relations, developing HR policies, conducting annual salary surveys, and developing training programs, among other things.

HR Managers are in charge of ensuring that a company's human resources run smoothly. They make ensuring that all HR policies and programs are in line with the company's mission, vision, and objectives. Listening, negotiating, and communication skills are essential for HR managers.
Top Reasons for Pursuing An MBA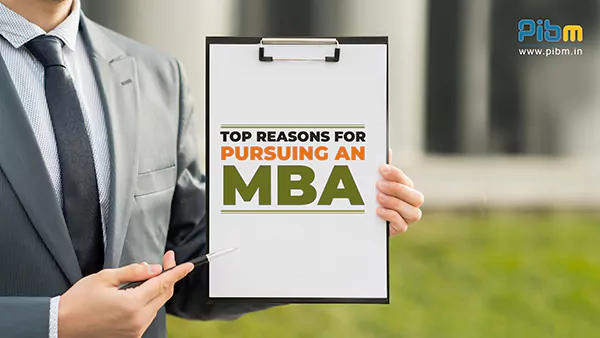 There are currently a plethora of job options to choose from, all of which are jam-packed with immense potential. The number of highly trained and educated people who can do these skills is also a plus. Such circumstances necessitate a top-notch post-graduate program to develop your skills while also developing the proper ethics. What could be better than an MBA program that includes all you need and then some?
Eliminate Barriers to Entry

Several blue-chip companies have a policy of hiring only MBA graduates. Such businesses offer a premium development model in which once you're in, you can fast rise the corporate ladder.

Learn High-End Management Skills

MBA aspirants are often much fresher when they begin and have no more than two years of professional experience. An MBA degree would enable you to understand the company's operations in more depth. Here are some of the things that an MBA program will help you understand:

Your products will be manufactured, advertised, and sold online.
Maintaining a company's financial flow on a regular basis.
Developing an understanding of how the business world operates.
Choosing the right individuals for the job.
Creating hierarchies and ensuring the company's success.
Going to great lengths and breadths to meet deadlines.

High Salaries

In recent years, strong MBA programs have been seen favorably due to job security and a high income. Business operations, for example, is a common career choice.

Team Working & Team Building

You can work closely in a range of team projects, just like any other right institution, except that in any good B-School, you are extremely likely to work with experienced experts in a team and understand the ways of the work. Though this would have been useful to know before joining a company, it is a fantastic opportunity for self-evaluation while also studying the principles of team building in the B-School.

Stand Out Amongst Others

Things start to get exciting for an MBA graduate when the same degree becomes the spark for dozens of chain reactions that work in your favor versus thousands of applicants (even the experienced ones). This is because an MBA raises the profile of a candidate in the eyes of potential employers who are looking for an expert to join their team and who can, later on, prove to be a valuable asset to the firm.
Valuable Skills during an MBA
Communication Skills
To genuinely shine as a business graduate, you must be fluent in both oral and writing communication. Your job will require a lot of human connection, therefore mastering the skill of both verbal and nonverbal communication is important. This will help you close transactions, assess new clients, and take advantage of opportunities. People and connections will be a big part of your profession, and you won't be able to handle both without excellent communication skills.
Initiative
Focus on building initiative rather than the word 'leadership.' You instantly become a leader when you take the initiative; when you are the first to raise your hand; when you are the first to step forward. A leader is someone who takes the initiative. So, work on overcoming your apprehension, fear of being judged, procrastination, and overthinking. Replace the word "failure" with "lesson" in your mind. Take little measures and strive for consistency.
Capacity To Pivot
This is something you may recall from Ross Geller's famous advice to pivot the recliner in Mates. Adaptability is the fancy word for this, but the pivot is far more real and precise. You must be able to pivot when confronted with unforeseen events or issues. When your professor requires five essays by midnight the next morning, you must be able to pivot, cancel your plans, and go to work. When the company experiences a loss where profits were expected, you must be able to pivot and work to recover the loss step by step.
Planning And Organization
You can easily drown in tiredness and backlogs if you don't organize your assignments and workload. Because you'll be learning so much in such a short period, you'll need to plan and schedule time for all of the necessities (like rest and leisure). Only by planning and organizing your classroom and extracurricular activities will you be able to achieve this. When you move to the office and have to manage large teams in addition to your work, these qualities will come in helpful.
Strategic And Analytical Thinking
This is an essential component of any management strategy. A business graduate must be able to think strategically and analytically. They should be able to think clearly and build a long-term vision while putting their emotions and personal judgments aside.
Conclusion
Getting an MBA in a high-growth industry will help you advance in your profession. Following an MBA, you will have a plethora of employment opportunities because you will have developed a variety of technical and soft abilities.