PIBM's PGDM Degree Gets the Elusive AIU's Recognition
Most Innovtive

Learning
Practices 2018

PIBM's PGDM Degree Gets the Elusive AIU's Recognition
---
In a groundbreaking achievement, the flagship Post Graduate Diploma in Management (PGDM) program offered by Pune Institute of Business Management (PIBM) has been officially recognized as equivalent to a Master in Business Administration (MBA) degree by the Association of Indian Universities (AIU). This momentous accreditation is a testament to PIBM's unwavering commitment to excellence and its dedication to providing top-notch business education.

Under the dynamic leadership and guidance of Dr. Raman Preet, the Group Chairman of PIBM, the institution has consistently maintained exceptional standards and has paved the way for numerous success stories. Dr. Raman Preet's visionary approach has played a pivotal role in positioning PIBM among the leading business schools in the country.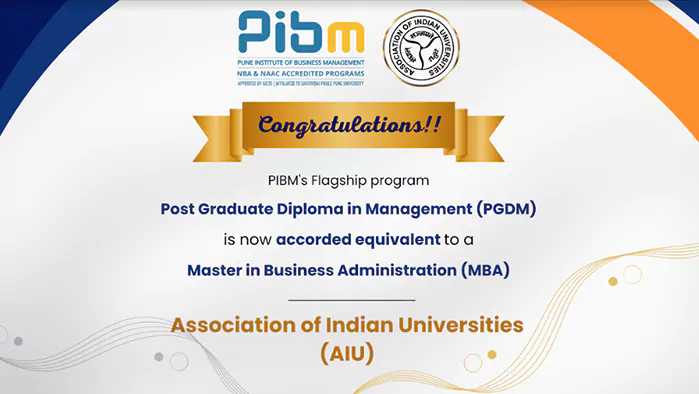 The recognition bestowed upon PIBM's PGDM program is a result of the collective efforts of the eminent faculty members and support staff. Their tireless commitment and expertise have contributed to the institution's continuous growth and its ability to offer an unparalleled experiential business management education.

PIBM's unique and advanced PGDM degree program has been scaling new heights, equipping students with the necessary skills and knowledge to excel in the dynamic business landscape. This milestone achievement reinforces PIBM's position as a trailblazer in business education and highlights the institution's unwavering dedication to shaping the leaders of tomorrow.

The recognition by the AIU reaffirms the institution's commitment to fostering a learning environment that nurtures innovation, entrepreneurship, and leadership qualities among its students. It is also a testament to the rigorous curriculum, industry-focused approach, and experiential learning opportunities provided by PIBM. Moving forward, PIBM is poised to build upon this success and continue to raise the bar in business education.