PIBM Blog
Education

Does Not Only
Happen in the Classroom
Reasons: Why are certifications important along with Management Degrees?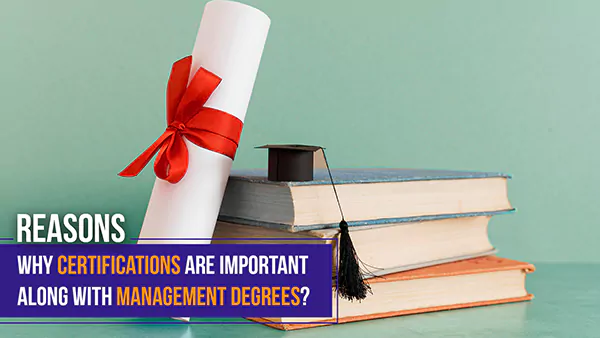 Education
---
Management Degree is one of the most sought-after degrees for any job position and function which is offered by the best business management colleges in India. However, continuous and specialized learning is essential throughout one's career. Continuing business management courses and certification programs are time-consuming, but they can help you gain recognition for your particular expertise or skill set, which can help to obtain certain customers or projects. There are many certifications that can help to advance your career that not only add value to the resume but also makes an individual a better professional.
Here are some tips and strategies on how you can crack the campus placements.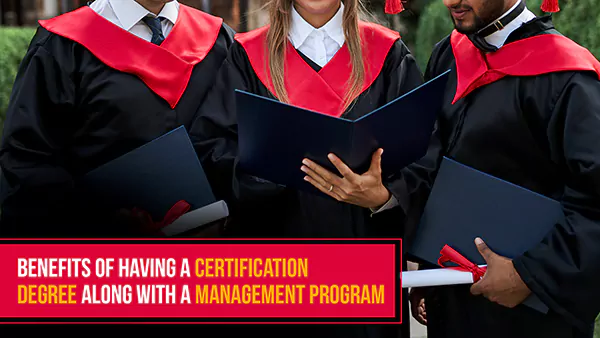 Competitive Advantage
Professional certifications help individuals in staying one step ahead of their competitors. When applying for jobs, this can aid to stand out from the crowd, and it may even be the deciding factor for promotion in the company. It's important to seize every available advantage in today's competitive market, and stay ahead of the competition.
Improve Efficiency
The extra training, exclusive information, and advanced knowledge gained from the additional training of the certification courses ensure an individual to be employment-ready and require less training in comparison to other recruits. Employers appreciate this efficiency and forethought, as it saves the valuable resources of the organization to provide training.
Boosting Potential
Perhaps the most immediate benefit of being professionally certified in the field is by increasing the earning potential, and by looking forward to receiving better raises and bonuses in the future.
Top Certification Courses for Management Students:
ERP Certification By SAP

ERP allows firms to combine multiple departments and focus on one particular computer system to manage each department's unique requirements. SAP India is the examining and standard-setting body.

SAP ERP Suite enables enterprises worldwide to integrate business operations to save costs and boost efficiency, regardless of industry.

Students receive training and certification in the modules that pertain to their chosen domains.

Finance - SAP FICO for Finance & Accounting and SAP FSCM for Financial Supply Chain Management Module
Sales & Distribution - SAP SD Module
Human Resource - SAP HRM – Basic Personnel, Payroll & Organization Management module

SIX SIGMA (GREEN BELT) Certification

The certificate covers a wide range of topics that necessitate problem-solving at various levels. It includes instruction, a written competency exam, and the implementation of the course information. Various corporations and institutes present this certificate to their staff as well as to individuals. Each organization's material is unique. In simple terms, quality management is a business principle that assures that a company's products, services, and internal procedures are of the highest quality. Companies that implement quality management programs analyze the data to discover flaws, faults, improvement opportunities, and strengths.

This allows the organization to set standards, make adjustments as needed, and provide more overall value to its customers. Students learn Quality Management methodologies and Process Improvement as a strategic and organization-wide concept through a course on Quality Management in the curriculum. Students receive Six Sigma - Green Belt certification as part of this course. The Six Sigma certification course covers an overview of the course methodology, as well as identification of balanced business scorecards, prioritizing, and the selection of improvement opportunities in various departments.

CFA Training

One of the most renowned qualifications for investment management professionals is Chartered Financial Analyst (CFA). CFA is a worldwide recognized professional certificate in financial management and investment offered by the CFA Institute. This course provides an in-depth knowledge of the investing business, enhancing their competencies and raising their chances of getting a better career opportunity. Today's management graduates are vying for the best job opportunities. In situations like this, possessing a second, more prestigious skill set might make you a more obvious choice for employers.

MS Project Certification

Regardless of the industry, project management oversees the planning, arranging, and implementation of a project. A project is a task with established start and finish dates that are intended to deliver a certain result, such as new computer software, bridge construction, or even water bottle production.

There is a variety of Project Management software on the market that may help managers with Project Management by increasing the productivity of any project. Project Management software offers features like:

Scheduling Resource Assignments (man-machine - material)
Cost control and Budget management Quality management
Tracking advancement
Information generation

Microsoft Project teaches students how to easily establish plans, measure progress, analyze workloads, and manage budgets.

Bloomberg Aptitude Test

Bloomberg Aptitude Test is a test used by many financial businesses and institutions around the world to assess candidates' employability. Every year, the Bloomberg Institute hosts this event. The exam's main goal is to provide a global platform for companies to access a pool of potential employees who have already been given a score based on the test. The test was created in collaboration with world-class university faculties, management institutes, and financial institutions, and is based on their standards and evaluation criteria. The test covers a wide range of topics, including business, financial, career, and personal abilities, and assists students in identifying their strengths and determining their aptitude for finance and business jobs.

Spin Selling

Sales is one of the most strategic and demanding sectors of business. The Spin Selling course provides a practical and on-the-field approach to sales strategies, even though there are many sources for theoretical knowledge of sales techniques. SPIN 2.0 is the course providing a hands-on, practical program that is taught in all around the world and is based on the most up-to-date sales strategies available. The curriculum improves the participants' selling skills while also providing them with tools for continual reinforcement.

The program is built on the most well-researched selling models available today. It was designed to increase salespeople's speed, teach them how to uncover customers' hidden needs, identify and capitalize on sales opportunities, present high-impact offerings, differentiate in a commodity environment, win business without discounting, and make credible sales calls at the senior executive level. The training is more of a learning experience than a gimmick to spruce up the resume.
---
Summary
A Certification Course emits about the skills and talents of an individual's professional subject area. Management graduates can get certified in almost any skill or sub-specialty they want. Earning certificates can be beneficial in any job hunt and can also be rewarding. It provides a solid basis for his career, allowing to advance quickly and achieve new heights.
| | |
| --- | --- |
| | By PIBM |